OPINION is divided on whether Walt Disney or Phineas Taylor Barnum coined the expression "Always leave them wanting more." It could just as easily have been Dave Moylan.
It wasn't easy writing notes for this blog while laughing out loud, tears rolling down my cheeks, but that was the situation I found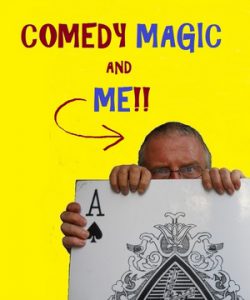 myself in as a packed audience for our last meeting before Christmas listened to just under an hour of hilarious anecdotes about Dave's life in the world of show business, recalling his work with some of Britain's best known entertainers.
Everybody in the room went home with a big smile on their face, and provisionally Dave is booked for the same slot next year. Certainly, nobody fell asleep, not even soon-to-be octogenarian David Hague who is normally doing well to last 15 minutes before drifting away (and who has kindly given me permission to say so).
Glyn Davies foolishly sat in an aisle seat on the front row and was predictably roped in – in more ways than one – to be Dave's stooge as our entertainer opened the show with a series of illusions involving burning napkins, lengths of rope which Glyn was invited to cut in two, and sleight-of-hand card tricks.
Dave invited us to step with him into his wonderful world of magic and illusion, explaining the difference between the two. "Magic was when England won the World Cup in 1966," he said. "Illusion is imagining that they will ever do it again."
Derby-based Dave has been interested in magic from a very early age. "In fact," he told us, "when I was born I came out of the woman in the next bed."
Illustrating his versatility and his modesty – "If you keep your expectations very low, I might just about get away with this" – Dave then picked up his guitar and gave us a tongue twisting rendition of All I Want is a Proper Cup of Coffee (made in a proper copper coffee pot). No, I'd never heard it before, either.
Dave then took us on a sentimental journey through the halcyon days of the music hall, from such famous names as Max Miller to less well known such as Billy Bennett, whose repertoire of monologues included Christmas Day in the Cookhouse, a spoof version of The Road to Mandalay and, bizarrely, A Sailor's Farewell to his Horse (I said to a girl, you must swim for your life, or hang on to a buoy if you can. She looked at me coy, and said 'you're not a boy, you're just a dirty old man!').
The comedy and magic were simultaneous. Dave leafed through a handful of newspaper cuttings, with stories about the first transplant of a pig's ear on to a human ("How's your hearing? It's OK, but there's a bit of crackling") and how a woman drowned in a bowl of muesli ("She was dragged down by a particularly strong currant") before apparently wringing his hands and turning all the scraps of paper into one intact broadsheet newspaper.
Dave took us through the greats of British radio comedy such as Sandy Powell, Al Read and Tony Hancock before we arrived at probably the most famous magician-comedian of all time, Tommy Cooper.
"Tommy Cooper was not a great conjuror, but he was certainly one of the funniest men who ever lived," Dave told us. "He was much bigger than the magic he performed."
Also singled out for praise was Billy McComb, a Belfast-born American magician and comedian who told his audiences: "I was born in Ireland, in a little village called Wedlock. In fact, I was born just outside Wedlock."
Dave told us (and I think he might have made this one up) about Adolphus the Third, the world's worst knife-thrower, and his assistant Zelda the 27th.
Max Wall was another of Dave's favourites. "The strange thing is," he told us, "There isn't a single teenage girl in Britain who has ever heard of Max Wall, so why the hell do they all dress like him?"
After tripping up on another tongue-twister of a song, Dave admitted: "I don't normally do this when I'm sober."
On a similar theme, he recalled the time he proudly took his son to the pub for the first time, lining up a succession of pints of bitter, Guinness and lager, none of which his son liked. "I had to drink them all myself," he recalled. "In the end, I got so drunk I could hardly push his pram home."
Dave also confided that he had recently joined Alcoholics Anonymous. "I'm still drinking, but under a different name," he explained.
There's hardly space here to tell you about the Brummie who went fishing in the canal and pulled out a whale (he threw it back, because there were no spokes in it), or about the Liverpool pub comedian who bought his children an advent calendar with all the windows boarded up.
The one comedian I don't recall Dave mentioning was one of my own favourites, Frank Carson. But, as we stacked the chairs away at the end of the meeting, the most frequently heard remark was "It's the way he tells 'em!"