Several members of Stumperlowe Probus Club have more than a passing interest in wine, including at least two who are shareholders in a commercial-size French vineyard, but they learnt much about the trials and tribulations of smaller scale production on a Peak District hillside 950 feet above sea level.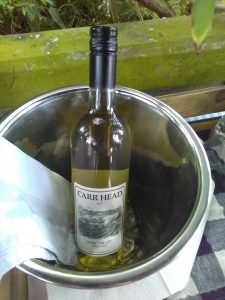 A party of 26 club members enjoyed lunch at a local hostelry before progressing to the farm on the outskirts of Hathersage for a tour of the vines followed by a tasting and buying opportunity.
Michael Bailey, the proprietor of Carr Head Farm with his wife Mary, planted the first of his 1,700 vines on a one and a half acre, south west facing slope in 2014, so the venture is still in its early stages. It was largely a retirement project; it is very labour intensive and he admits that a vineyard of that size will never become a highly profitable business.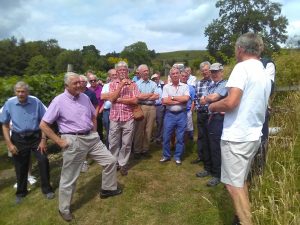 Michael was an engineer by profession, and his career change began when he took a course at Plumpton College, the UK's centre of excellence for wine which, as well as teaching the skills of viniculture, has its own vineyards in East Sussex stretching to 25 acres producing 40,000 bottles of award-winning still and sparkling wines each year.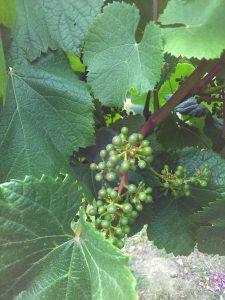 "When we started the course, the tutor went round the class and asked us all where we wanted to start growing grapes," Michael recalled. "There were people from the places you might expect – South East England, Cornwall, and up into the Midlands, and when I said North Derbyshire at an altitude of almost 1,000 feet, his reply was to the effect of 'well, good luck to you!'"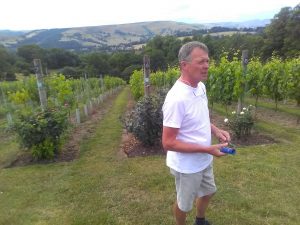 The several varieties of grapes produced each year go to make the white, sparkling rosé and still rosé offered by Carr Head, although there is no winery on site at Hathersage and the grapes are sent away to be produced by the Halfpenny Green vineyard at Bobbington, Staffordshire.