In the days when Doncaster Rovers' home ground was Belle Vue, the town was proud of the fact that it had the largest playing area of any club in the Football League, at 110 yards long by 72 yards wide.
But, in a town where size obviously matters, the old Rovers' pitch would be dwarfed by the nearby Amazon Fulfilment Centre – a warehouse or distribution centre to you and me – which covers an area equivalent to no fewer than 14 Premier League football pitches on the iPort Commercial Park just off the M18.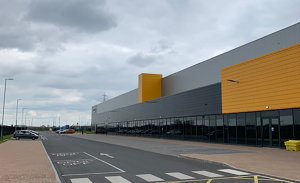 In round figures that comes out at one million square feet, and no one among our party of 27 Stumperlowe Probus Club members who visited the Amazon Fulfilment Centre today would deny that the first thing that hits you as you drive into the visitors' car park, and even more so as you enter on foot through the main doors of the building, is the sheer size of the place.
In Amazon parlance, the iPort warehouse is LBA2. All Amazon fulfilment centres are code named after their nearest international airport, and when LBA1 was opened in 2010, closer to Doncaster and on the opposite side of the M18, Doncaster Sheffield Airport was handling only a fraction of the freight it does today. So Leeds Bradford it was.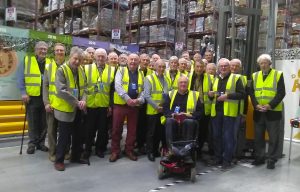 Amazon began life only 25 years ago as an online seller of books but has grown to become the largest internet company by revenue in the world. As of 2018 it employed almost 650,000 people worldwide, of whom more than 250,000 work full-time in their so-called fulfilment network.
In the early Amazon days, the warehouse and its office in Seattle were one and the same. A handful of employees shared the workspace along with shelves and shelves of books. Over time, one warehouse became several hundred and the goods passing through came to include electronics, software, video games, clothing, furniture, food, toys and jewellery. By 2015, Amazon had surpassed Walmart as the most valuable retailer in the United States by market capitalisation.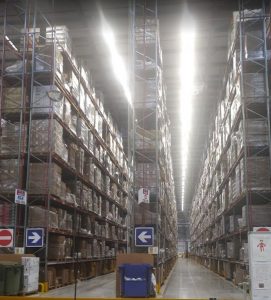 During our two-hour visit, there were 170 employees – or 'associates' as they are known – on duty within the Doncaster building, and every one of them, if not driving some kind of high-reach forklift or other vehicle, was busy picking, packing, wrapping and sending on their way the hundreds of thousands of parcels which make their way through the centre every day.
For although every move is heavily reliant on computers and barcodes to maintain some semblance of order, making sure that the right package is on the right conveyor belt at the right time, the human element was also very much in evidence. People who had come expecting to see banks of robots being controlled by perhaps one or two operatives in a control centre might have been surprised.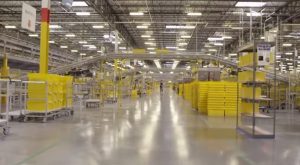 They're keen on acronyms at Amazon. My favourite in the whole process was SLAM, which stands for scan/label/apply manifest and is a stretch of conveyor belt, or rather rollers of the type you see in airport security, where the barcoded packages pass through a series of scanners. They then have self-adhesive name and address labels literally blown on to the surface of the cardboard by air pressure, rather than physically being stamped on, which could damage the contents, as the package is routed to the correct outbound truck. From there it is transported to a 'sortation' centre (another Americanism, but at least they spelt 'centre' correctly) from where it would wing its way to a customer.
Our tour slot was too early to have lunch beforehand and too late to have lunch afterwards. So for 21 of our members the day started with a late full English breakfast and mugs of tea or coffee at The Stockyard truck stop on the Hellaby Industrial Estate, just off Junction 1 of the M18. This was greatly enjoyed, but a suggestion that The Stockyard could be a possible venue for our annual luncheon might be voted down by our wives.