If Harry Brearley made the production of stainless steel possible, it was Robert Mosley who was the visionary, innovator and entrepreneur who brought Sheffield stainless steel cutlery to the mass market.
Anna de Lange's presentation of Robert Fead Mosley's life and career provided us with an interesting sequel to Andrew Messer's talk eight weeks earlier on Harry Brearley, the Sheffield man widely credited with the invention of stainless steel.
Mosley was largely a forgotten man of Sheffield's industrial heritage, but the importance of the role he played has been brought into perspective thanks to Anna's research as volunteer historian to the Portland Works, the derelict factory in Randall Street, off Bramall Lane, which is being brought back to life with help from the J.P Getty Fund and a £100,000 grant from the Heritage Lottery Fund.
The works are being developed as a community-owned home for traditional crafts and creative arts, in a courtyard-style setting, with around 30 artisan tenants already in place.
Mosley was 30 years older than Harry Brearley, and was already established as a successful businessman before the advent of stainless steel provided him with new opportunities. Stainless steel was being developed during the run-up to the First World War, in the hope of providing a new form of steel that would resist corrosion and fouling of the barrels of rifles and larger armaments.
Robert Mosley, through his firm Robert F. Mosley & Co Ltd, was the first person to produce and market stainless steel commercially, in 1914, when a way was found to forge knife blades from the amalgam newly discovered by Brearley. Mosley registered the trademark Rusnorstain.
A century later, as Anna reminded us, we still owe a debt of gratitude to Robert Mosley every time we use a steel blade which we are simply able to wash clean under water.
Anna, who has a degree in history and archaeology, was born in Sheffield and moved back to the city just over four years ago, around which time she happened to watch the television programme Britain's Heritage Heroes featuring the Portland Works.
"I realised that this was a project of international importance, and went to an open day to see the work for myself," she explained. "I decided I would like to help save the works, and to carry out some research on Robert Mosley, who most people seemed to know very little about.
"As I came up with information, people said 'that's interesting – can you find out a bit more?' In the end, what was meant to be an A4 page turned out being a book."
The Portland Works we know today were built in 1879 as a larger replacement for a building of the same name which Robert Mosley had previously occupied at 228 West Street, where he was listed as a table cutlery and scissors manufacturer.
Anna explained that, although the first ever stainless steel knife was made by Harry Brearley, he was a chemist rather than a steel worker and he entrusted the manufacture of the knives to Mosley, who by this time had an enviable reputation. Ernest Stuart, who was a friend of Brearley and the cutlery manager at Portland Works, got the go-ahead from Robert Mosley to start production, with advice from Brearley on such technical matters as hardening and tempering of the steel.
In a book he wrote about the development of stainless steel, Brearley himself said: "So far as the initial use of stainless steel for cutlery is concerned, Mosley's is the firm to whom credit is due. They looked well ahead; they did not expect too much of the steel; they realised that some improvements in appliances and skill in handling them were possible, and the excellent knives they produced justified their optimism."
Examples of Mosley's early stainless knives are on display in the Cutlers' Hall.
Mosley had developed from scissor manufacturer to innovative cutlery maker, investing heavily in the building of the Portland Works which was one of the earliest integrated metal workshops in Sheffield where steel could be taken through its various stages of forging, grinding, assembling, polishing and wrapping.
Robert Mosley died in 1921, at the age of 79, and was interred in the family vault in the churchyard at Christ Church, Fulwood. Although the company continued under the management of his sons, and later a grandson, it perhaps lacked the drive and enthusiasm of the founder or, as Anna pointed out, perhaps its heyday had passed with the economic problems of the 1930s and the focus on munitions during the Second World War.
Australia was Mosley's most lucrative export market, and changes in the country's quota restrictions in the very early 1950s meant that the company lost four-fifths of that trade almost overnight, and the firm began to lay off workers. Robert F. Mosley & Co Ltd finally closed its doors at Portland Works in 1968, although the name was bought and used for a further four years.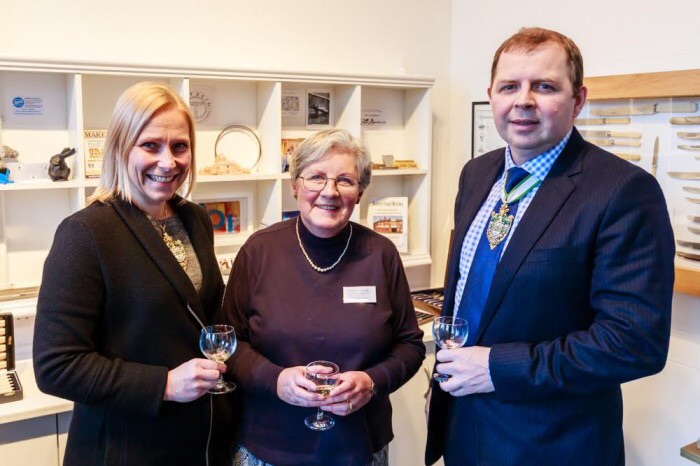 Anna's talk gave us an interesting insight, not just into the development of stainless steel cutlery but into one of Sheffield's largely forgotten industrial pioneers.