If Harry Brearley made the pro­duc­tion of stain­less steel pos­sible, it was Robert Mosley who was the vis­ion­ary, innov­ator and entre­pren­eur who brought Sheffield stain­less steel cut­lery to the mass market.
Anna de Lange's present­a­tion of Robert Fead Mosley's life and career provided us with an inter­est­ing sequel to Andrew Messer's talk eight weeks earlier on Harry Brearley, the Sheffield man widely cred­ited with the inven­tion of stain­less steel.
Mosley was largely a for­got­ten man of Sheffield's indus­trial her­it­age, but the import­ance of the role he played has been brought into per­spect­ive thanks to Anna's research as volun­teer his­tor­ian to the Portland Works, the derel­ict fact­ory in Randall Street, off Bramall Lane, which is being brought back to life with help from the J.P Getty Fund and a £100,000 grant from the Heritage Lottery Fund.
The works are being developed as a community-owned home for tra­di­tional crafts and cre­at­ive arts, in a courtyard-style set­ting, with around 30 artisan ten­ants already in place.
Mosley was 30 years older than Harry Brearley, and was already estab­lished as a suc­cess­ful busi­ness­man before the advent of stain­less steel provided him with new oppor­tun­it­ies. Stainless steel was being developed during the run-up to the First World War, in the hope of provid­ing a new form of steel that would resist cor­ro­sion and foul­ing of the bar­rels of rifles and larger arma­ments.
Robert Mosley, through his firm Robert F. Mosley & Co Ltd, was the first person to pro­duce and market stain­less steel com­mer­cially, in 1914, when a way was found to forge knife blades from the amal­gam newly dis­covered by Brearley. Mosley registered the trade­mark Rusnorstain.
A cen­tury later, as Anna reminded us, we still owe a debt of grat­it­ude to Robert Mosley every time we use a steel blade which we are simply able to wash clean under water.
Anna, who has a degree in his­tory and archae­ology, was born in Sheffield and moved back to the city just over four years ago, around which time she happened to watch the tele­vi­sion pro­gramme Britain's Heritage Heroes fea­tur­ing the Portland Works.
"I real­ised that this was a pro­ject of inter­na­tional import­ance, and went to an open day to see the work for myself," she explained. "I decided I would like to help save the works, and to carry out some research on Robert Mosley, who most people seemed to know very little about.
"As I came up with inform­a­tion, people said 'that's inter­est­ing — can you find out a bit more?' In the end, what was meant to be an A4 page turned out being a book."
The Portland Works we know today were built in 1879 as a larger replace­ment for a build­ing of the same name which Robert Mosley had pre­vi­ously occu­pied at 228 West Street, where he was listed as a table cut­lery and scis­sors man­u­fac­turer.
Anna explained that, although the first ever stain­less steel knife was made by Harry Brearley, he was a chem­ist rather than a steel worker and he entrus­ted the man­u­fac­ture of the knives to Mosley, who by this time had an envi­able repu­ta­tion. Ernest Stuart, who was a friend of Brearley and the cut­lery man­ager at Portland Works, got the go-ahead from Robert Mosley to start pro­duc­tion, with advice from Brearley on such tech­nical mat­ters as harden­ing and tem­per­ing of the steel.
In a book he wrote about the devel­op­ment of stain­less steel, Brearley him­self said: "So far as the ini­tial use of stain­less steel for cut­lery is con­cerned, Mosley's is the firm to whom credit is due. They looked well ahead; they did not expect too much of the steel; they real­ised that some improve­ments in appli­ances and skill in hand­ling them were pos­sible, and the excel­lent knives they pro­duced jus­ti­fied their optim­ism."
Examples of Mosley's early stain­less knives are on dis­play in the Cutlers' Hall.
Mosley had developed from scis­sor man­u­fac­turer to innov­at­ive cut­lery maker, invest­ing heav­ily in the build­ing of the Portland Works which was one of the earli­est integ­rated metal work­shops in Sheffield where steel could be taken through its vari­ous stages of for­ging, grind­ing, assem­bling, pol­ish­ing and wrap­ping.
Robert Mosley died in 1921, at the age of 79, and was interred in the family vault in the church­yard at Christ Church, Fulwood. Although the com­pany con­tin­ued under the man­age­ment of his sons, and later a grand­son, it per­haps lacked the drive and enthu­si­asm of the founder or, as Anna poin­ted out, per­haps its heyday had passed with the eco­nomic prob­lems of the 1930s and the focus on muni­tions during the Second World War.
Australia was Mosley's most luc­rat­ive export market, and changes in the country's quota restric­tions in the very early 1950s meant that the com­pany lost four-fifths of that trade almost overnight, and the firm began to lay off work­ers. Robert F. Mosley & Co Ltd finally closed its doors at Portland Works in 1968, although the name was bought and used for a fur­ther four years.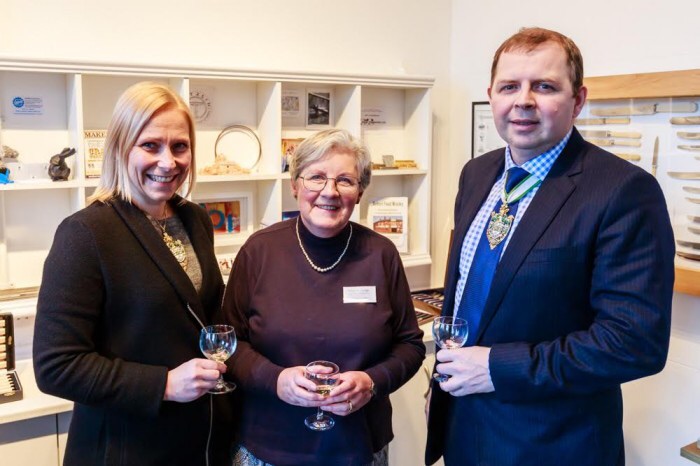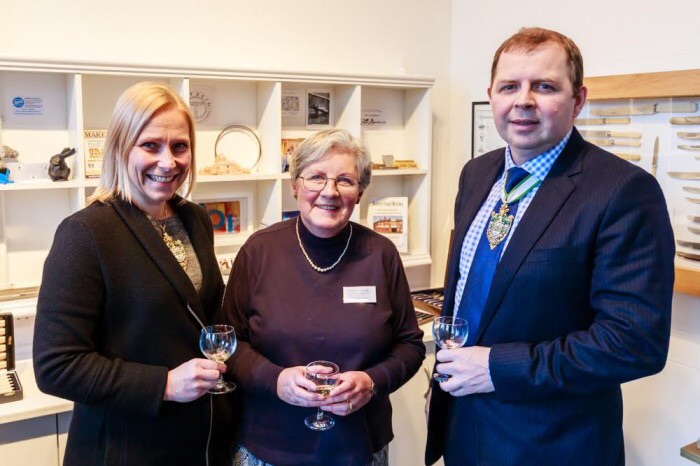 Anna's talk gave us an inter­est­ing insight, not just into the devel­op­ment of stain­less steel cut­lery but into one of Sheffield's largely for­got­ten indus­trial pion­eers.