Keith Booker, making his fourth visit to Stumperlowe, brought with him greetings from his home club of Dore, and explained that his latest selection of photographs from around the world was put together by request after he gave us Part One just over two years ago.
"I've gathered together a new selection of pictures taken on a few of our adventures featuring some less seen subjects, and others better known, which my wife and I found absorbing, surprising and sometimes amusing," he explained. "You and I all have one thing in common today," he added, "and that is that we are seeing this latest compilation for the first time!"
The cynics amongst us perhaps thought we were in for a slideshow of holiday snaps, but this was a travelogue with a difference. Jules Verne's Around the World in Eighty Days has nothing on Keith Booker's Around the World in Fifty Minutes.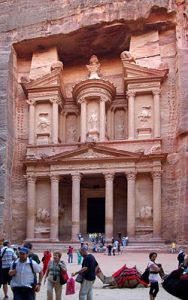 The opening theme was the Ancient World, and we started off in the city of Petra, in Jordan. At its peak Petra – which translates as 'rock' – was home to 20,000 people who, in the midst of the desert, built an ingenious system of waterways and a huge amphitheatre. Next stop was the Great Pyramid of Giza, which at 480 feet was the tallest manmade structure in the world for nearly 4,000 years, constructed out of 2.3 million stone blocks. The Great Sphinx of Giza, which measures 238 feet from head to tail, is estimated to have been built earlier than 2500 BC.
Time to move on, and the ancient Greek city of Ephesus (now actually in modern day Turkey) was one of the Seven Wonders of the Ancient World. Olympia, site of the original Olympic Games, The Temple of Posiedon, near Athens, and Old Corinth, famous as a trading centre, were next on the itinerary.
Back on the magic carpet, and Rome was our next stop. The Colosseum, built in 72 AD, could seat more than 50,000 spectators and it is thought that half a million people and twice as many animals were killed in the man versus beast contests.
Versuvius looms over both Herculaneum and, more famously, Pompeii, the city which was destroyed by volcanic ash in 79 .
On now to India. Traditional houseboats can be hired on the Kerala backwaters near Cochin, or Kochi. They are related to the dhow and were originally designed as spice trading vessels. Today, spices are mainly transported by road, giving the boats a new lease of life as leisure vessels.
We saw similar scenes in Thailand and Vietnam before ringing the bell for the next stop, Venice, where today there are still 400 gondolas originally used to transport goods from the markets to the palaces along the canals.
North now to Lake Garda, where we saw part of the hull and bow of the Italian naval cruiser Puglia, launched in 1903, installed in a garden high above the lake and bringing a new slant to the craze for decking.
Across the Atlantic now for a look at the impressive bridge of the Queen Mary, which operated between 1936 and 1967 and is now preserved as a hotel and conference centre in the harbour at Long Beach, California.
Its successor the QE2 was launched in 1969 and retired in 2008, having sailed a greater distance than any other vessel of any type, and Keith captured it in Hong Kong harbour for his photo collection. In an instant, Keith then whisked us off to Scandinavia for the QE2's last visit to Norway and her appearance at an annual steamship festival, which in 2008 was held in Stavanger.
Continuing the maritime theme, the Titanic's first and (as it transpired) only port of call on her ill-fated maiden voyage from Southampton was Cork, in Ireland, where we saw an appropriate memorial. A number of the Titanic victims have their final resting place at Halifax, Nova Scotia, and Keith was on hand with his camera there, too, to show us the gravestones laid out in the shape of a ship's bow.
On next to New York, worth a whole show in its own right, and then to Greenland, the largest island in the world but with a population of just 56,000.
From basalt formations in Iceland we flew as if by magic to the similar Giant's Causeway on the Antrim coast in Northern Ireland, and then headed north via Tromso and its Arctic Cathedral to the North Cape, the most northerly point in Europe.
The old commercial district of Quebec has some remarkable murals, giving it a link with Cannes, in the South of France. Soon we were back in Ireland, and Dublin in particular, and the North Yorkshire fishing village of Staithes also had its moment of fame before we jetted off to Australia, and the Sydney Opera House.
After a stop-off in Bangkok, it was time to board Japan's famous bullet train for a distant view of Mount Fuji.
Then it was back towards home, calling in at Istanbul, the original terminus the Orient Express. Keeping to the rails, we saw the Blue Train in South Africa and the Panama Express, which runs alongside the canal.
We didn't go to Zywiec, in Poland, so Yalta – scene of the famous postwar powwow between Churchill, Roosevelt and Stalin – was a good place alphabetically to wind up our magical mystery tour.
Keith was asked which places he would still like to visit, and his reply was Machu Picchu and Easter Island. He has no plans to turn this presentation into a trilogy but, as they say, watch this space …
* Keith kindly donated his fee to St Luke's Hospice.