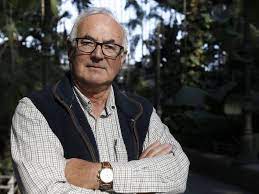 We were privileged to share, at first hand, Richard Blair's (pictured left) many recollections of life with his father Eric Arthur Blair, otherwise known as George Orwell (1903-1950), best known for his allegorical novella Animal Farm (1945), the dystopian novel Nineteen Eighty-Four (1949), and his non-fictional work including The Road to Wigan Pier (1937) and Homage to Catalonia (1938). He was a prolific essayist, poet, journalist and critic, whose work was characterised by lucid prose, social criticism, opposition to totalitarianism and support of democratic socialism.1  
Richard Blair was the adopted son of Orwell and Eileen (née O'Shaughnessey), who married in 1936. Eileen died in 1945, a year after Richard's birth. Orwell married Sonia Brownell, the Venus of Euston Road, in 1949 when he already had advanced TB, just three months before his death. Her motives for marrying Orwell remain controversial. Sonia and her accountant, Jack Harrison, became the sole trustees of the Orwell estate, Harrison controlling 75 per cent of the holdings and Sonia naively leaving all Trust management to him for years under the mistaken belief that the Trust was making no money! Later on, Harrison was successfully sued for transfer of copyright, leaving Richard as the sole beneficiary of the Orwell estate, a complex affair taking a further seven years for probate to settle.
His mission since then has been to preserve the memory of George Orwell and, to this end, he has appeared on TV and radio, performed public ceremonies and dedicated a statue to his father at the BBC. He remains committed to challenging inaccuracies about Orwell, particularly on social media. Peter Hitchens' recent article2 is worth a read.
George Orwell
His early life
Born in India in 1903, he was raised in England. His father was overseeing production and storage of opium for sale to China, a bit of an irony given China and its world markets today. He had two sisters, Marjorie and Avril, respectively five years older and younger. The family moved to Shiplake in Oxfordshire. They couldn't afford full fees for a private education.
A scholarship took him to St Cyprian's School in Eastbourne. He was very bright – "fattened (academically) like a Christmas goose" – and destined for Eton as a King's scholar, where he wrote and read avidly but neglected his school work, leaving without any qualifications. He joined the Burmese police force, had a good time with the ladies, and for the first time realised the iniquity of British Empire rule.
He had been passionate about Jacintha Buddicom, the daughter of family friends. When they first met, she asked him why he was standing on his head, to be met by his cunning reply "you are noticed more when you stand on your head than if you are the right way up". His affinity for the girls never left him. That particular friendship came to an abrupt end later when he tried to rape her.
He joined the British army for a brief time before resigning his commission to become a writer, spending a tramp-like existence in London and Paris, experiencing the squalor and poverty of the Great Depression.
Eileen O'Shaughnessy was an Oxford graduate and Pitman-trained typist who transcribed his handwritten texts and latterly credited for her significant contribution to the writing of Animal Farm. They enjoyed a fairly feisty married relationship. She was more than his intellectual match. The Daily Mail2 claimed they shared a "scrimping life…in great discomfort in more or less squalid dwellings"­. An exaggeration, or perhaps she was also content with the Bohemian lifestyle.
Spanish Civil War
Orwell went to Spain in 1936, leaving Eileen behind, to fight against the fascists, but finding himself in a complex political cauldron in Catalonia amongst factions having conflicting aims. Although not a communist, he joined up with POUM (Workers Party of Marxist Unification) on the Republican side. He was sent to the Aragon front under George Kopp, a Russian soldier, whose son Quentin now lives near Chesterfield and is the secretary of the Orwell Society. George Kopp and Orwell enjoyed a lifelong friendship, mirrored by the close friendship between their respective offspring through the Orwell society. He then joined a British contingent in the Spanish Civil War, fighting in Monte Oscuro and Huesca. Eileen went to the trenches with food supplies. Orwell was seriously wounded. Your blogger reckons he was very lucky to have survived a through-and-through bullet in the neck from a sniper. It missed the carotid artery by a whisker; "his voice barely audible", and probably took out a recurrent laryngeal nerve. He was declared unfit for further service and escaped from Spain in 1937. From this point he was forever against totalitarianism.
Back home
He was tried in Spain in his absence but was already back in Wallington. Homage to Catalonia followed in 1938.
He published a number of other books throughout this time, the most well-known was Road to Wigan Pier in 1939. Its message for London-centrics was to enlighten them about northern deprivation and poverty in the 1930s. Wigan locals didn't like what they read but had missed the point.
In 1938 he had tuberculosis (TB) and was confined to a sanatorium for six months. He convalesced in Marrakesh where the Orwell Society continues to pay homage on a regular basis.
In WWII Orwell was a home guard sergeant and unfit for battle from TB. He joined the BBC along with TS Elliot, describing the organisation unkindly as a cross between a girls' school and a lunatic asylum. Eileen also worked for the BBC. He did talks for its Indian Service.
Neither he nor Eileen cared about their own health. He was a heavy Black Shag smoker. But he always wanted children and persuaded Eileen that they should adopt, to 'give her something to do'!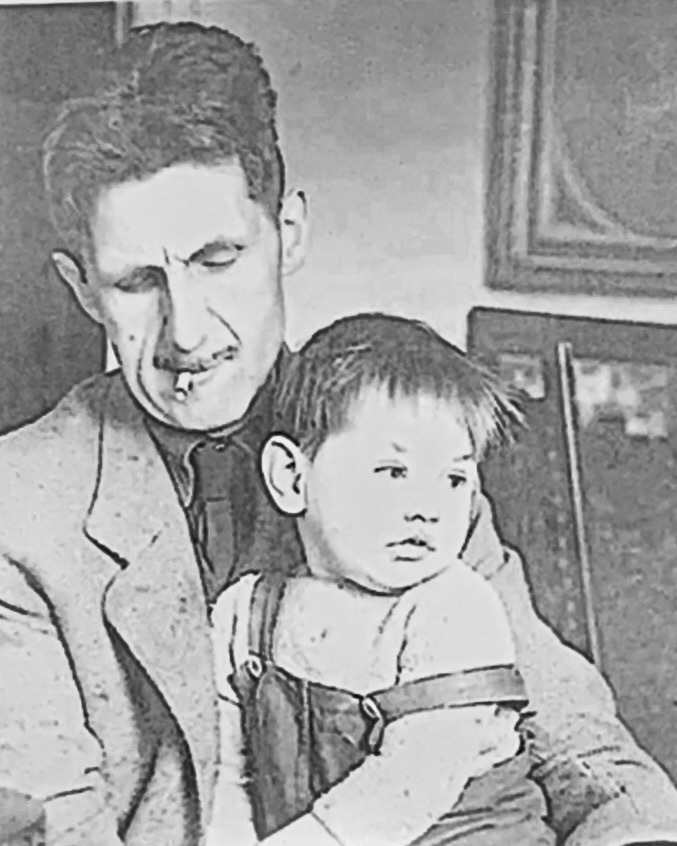 Richard was adopted in 1945 and claims that Orwell was a good father to him (see right). Orwell was dispatched to Germany by the BBC. Eileen returned to Newcastle for surgery to remove a cancer of the uterus but died on the table. Richard was taken by his nanny to Barnhill, a remote house in Jura. His aunt Avril joined them but she didn't get on with the nanny and left for London, leaving Richard and the nanny with Orwell, until his death in 1950, when Richard's care was taken over again by Avril and her husband Bill Dunn. Richard was sent to Lorretto School near Edinburgh, then Eton from 1953 to 1960. He went to agricultural college and spent many years with Massey Ferguson in sales and marketing.
Meanwhile, in the late 1940s, Orwell had stayed at Barnhill in Jura to write Nineteen Eighty Four. There was post-war rationing but he had access to good food, inviting his friends and relatives to stay provided they were happy to do the two-day journey by sleeper, ferry, bus, taxi and finally a five-mile walk along the long road to Barnhill. Visitors included his older sister Margery and her children and time was spent outdoors walking and boating. Richard recounted that on one occasion Orwell had misread the tide table. The outboard motor was ripped off and they rowed to shore but the boat overturned and they almost drowned.
Orwell's TB recurred and his close friend David Astor engineered delivery of the newly-developed streptomycin, critical for the eradication of TB, but he was allergic to the drug and unable to complete the course. He relapsed and was admitted to University College Hospital, London, where he married Sonia only weeks before his death in 1950.
References
1 George Orwell. Wikipedia
2 "Are the Left's thought police about to cancel George Orwell?" Peter Hitchens for the Daily Mail. MailOnline. 18th October 2023. Updated 19th October 2023