Early life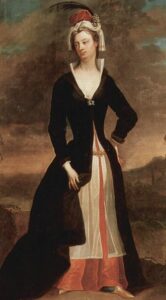 Lady Mary Wortley Montagu
Lady Mary Wortley Montagu (neé Pierrepont) is recog­nised as one of the great female intel­lec­tu­als of the 18th cen­tury.
She was the daugh­ter of the Duke of Kingston-upon-Hull, born in 1689. Between 1692 and 1700 she went to her grand­mother at West Dean near Salisbury, then to Thoresby Hall near Ollerton. Here she was edu­cated (badly) by a gov­erness, but intel­lec­tu­ally motiv­ated, she taught her­self Latin and immersed her­self in books.
In London she met Edward Wortley Montagu, grand­son of the Earl of Sandwich. Through his sister Anne Wortley, Edward made it known he was keen on Lady Mary and they con­tin­ued to cor­res­pond and meet secretly. However arranged mar­riages were common amongst the aris­to­cracy and Clotworthy Skeffington, an Irish Peer, was her father's altern­at­ive idea of a suit­ably wealthy aris­to­cratic suitor. Edward's counter pro­posal was flatly rejec­ted by Lord Dorchester so they eloped and mar­ried in 1712. Their son Edward junior was born in 1713.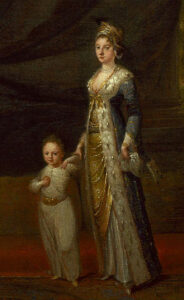 Lady Mary Wortley Montagu with her son Edward
The fol­low­ing year Edward (senior) accep­ted accep­ted the post of Junior Commissioner of the Treasury. Mary rose to the highest levels of the social ladder in London and was intro­duced to the royal court. A bit of a scan­dal monger, she wrote anonym­ous poems for The Spectator between 1714–16, describ­ing mem­bers of roy­alty as "block­heads".
In 1716 Edward was posted to Constantinople as British ambas­sador to nego­ti­ate an end to the Austro-Turkish War. They trav­elled over­land via Vienna, accom­pan­ied by 200 Turkish troops, phys­i­cian and ser­vants. A daugh­ter was born in 1718. She wrote "Letters from Turkey" and is cred­ited as the first female travel writer.
Lady Mary vis­ited zena­nas in the Ottoman Empire to learn about the cus­toms of segreg­ated Muslim and Hindu women. She wrote about a visit to a Turkish bath, her gender and status provid­ing access to female spaces that were no-go areas for men. The Ottoman women were hor­ri­fied by her stays (of cor­setry), believ­ing her to be "so locked up in that machine that it was not in my own power to open it, which con­triv­ance they attrib­uted to my hus­band". Her writ­ing was some­what erotic.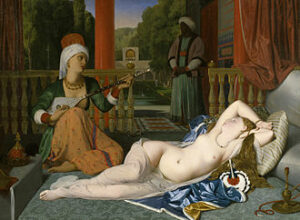 A paint­ing, inspired by Mary Wortley Montagu's detailed descrip­tions of nude ori­ental beau­ties, by Jean Auguste Dominique Ingres
She looked far more com­fort­able there out of cor­setry.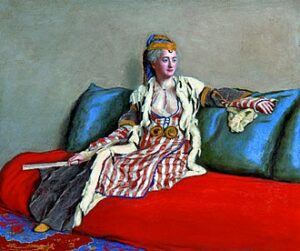 Lady Montagu in Turkish Dress by Jean-Étienne Liotard c.1756
Smallpox
Smallpox was first recor­ded in China in third cen­tury and by the tenth cen­tury nasal inocu­la­tion of pus­tu­lar mater­ial to achieve immunity was prac­tised.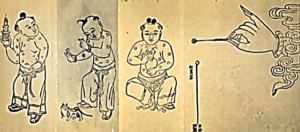 Smallpox inocu­la­tion in China
Pox-swaddling in infec­ted clothes had been used for cen­tur­ies in parts of Wales to gain immunity. The English were unaware.
Lady Mary Wortley Montagu intro­duced vari­ola­tion to England, based on her Turkish exper­i­ence where small­pox was rife. She had sur­vived the dis­ease her­self at the age of 26 but her face was dis­figured. Her brother had died from it two years earlier in 1713. She was there­fore alert to the its implic­a­tions and in 1717 she wrote about the effect­ive Turkish prac­tise of vari­ola­tion (inocu­la­tion) for small­pox in "Letter to a Friend". Pustules from an infec­ted person were scratched into the skin of an unin­fec­ted person. Acquired immunity res­ul­ted in just mild dis­ease and no (doc­u­mented) mor­tal­ity with min­imal scar­ring.
She per­suaded Charles Maitland, embassy sur­geon, to inocu­late her 5 year old son Edward. Back in England in 1721 her daugh­ter Mary (many years later buried in Wortley church) was inocu­lated by Maitland, arous­ing the interest of Caroline of Ansbach, Princess of Wales. Maitland was reluct­ant to do it in the public glare of London, fear­ing the poten­tial scan­dal of unin­ten­ded death with an untried remedy! He would only agree on con­di­tion that rep­res­ent­at­ives of the Royal College of Physicians were present as wit­nesses.
Controversy raged. More "clin­ical trials" were needed. In 1721 the King agreed to pardon six con­demned Newgate pris­on­ers if they agreed to volun­teer for vari­ola­tion. All sur­vived and were pardoned. Maitland kept impec­cable records.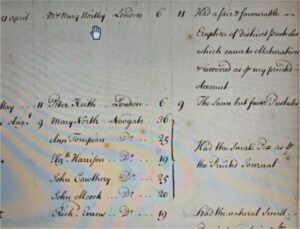 Six Newgate pris­on­ers pardoned
In 1722, six orphans also sur­vived vari­ola­tion under scru­tiny and royal approval was finally gran­ted. The Princess of Wales had already lost one daugh­ter from small­pox and wished to be inocu­lated, together with her son and two other daugh­ters. Even then, the "anti­vaxxers" were hard at work.
Variolation was not com­pletely safe. Deaths sub­sequently happened. In the 1760s there were mul­tiple anec­dotal reports of pro­tec­tion against small­pox by prior cowpox infec­tion, a closely related virus but dis­tinct from small­pox and never pro­du­cing other than mild symp­toms in humans. Cowpox was par­tic­u­larly common in milk­maids. In 1774, farmer Benjamin Jesty inocu­lated his family with pus­tu­lar mater­ial from infec­ted cows and the chil­dren remained healthy in a sub­sequent small­pox epi­demic.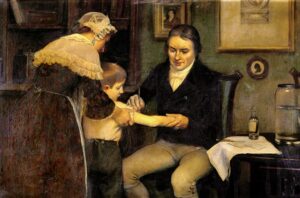 Edward Jenner vac­cin­at­ing
In 1796 Edward Jenner ( inocu­lated James Phipps with cowpox from milk­maid Sarah Nelms. He was the first to apply sci­ence when he later vari­olated Phipps, this time with actual small­pox, and he was immune. Jenner's res­ults were met with ini­tial scep­ti­cism but by 1800 vac­cin­a­tion was increas­ingly accep­ted. The term "vac­cin­a­tion" was a Latin nod to its origin (vacca=cow).
The modern small­pox vac­cine con­tains vac­cinia virus, closely related but genet­ic­ally dis­tinct from cowpox. Smallpox was declared erad­ic­ated by WHO in 1980 shortly after an acci­dental, but fatal, labor­at­ory escape in Birmingham in 1978 (COVID ana­logy here?). The blog­ger con­siders him­self lucky to remain alive after his stu­dent days doing a vir­o­logy course at St Mary's where the only live English stocks of small­pox virus were kept only feet away in a freezer at the time before their final jour­ney via Porton Down to the Centers for Disease Control and Prevention (CDC) in Atlanta Georgia.
The blog­ger also recalls the ori­ginal pre­served hide of the donor cow Blossom in the lib­rary when he worked at Jenner's alma mater, St George's Hospital at Hyde Park Corner. When the hos­pital was trans­ferred to Tooting in 1977 it went to its cur­rent home at the Jenner Museum at Berkeley, Gloucestershire.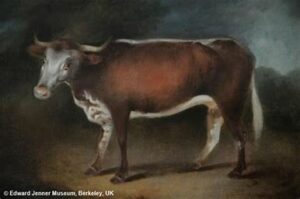 Blossom
Lady Mary Wortley Montagu's later years
Lady Mary con­tin­ued to write satir­ical art­icles and pub­lished her news­pa­per "Nonsense of Common-Sense" but her out­spoken beha­viour was increas­ingly embar­rass­ing to her hus­band, which led to sep­ar­a­tion and divorce. When she was 47 years old she met 24 year old Algarotti which caused a bit of a scan­dal. She left for Venice but the fact that Algarotti was bisexual didn't help. Having then settled in Avignon in 1742, the English and French went to war in 1744 and she returned to Italy.
Her son Edward was a tear­away, drunk­ard, burg­lar and bigam­ist with an ille­git­im­ate child, before absolv­ing him­self with a dis­tin­guished career in the army. They didn't get on.
Lady Mary joined Count Palazzi in Gottolengo to lead a quiet rural life before return­ing to England, by which time she had writ­ten her travel diar­ies. Lady Mary's daugh­ter refused pub­lic­a­tion, but shortly after her death from breast cancer in 1762, they were pub­lished in the Netherlands from copies of the ori­gin­als which had been quietly stolen and returned without her know­ledge.
Lady Mary Wortley Montagu's extens­ive body of work is freely avail­able in print but has been poorly recog­nised until now, but per­haps this is about to change https://www.bbc.co.uk/sounds/play/m0001v84