This was a detailed and fas­cin­at­ing talk about the his­tory of Westminster Palace. A mem­or­ised (rather than read) deliv­ery using the beau­ti­fully pre­pared slides as prompts would have been for me the icing on the cake. I par­tic­u­larly liked the Dennis Skinner quotes; there are a few extra ones slot­ted in at the end.
Thorn Island at the con­flu­ence of the Tyburn with the Thames was marsh­land where the Saxon St Peter's Monastery was built, then demol­ished later in the 11th cen­tury by Edward the Confessor, repla­cing it with the larger Benedictine West Minster abbey and its adja­cent palace. William the Conqueror was crowned there in 1066. William II added Westminster Hall, the largest cere­mo­nial centre in Europe. Henry III replaced the abbey in the 13th cen­tury with today's much altered build­ing, adding the adja­cent St Stephen's Chapel (which had a vital role in the his­tory and devel­op­ment of Parliament as we now know it), the Lesser Hall, King's ("Painted Chamber") and Queen's Chambers and Queen's chapel. This was a tur­bu­lent time in our his­tory. Henry III attemp­ted to regain lost Magna Carta powers from the barons, led by Simon de Montfort who called a series of Parliaments to sup­press the king and estab­lish the need for Parliament's approval to col­lect taxes, thus extend­ing Magna Carta's powers. A Parliament of barons, the clergy together with untitled cit­izens and bur­gers met in the Queen's Chamber. After 1341 they met sep­ar­ately in the fore­run­ners of the Houses of Lords and Commons.
It was still a royal palace. In the reign of Henry VIII a fire in 1512 caused sub­stan­tial damage, Henry moved to Whitehall Palace and gran­ted Westminster to the gov­ern­ment. The Commons then moved into St Stephen's Chapel next to Great Hall (with its mag­ni­fi­cent hammer beamed roof) and stayed there for the next 300 years. The prayer stalls each side of the aisle were the ori­gins of the two-party system of gov­ern­ment and oppos­i­tion. The screen's right and left doors became the sym­bolic portals for the present day "ayes" and the "no's".
During Henry VIII's moment­ous reign, laws affect­ing every aspect of national life, espe­cially reli­gion, were intro­duced. Parliamentary author­ity was every­where.
Guy Fawkes was a Catholic con­vert after the reform­a­tion. At the state open­ing of Parliament his plan to des­troy the prot­est­ant Parliament was uncovered and he was tor­tured before reveal­ing this fellow con­spir­at­ors. On his way to behead­ing Fawkes jumped from the ladder to the scaf­fold and broke his neck – a much better way to go?
When Charles 1 tried unsuc­cess­fully to impose his author­ity, Cromwell assumed power and Charles was executed for treason and since that time no sub­sequent mon­arch has entered the House of Commons apart from state occa­sions.
Your blog­ger was aston­ished to hear that a mere single Prime Minister has ever been assas­sin­ated (Spencer Perceval in 1812).
In 1801, the Union with Ireland cre­ated 100 more MPs. More space was needed. James Wyatt removed the medi­eval fur­nish­ings in St Stephen's Chapel. The Queen's Chamber proved too small for the Lords after 500 years and they moved to the much grander Lesser Hall.
An unat­tract­ive hotch-potch of medi­aeval timber-framed build­ings was a real fire risk. Storage of huge num­bers of tally sticks (ancient memory device for those who don't remem­ber) proved incen­di­ary in 1834. Fire des­troyed most of the palace. Only Westminster hall, the Jewel Tower and chapel under the House of Commons sur­vived.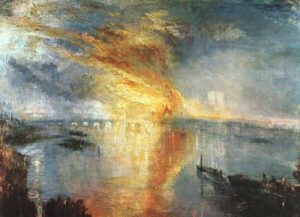 The Burning of the Houses of Parliament JMW Turner (Tate)
Britain was then the most power­ful nation on earth and a new Parliament build­ing was built in the neogothic style. Anston was chosen to quarry 35,000 tonnes of mag­nesium lime­stone quar­ried for its warm appear­ance. Half a mil­lion tons were taken along the Chesterfield canal via the Trent, Humber and Thames to London. Charles Berry enlis­ted Pugin's help, whose river­side design adja­cent to the old medi­eval build­ings was part of London's massive embank­ment scheme. An estim­ated cost was £725000. The actual cost was >£2 mil­lion and took over 30 years to build.
Vertical instead of hori­zontal vents were used res­ult­ing in ongo­ing erosion and decay from the ele­ments. Rutland stone was used for res­tor­a­tion in the 1930s.
In 1941 an unex­plored bomb fell into the Lords. A new cham­ber was built in1950. They elec­ted to keep the adversarial cross bench arrange­ment of seat­ing instead of adopt­ing the more modern semi-circular system. Churchill quipped "We shape our par­lia­ment and par­lia­ment shapes us"
Mike Ogden gave a detailed illus­trated account of the cur­rent layout and fur­nish­ings of Parliament. Currently there is a £4 bil­lion plan for res­tor­a­tion and tem­por­ary relo­ca­tion.
Here are some par­lia­ment­ary anec­dotes and quotes to finish off:
Labour MP Emrys Hughes nick­named Sir Hartley Shawcross, "Sir Shortly Floorcross" for his con­ser­vat­ive sym­path­ies during the Cold War.
"The hon­our­able Member is living proof that a pig's blad­der on a stick can be elec­ted to Parliament." —Tony Banks (Labour) on Terry Dicks (Tory)
"She prob­ably thinks 'Sinai' is the plural of 'sinus.'" —Jonathan Aitken on Margaret Thatcher
"The house has noticed the Prime Minister's remark­able trans­form­a­tion in the last few weeks from Stalin to Mr. Bean." —Vince Cable on Gordon Brown.
"The right hon­our­able and learned gen­tle­man has twice crossed the floor of this House, each time leav­ing behind a trail of slime." —David Lloyd George.
"He occa­sion­ally stumbled over the truth, but hast­ily picked him­self up and hur­ried on as if noth­ing had happened." —Winston Churchill.
Our local hero Dennis Skinner has the sharpest wit of all, best attend­ance, lowest expenses, never accepts drinks from journ­al­ists and has often been thrown out of Parliament for pro­tocol breaches. His Black Rod quips are famous and per­en­nial:
"Half the Tory mem­bers oppos­ite are crooks". The Speaker told him to with­draw. "OK, half the Tory mem­bers aren't crooks".
"Tell her to sell up" – a ref­er­ence to how the Queen could help the reces­sion.
"Hey up, here comes Puss-in-Boots!"
"I bet he drinks Carling Black Label."
"Tell her to pay her taxes!"
"Tell her to read the Guardian!" (run­ning a repub­lican cam­paign at the time).
"Has she brought Camilla with her?"
"Is Helen Mirren on standby?"
"Any Tory moles at the Palace?"
"Royal Expenses are on the way." – after the expenses scan­dal
"Royal Mail for sale. Queen's head privat­ised."
To Roy Jenkins (mixing up his Rs and Ws): I leave this party without ran­cour – to which Dennis replied: I thought you were taking Marquand with you "Every now and then you see the arrog­ance of Cameron, and that comes through every so often. It is the Bullingdon Club. When they were sat down, him and Gideon, and he says: 'You know what we really want, Gideon? Every week­end, after we've roughed up one of those hotels, we need an army of volun­teers to come in and clean it all up.' And Gideon says: 'Yeah, we could call it the Big Society'" Dennis to Dodgy Dave
"Tell the House of Lords to go to hell."
"He's lining his pock­ets" — an import­ant quote, Skinner said what nobody else would but what they many thought about Tebbit in a non-exec pos­i­tion at privat­ised BT.
Finally per­haps the best of the lot, Skinner call­ing an MP a pom­pous sod:
Speaker: "You'd better with­draw that"
Skinner: "I with­draw the word pom­pous"
Speaker: "That's not the word I'm look­ing for"
Skinner: "I can't with­draw both"
Andrew Shorthouse 24 June 2019