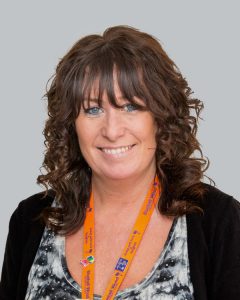 Angie Beasley is a Child and Family Co-ordinator at the Blue Bell Wood childrens hospice, near Sheffield, where she has worked for the past eight years since its opening. Prior to that she has worked in other adult hospices in the UK.
Angie explained that the word "hospice" first began to be used in the mid 1800s in France and referred to the caring of dying patients. It was later taken up by Irish Sisters of Charity when they opened Our Lady's Hospice in Dublin, Ireland in 1879. However hospices did not become more widely known until 1967 when Dame Cicely Saunders founded St Christopher's House. Having said that St Luke's Hospice in Sheffield existed many years before that to my knowledge.
Angie explained that Helen House, based on the outskirts of Oxford was the first children's hospice, opening in November 1982, and now there are 49 throughout the UK.
Blue Bell Wood Hospice came about as the result of the care provided to a terminally ill boy called Richard Cooper, aged 10. No children's hospice existed in the area at that time and Richard's parents stayed at his bedside throughout his frequent visits to hospital, slept in chairs and bought food in from outside of the hospital. Richard spent his final few weeks at home and died on the 13th March 1997, aged 11.
A charity was established in 1998 to help families in South Yorkshire, Lincolnshire and Nottinghamshire who needed care and support outside of the hospital environment, and after a lot of fund raising Blue Bell Wood hospice for children and young adults opened its doors on the 19th September 2008.
Originally it was intended that the hospice should be built in Doncaster at the existing adult Hospice of St John's in Doncaster but there was an issue with bats on the site and so, eventually it was decided that it would be built at Cramafit Road in North Anston, Sheffield.
It is built in six  and a half acres of land and is in the shape of a large horse shoe. There are eight en-suite bedrooms for the children/ young adults on one leg of the horse shoe and eight en-suite bedrooms for the families of the children on the other, plus two complete apartments for a child/young adult and family on the end of each wing of the building. These are named "Primrose" and Forget-me-not suites. The expression child/young adult is used because the age of the patients can range from just a few hours up to 25 years old.
The Hospice is surrounded by beautiful gardens including a Dragonfly Remembrance Garden which was built by Alan Titchmarsh and the team from ITV's 'Love Your Garden'. The garden is suitable for wheelchairs and has a vegetable patch, a giant chess set, a playhouse and a shaded area for hot days.
The hospice  believes in generating love, laughter and some happy memories at  this crucial stage of life. It  is currently supporting around 250 families, both in their own homes and at the hospice in North Anston, Sheffield.
Angie and her team provide counselling to individuals and families for as short or as long as required, with each session lasting one hour and both the hospice and the counselling is absolutely free. She also organises discussion groups where parents can come, discuss and share their feelings and emotions  that they have experienced and are experiencing, to draw strength from other parents in the same situation.
All this comes at a cost which is currently running at over £4 million  a year to keep the doors open. 10% of this comes from statutory government sources, 1% from the local authority and the rest from fund raising.
Angie's talk can only be described as both emotional and riveting, with many questions being asked both during and after the talk.
This text does not really do justice to her talk but you can learn more about Blue Bell Wood children's hospice by clicking on the link "Blue Bell Wood"