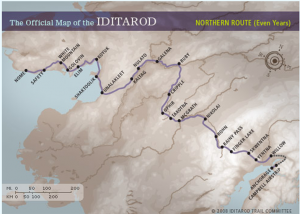 The great race refers to the 1049 mile annual Iditarod race between Anchorage and Nome in Alaska by dog sled. The race is 1049 miles long because Alaska is the 49th state of America.
He started by explaining the immense size of Alaska and its tiny population of 723,000 people.  Originally it was purchased from Russia for 2 cents per acre and it is now the 49th State of the USA.  Its wealth comes from oil.  In 1900 the promise of wealth came in the form of the Ukon Gold Rush but gold hardly figures in today's g.d.p.
The country has few roads and most of these become difficult to navigate in winter so that in the past dog sleds and planes were the main forms of winter transport.  Today snowmobiles have superseded dog sleds.  In 1973 to keep an interest in dog sleds alive, the first Iditarod was held and competed by the winner in 20 days.
Now it is a much larger and more professional event. In 2012 there were 69 teams each starting with 16 dogs.  There were 15 rookies, 18 women and 5 past winners all hoping to win the $50,000 first prize.  The equipment has much improved over 40 years and the fastest time is 8 days, 22 hours and 46 minutes of actual racing time.  There are a few 24 hour rest stages for the sake of the dogs.  There are several vets but no doctors to support the teams.  Food is provided at the stage posts to reduce the weight to be pulled by the dogs.
Although Siberian Huskies are entered in the Iditarod, they are too large and slow to compete with the Alaskan dogs that are mongrels with some Husky blood.
For Dennis Ashton a major attraction of the race was the friendliness of the people.  A particular Favorite was Lance Mackay who has won the race 6 times and the other long distance sled race called the Yukon Quest twice.  Dennis' enthusiasm and gifts as a speaker made this a really enjoyable and enlightening talk.