Simon, Head of the City Regeneration Team., gave us a most interesting presentation on the regeneration of the city centre around the Castlegate and Riverside Quarters. Sheffield has over 150 miles of rivers and streams and much of the history of the city is because of the river network. The historical city centre and where it all began was where the rivers Don and Sheaf converge. The castle, market, major buildings bridges and early settlements were located there.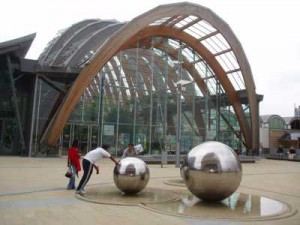 Already much has been accomplished to regenerate Sheffield to attract business, workers, students, tourists and development funds. There is much more to do if Sheffield is going to return fully to its former glories and compete with likes of Leeds and Manchester.
The Riverside Business District is growing in its importance with major office complexes , upmarket residential apartments and hotels. Plans are underway to rediscover Sheffield's lost castle and the creation of green open spaces for the enjoyment of all. Once the vacant castle market is demolished there will be a full excavation of the castle site. Sheffield has bid for the location of a HS2 railway station at the nearby former Victoria station bringing workers and visitors right into the city centres giving improved access to major cities.
Regeneration needs funds and an application was made to the Heritage Lottery Fund for £3.5 M was turned down. Sheffield Council has sought partnerships with developers, universities, museums, friends of Sheffield Castle, Yorkshire Arts and many others. Sheffield City centre has been prone to flooding and extensive work has been undertaken on flood defences. The Don has been cleaned up and salmon are now returning to the river. The Sheaf's culverts will be removed or modified to encourage fish and wild life to return. Vacant buildings are being refurbished and now being used by artists, small companies and as workshops. Sheffield has always been famous for its green and open spaces. The regeneration will ensure that derelict areas will be restored to former glories to attract wild life and ensure all of us can enjoy these treasures in the city centre.
Clearly, much has been done . The plans for further regeneration are ambitious but when completed will give us a City to be proud and will attract business, visitors and tourists, all adding to the wealth of the region. The presentation was well received by our members, many of whom are natives of Sheffield and have seen the changes over the years. Clearly, more is planned.