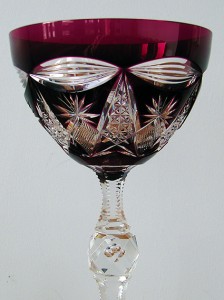 The Turner Glass Museum is one of Sheffield's well kept secrets. It is housed half way up a Sheffield University tower block and provides a very attractive area to enjoy coffee and view some excellent pieces of glassware.
Professor John Parker is a recently retired Emeritus Professor of Glass Material and Glass Engineering and his talk was wide ranging with the colour of glass as the linking theme. John is a world authority on his subject and he did a great job of explaining complex matters in language easily understood by the layman. Whilst touching on the effect of different chemicals on colour and different wavelengths he explained why Danish beer bottles are green and red wine is in dark coloured bottles and whisky is in pure clear glass.
It came as no surprise to learn that lead is little used now in glass because of the health danger to operatives making the glass, but few understood how clear the glass is in photovoltaic panels and why glass fibre optic cables form such a fundamental part of our current world. John explained the basic concepts of how to transmit data and how the signals are optically amplified to travel such large distances.
After covering areas of "state of the art technology" he concluded with a discussion of mediaeval stained glass, and the admittance that it is possible we may not be able to replicate a few of the glass colours used five hundred years ago.
This was a talk that was both enjoyable and reinforced the attraction of the wide range of subjects covered by Probus in helping to understand the expertise contained within our City.