Sally was subtly introduced by Jacko, who professed not to know one end of a paintbrush from the other, yet somehow seemed fully aware of Picasso during his "Blazer Period". No-one else knew this until he rolled up his trouser legs to expose Picasso's "Sock Period"!
Sally is an art graduate who actively avoided and hated Picasso until recently, when her curiosity was aroused by reading on the subject.
Sally gave her talk without slides, so your blogger had to resort to cunning, snapping the pages of her Picasso book each time it came round the room to enable him to define exactly what cubism was all about.
Picasso was born in Malaga in 1881, the son of Don José Ruiz Blasco (a rather good artist) and Maria Picasso. He was considered a prodigy at art school, training classically, and exhibiting The First Communion (Fig 1) in Barcelona in1896 aged 15. How things changed for him from then on.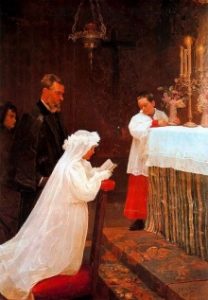 Fig 1 The First Communion 1896
As a young professional artist, his style was radically influenced by modernist and impressionist contemporaries gathering in the Els Quatre Gats tavern in Barcelona. He moved to Paris with his friend Casagemas whose suicide led to Picasso's "Blue Period" (1901-4). His first solo exhibition was not a commercial success but the critics were enthusiastic. A flavour of the time can be found in Woody Allen's "Midnight in Paris" which features Picasso. He settled permanently in Paris in his "Pink Period" in 1904, living a Bohemian lifestyle, and in the company of many of the French Impressionists. He was particularly attracted to Cezanne's style. By 1907 he shocked the establishment with Les Demoiselles d'Avignon, a 2-D portrayal of prostitutes, and influenced by his interest in African art (Fig 2, top right).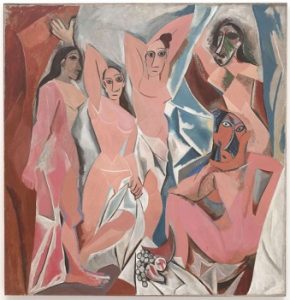 Fig 2 Les Demoiselles d'Avignon 1907
This painting was the seminal forerunner of Cubism and Modern Art. His Pink Period is dominated by sexual overtones, circus and theatre. Form was crucial; subjects were depicted geometrically in cones, tubes or cubes, and from changing angles, thereby allowing, for instance, a face to be shown simultaneously in profile and face-on. Other artists e.g. George Braque, who teamed up with him, followed suit and Picasso's reputation grew.
He had a good business brain and was a fast worker, sometimes producing up to three paintings a day, and was more than financially stable by the start of WW1. Sally's view was that his fame allowed him to trade more and more on his signature and that, like some other successful latter-day artists, "sold his life to the god of art".
In WW1, Picasso wasn't called up to fight as he was Spanish. He designed sets and costumes for Cocteau's experimental "Parade" performed by the Ballet Russe, combining his cubism with vibrant realism. Here he met the dancer Olga Kockhelova and married her in 1918. He painted her more in a classical style, but leaving the background unfinished.

Fig 3 Olga in an Armchair 1918
Living in high-society Paris, they had a son in 1921. The male line remains intact today. Not abandoning cubism completely, he varied his style according to the subject often drifting to more rounded but exaggerated proportions, in a neo-classical style (Fig 4)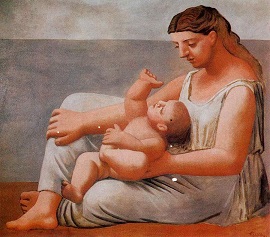 Fig 4 Mother and Child 1921
In 1935, Olga and he separated. There were affairs with young beautiful women and some illegitimate children. His surrealist "Monster Period" following the separation, was a form of art "expressing the subconscious, dreams and hidden memories". Everyday objects and scenes with hidden meaning were his trademark (we all saw the bit of wood reminding us of a crocodile fig 5)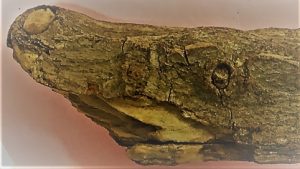 Fig 5 A random piece of wood found at Fountains Abbey
He painted bulls and bullfighters, and portrayed humans as distorted and violent, possibly reflecting his chaotic private life (Fig 6). Imagery from the bullring featured in Guernica, which was badly bombed in the Spanish civil war (Fig 7),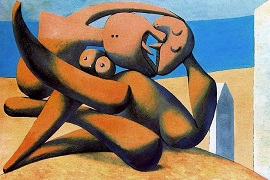 Fig 6 Figures at the seaside 1931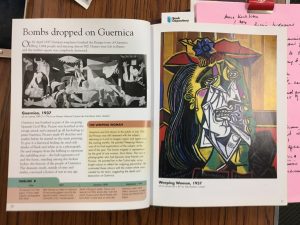 Fig 7 Guernica 1937
The Weeping Woman (1937) was his last Guernica painting of the grieving Dora Maar, a close friend, in the cubist style and highly coloured to represent her outward personality. The contrasting white areas of tears reflect death and destruction in Guernica (fig 8)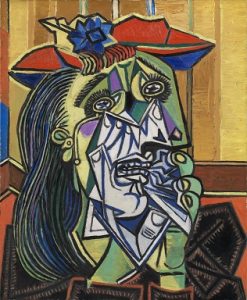 Fig 8 The Weeping Woman 1937
In WW2 he was labelled by the Nazis as a "degenerate Bolshevik" but was otherwise left alone. After the war, he and Françoise Gilot moved to Provence and had two children. Here he discovered ceramics and sculpture, line drawing, photography, lithographs, lino cuts and etching, but never sticking to any particular medium, and always experimenting. In 1953 they separated and he married Jacqueline Roque in 1961. He continued to exhibit until 1971 and died in 1973.
Picasso was prolific, producing over 20000 works of art. He was the father of Modern Art
Andrew Shorthouse