David Williams, a retired engineer, is a narrow gauge enthusiast but apparently not a great fan of the standard gauge (4ft 8.5ins). He defined narrow gauge broadly as: Big, around 3 ft; Middle, around 2ft; Small, around 15-17ins and gauges below would be considered appropriate to model railways.
Narrow gauge railways are with us because they are cheaper to construct and run, more flexible in their construction and can be laid and taken up relatively quickly. We see narrow gauge railways in many aspects of our lives. They are used in mines, quarries and large construction sites, transporting materials and supplies. Many large manufacturing companies have or had their own internal railway, often narrow gauge, transporting goods and materials around their sites, linking up with standard gauge rail. In World War One ammunition and supplies were often transported by standard gauge and transferred to narrow gauge for onward carrying towards the front line.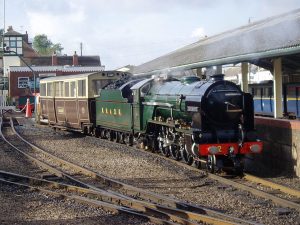 Narrow gauge is relatively easy to lay and take up, a priority in war conditions.
David described the work of the early pioneers of narrow gauge, aptly called the 15-inch club, which included Heywood, Bartholomew, Basset Lowke, Greenly and Zoborowski. Early 20th century was a time of great progress for narrow gauge with development of more powerful engines and improvements in track. He touched on a number of light railways in the UK, including Northants Iron Stone (3ft), Welsh Highland Railway (2ft), Ashover to Stratton (2ft), Leek and Manifold (2ft 6ins) Vale of Rheidol (10.25ins). He mentioned railways in Japan, Denver, Rio Grande and South Africa.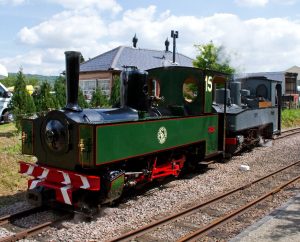 Perhaps the most famous narrow gauge railway, the Romney, Hythe and Dymchurch was the culmination of the dreams of two men, Howey and Zoborowski, and was constructed in the 1920s and opened on 16th July 1927. Operated as a 15-inch track fully working steam railway, initially it ran for eight miles from New Romney to Hythe but in 1928 it was extended from New Romney to Dungeness, increasing the overall length to 13.75 miles . It was reduced to a single track in 1947. During the war the line was requisitioned by the War Department who created their own mini armoured train which was used in building PLUTO (Pipe Line Under the Ocean) which fuelled the allied invasion. Over the years it has been used commercially, hauling stone for Kent County Council and currently has a school transport contract. However, today the railway is a massive tourist attraction, travelling as it does through picturesque Kent countryside appealing to all ages.
It was an interesting talk, particularly for the rail enthusiasts but even the non-enthusiast will be tempted to learn a little more about narrow gauge railways.