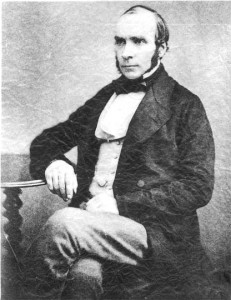 John Snow was an eminent physician who is considered the father of modern epidemiology and one of the founder members of the Epidemiological Society of London.
He was born on the 15th March 1813 to William and Frances Snow in North Street, York. William Snow was a labourer working in a coal yard adjacent to the River Ouse, which was the main form of transport for heavy goods until the advent of the railway. North Street was one of the poorest streets in York, being adjacent to the river, with poor drainage and the constant risk of flooding.
The Snow family were very religious and John was baptized into the Anglican church of All Saints, North Street. He was sent to a private school at the age of six but how his family managed to afford it remains a mystery. When he was 14 (1827) he was apprenticed to William Hardcastle, a surgeon in Newcastle upon Tyne. This probably had a great bearing on his future life because at that time, surgeons performed operations without the use of anaesthetics. In 1831 there was a cholera outbreak in Newcastle, which was his first experience of the disease. After he had completed his apprenticeship in 1833 he worked as a surgeon's assistant, first in Burnopfield in County Durham, and then in Pately Bridge, North Yorkshire.
He then moved to London and qualified as a physician in 1843 and early in his career he became interested in the physiology of respiration. His interests lead him to be invited to witness one of the first applications of ether as an anesthetic. He immediately realized the importance of temperature during the administration of the anesthetic, and within one month he published tables of the vapor pressure of ether. He also designed several instruments and masks to control the administration ether. During this period he also experimented with many other chemicals as a means of anesthesia and this lead to him becoming the most prominent authority on the subject in the UK. In 1853 he administered chloroform to Queen Victoria at the birth of Prince Leopold and from then on anesthetics became more acceptable.
Cholera epidemics occurred in London in 1848 and 1853 and it was generally believed that cholera was caused by miasma or breathing in fowl air, but John Snow's first experience with cholera and his studies of respiration made him question it. It was during the second outbreak that an epidemic occurred near his home in Soho, when more than 550 people died, that Snow plotted the deaths on a map and interviewed the residents of the district. He concluded that it was spread by drinking contaminated water, in this case from a pump in Broad Street, and on the 8th of September 1854 the council removed the handle on the pump.
For most of his life, he was a vegetarian and did not drink alcohol, although when he became ill in his late thirties he was advised that a glass of red wine a day would be beneficial to him. Snow died in 1858 at the age of 45 from a severe stroke.