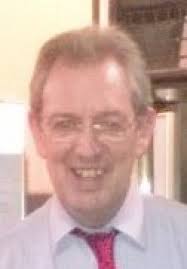 Jeff gave us an entertaining and informative look into the world of the football referee, but it is very doubtful if he persuaded any of our members that their lives would have been enhanced by taking up the whistle.    Immediately, he challenged us to name the 7 items a referee takes on the pitch – we got 6 but forgot the ball!
He started refereeing at the tender age of 17, gave it up for many years and resumed at the more mature age of 47. The title of his talk may be catchy and a little self-deprecating, but he clearly enjoyed his time in the middle.  He recounted his very first game, a local needle in  Scunthorpe between Scawby Youth Club and Scunthorpe Youth Centre, both under-17 teams. The first is always memorable but even more so when you forget the coin to toss for ends.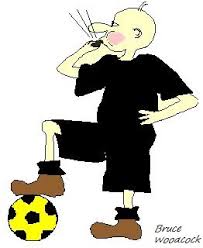 Games could not be played without a neutral referee who needs to be a certain type, out in all weathers, sworn at, abused by players and spectators alike, with rarely any thanks.  Why do they do it?  Is it the power?  Is it the satisfaction of being part of a well fought, entertaining game?  It is not for the money unless you are a top, full time official.  Indeed, when you start currently it costs around £245 to cover the training, registration, kit, security checks etc. You certainly need to be keen and motivated,
Jeff played a few film clips to encourage discussion covering the rules of the game which we did surprisingly well and posed the question 'What would you do next?'  This clip showed a streaker disrupting a game who was eventually rugby tackled (excuse the pun).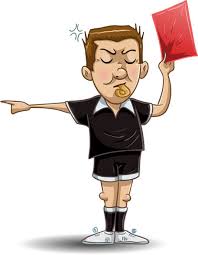 The referee booked the player for violent conduct, with the streaker presumably disappearing into the crowd.   It appears there are 17 laws of the game with the unofficial 18th being commonsense which should have prevailed.
Referees have been assisted by several recent innovations which have been introduced or being trialled, including goal line technology, goal line officials, replay videos and the use of 2 referees. Possibly, goal line technology and replay videos may have altered football history if they were available at the 1966 World Cup or when Maradona scored that disputed goal. Women referees and officials are becoming more common in our modern game.
There is no doubt the referees' lot is a strange one.  The man in black is often lonely, unloved, must possess eyes in the back of their heads, have the ability to make split second decisions and wish they had the powers of hindsight.  He has recently published a book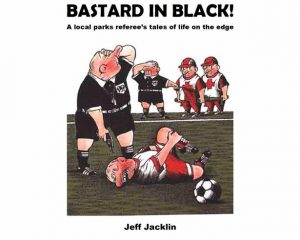 which is available on Kindle and  in paperback version : a local parks referee's tales of  life on the edge.
Referees are vital to our national game and it was heartening to listen to Jeff who was an enthusiastic and committed referee.