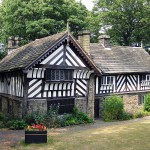 Bishops' House is a Grade II listed, half-timbered house, in Norton Lees and located on the southern tip of Meersbrook Park.  It is one of the oldest timber framed buildings in Sheffield and typical of a large farmhouse or small manor house from the 1500's. Other surviving timber-framed houses in the city are Carbrook Hall/Inn and the Old Queen's Head public house.
It is now known as Bishops' House because it was said to have been built for 2 brothers , John and Geoffrey Blythe, both of whom became Bishops of Salisbury and Lichfield/Coventry respectively.  However, there is no evidence that they ever lived there with the first known resident being a William Blythe, a farmer and scythe maker who was living there in1627.
The first record of the house being called Bishops' House was in 1886 and this was confirmed in the 1891 census .
Samuel Blythe was the last of the family to live in the house and after his death in 1737 the house passed out of family ownership and the estate was let out to tenant farmers. The Meersbrook estate was eventually sold to a Samuel Shore around 1783 but the family fortune collapsed and the estate was sold, some to property developers with plans to demolish Bishops' House.   Pressure from the public and the need to preserve open spaces saw ownership pass to Sheffield City Council in 1886.
The parks authority continued to use Bishops' House as a dwelling house for park employees until the 1970's when the house was restored and turned into a museum opening in July 1976.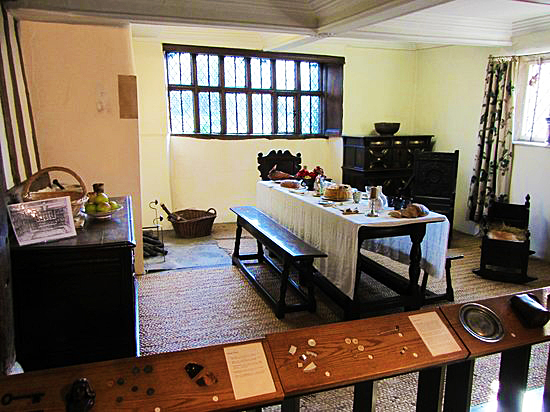 Today The Friends of Bishops' House arrange school visits and it is open to the public at weekends.
As you would expect, a Derbyshire farm house of over 500 years old has had many layout and structural changes. The original building had no foundations,  It was built with interlocking beams and framework with 3 bays of single room deep to make it easier to erect the roof which was tiled and not thatched as one would imagine.   No chimneys meant the interior was sooty and dark.  In 1550 the west bay was knocked down and rebuilt at 90 degrees to the original building with a second storey with oak flooring. There were 2 rooms upstairs  and a parlour and buttery ( to store barrels of beer) on the ground floor. These were 2 separate dwellings, but over the years and at different times the dwellings were knocked into one. In the mid-1600's, the hall in the original building was made into 2 storeys with the addition of a floor , the new room being used for storage.
Windows, fireplaces, decorative plaster work and staircases have been added to the building over the centuries.  This blog cannot do justice to this magnificent house.  You really need to go and see it in all its splendour.
Ken gave us a most interesting talk with great enthusiasm for his subject.  As he developed his presentation, he hinted at other areas of possible research all linked with Bishops' House.  Clearly, he is going to be a very busy man in his retirement.