Roger Browne is an excellent raconteur, humourist, pianist, actor and writer. He brings his own keyboard
with him and provides a thoroughly entertaining trip down memory lane – especially for a Probus age group.

He was born in Blackpool but spent his childhood in Salford. The latter provides the butt of many of his
jokes. It was listening to the radio that sparked his love of music and at the age of four he was singing to the
public. He will explain the reason for his retirement from singing at the age of eight to pursue piano playing. As
a jazz player he performed with the Mark Roger Manchester jazz Band and for a time with Humphrey Lyttleton.

By introducing short bursts of music on his piano, he ensures that his audience is attentive and thoroughly
enjoying his wit. He starts by playing short snippets of various radio programme theme tunes from the
1950s and asks his audience to provide the names like Two Way Family Favourites, the Billy Cotton Band
Show and Music While You Work. It was Winifred Atwell who inspired him with tunes like Black and White Rag.

Roger's talk encompassed much more than just music, he loved the comedy shows like It's That Man Again with Tommy Hanley. The ball by ball cricket commentaries by John Arlott and Brian Johnson were another.

It was Steve Race who explained to him the origin of rent parties in connection with jazz and rag music. He
recalled trying to learn ballroom dancing from Victor Sylvester programmes. Dick Barton Special Agent
was succeeded by The Archers. Round the Horn and Alistair Cooke's Letter from America get a look in, and do you know the origin of "Miss Otis Regrets She's Unable To Lunch Today?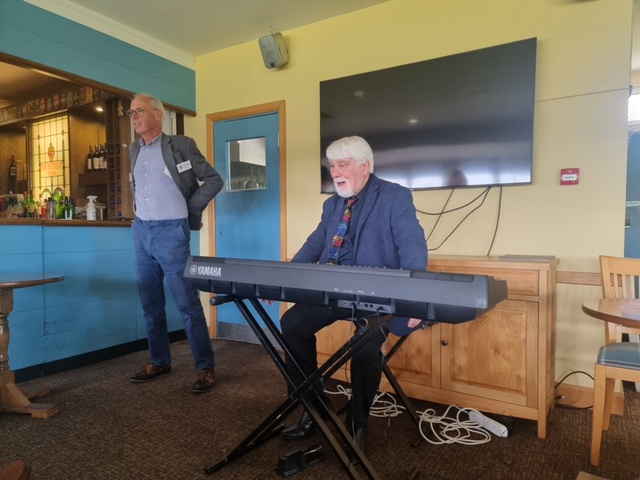 His talk is packed with interesting snippets and was very well received by an audience that was just returning from two years of Zoom to face-to face-meetings.