At the out­break of the first World War Herbert Henry Askwith was not only Prime Minister he was also the Secretary of State for War, which was not accept­able and so the pos­i­tion of Secretary of State for War was taken over by Horatio Herbert Kitchener, 1st Earl Kitchener. He inher­ited a greatly under­staffed army because up to that time Britain relied upon its navy and did not see the need for great land forces.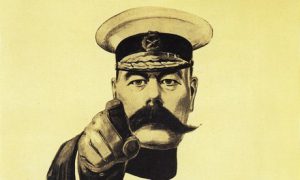 On the 7th of August 1914 Kitchener star­ted to recruit a new army called K1, con­sist­ing of 100,000 volun­teers and he adop­ted the policy of those who joined together would serve together. This cre­ated 'Pals Battalions', which con­sisted of 1,000 men. A. L. Fisher who was Chancellor of the Sheffield University arranged for the University Officer Training Corps to parade in the city centre and recruit en-masse. Sheffield man­aged to form one bat­talion of 1,000 men whilst Barnsley man­aged to form two pals bat­talions. This was prob­ably because the Sheffield bat­talion were referred to as toffs with white cuffs and shiny wrist watches.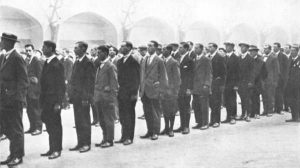 The first parade was sup­posed to be at Norfolk bar­racks which was only designed for a few hun­dred men and so the parade was moved to the Sheffield United foot­ball ground at Bramhall Lane, much to the dis­gust of the grounds­man, who was not pleased at seeing the ground churned up by sev­eral hun­dred drilling recruits.
The Sheffield Corporation quickly designed and built bar­racks to hold the recruits at Redmires which they occu­pied from the 5th December 1914 to the 15th August 1915. On the 31st July they went to Rippon for rifle train­ing and from the 21st to 22nd of December they bordered HMT Malakoda to go to the Suez Canal as rein­force­ments. On the 16th March 1916 they were trans­ferred to Marseilles in read­i­ness for trench war­fare in the Somme.
The object of the battle of the Somme was to relieve pres­sure on the French who were being attacked at Verdon, East of Paris. The object­ive of the battle was to make the Germans remove troops from Verdon and redeploy them as rein­force­ments along their front line on the Somme.
The battle was com­manded by Field Marshal Sir Douglas Hague and General Henry Rawlinson over a 25 mile front. Field Marshal Hague wanted a heavy pro­longed artil­lery bom­bard­ment fol­lowed by a sur­prise sweep­ing attack to gain as much ground as pos­sible and to punch a hole in the German lines. General Rawlinson how­ever wanted to attack in small bites and con­sol­id­ate his pos­i­tion each time. Field Marshal Hague was in over­all charge and so his plan was imple­men­ted. The German army con­sisted of 3 lines with very deep trenches and bomb proof shel­ters stretch­ing back over sev­eral miles and Field Marshal Hague wanted to take two in one bite.
A week before the start of the battle the bom­bard­ment star­ted and in all 1,738,000 shells were fired. During this period the Germans went down into the rel­at­ive safety of their shel­ters and when the shelling stopped they came up ready to fight using machine guns which mowed the allied troops down. Hunter's 8th corps 31st divi­sion con­tained the Sheffield Battalion and these occu­pied the most for­ward pos­i­tion in the line.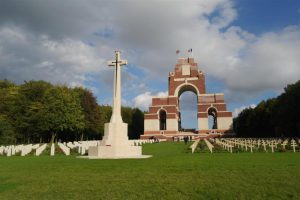 On the 1st of July 1916 the battle com­menced and on the first day of the battle there were 57,000 British cas­u­al­ties and of those 19,200 were killed. The battle lasted 140 days and claimed 419,654 British, 204,253 French and 500,000 German cas­u­al­ties. This enabled the allied front line to move for­ward just 6 miles.
It is a sober­ing thought to com­pare these fig­ures with the size of the British army today, which is a total of 144,900 troops made up of 89,860 reg­u­lar, 25,010 army reserves and 30,030 reg­u­lar reserves.
If noth­ing else this battle showed the total futil­ity of trench war­fare.
This short extract does not do justice to the very pro­fes­sional present­a­tion by Anthony Bolton.