Webmaster Editorial note: Following the ori­ginal blog, the presenter, Roger Hart, has made some cor­rec­tions and addi­tions which appear at the end of the report.
Roger Hart shared with us his per­sonal nos­tal­gia of the world of trans­port through the lens of his trusty Canon camera, sup­ple­men­ted by photos from the archives.

Roger's interest in trans­port stems from his early days when his par­ents owned a road haulage com­pany and gar­ages which sold and repaired cars. They also sold par­affin, a best seller, and petrol at 70p a gallon — those were the days! His interest in cars and lor­ries developed and gradu­ated to all forms of trans­port, whether car­ry­ing goods or people. His photos included cars, trucks, air­craft, boats, trains, trams and buses.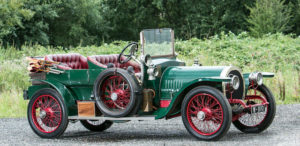 Happy hunt­ing grounds for him to pho­to­graph the unusual were clas­sic car shows, trans­port museums, county shows and his travels near and far. Roger's jour­neys took him to New Zealand where he pho­to­graphed light air­craft flying over the vol­cano on White Island, which recently erup­ted caus­ing tragic loss of life.
He vis­ited the Vatican, where he pho­to­graphed the Popemobile which sadly is a rather poor spe­ci­men in com­par­ison to the Popemobile pro­duced for the Pope's visit to Britain in the 1980s and which is now housed in the Commercial Motor Vehicle Museum in Leyland, Lancashire.
Nearer to home, he took some excel­lent pho­to­graphs of the horse drawn trams and the narrow gauge steam rail­way in the Isle of Man. Even nearer to home, he pho­to­graphed the helipad at the Northern General Hospital with the air ambu­lance land­ing.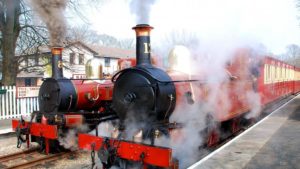 He was there at the anniversary of the Dambusters' raid and was able to cap­ture the flight of the Lancaster bomber over the Derwent valley and pho­to­graph the iconic Sheffield Simplex car at the Kelham Island Museum.
This was a chance for mem­bers to remin­isce.
Roger Hart, the presenter, wishes to point out the fol­low­ing :-
He did not attend the Dambuster's 75th anniversary. The photo was taken by Michael Hilton a day after the flypast was sched­uled but delayed.
The photo of the Sheffield Simplex car was taken at the Sheffield Moor Classic Car Show not the Kelham Island Museum.
He hadn't been to New Zealand – it was Richard Crossley, a pilot with Easyjet, who took the photo over White Island.
His father only owned one garage.