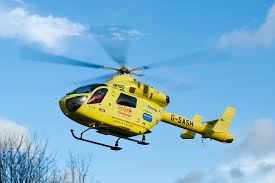 One of our mem­bers has every reason to be indebted to Yorkshire Air Ambulance as it most cer­tainly saved his life. Taken ill with a heart attack whilst walk­ing with a group in the Derbyshire Peak District, he was too far from public roads for an ambu­lance and too ill to walk or be car­ried. Calling the emer­gency heli­copter was the only hope. The heli­copter was there within 20 minutes and landed on an out­crop of rock sur­roun­ded by peat bog. The patient was air lifted to Chesterfield hos­pital where he received life saving treat­ment — all in a day's work for the Yorkshire Air Ambulance (YAA)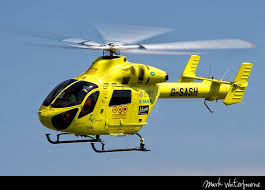 YAA was star­ted in the year 2000 and since then 7200 people have reason to thank this superb facil­ity, which is avail­able 7 days a week and 365 days a year, cov­er­ing 1500 incid­ents last year ( 3 incid­ents on aver­age a week). YAA has 2 bases at RAF Topcliffe near Thirsk and Nostell Estate near Wakefield which ensures 90% of Yorkshire's pop­u­la­tion of 5 mil­lion can be accessed within 20 minutes. The prime target is to get the patient to a trauma centre within one hour of the incid­ent hap­pen­ing. The ser­vice covers Yorkshire but will respond to emer­gency calls in North Nottinghamshire and Derbyshire as required..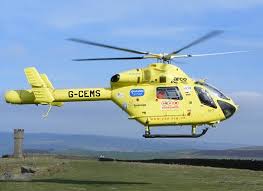 When YAA was formed they had one ageing heli­copter 20 years old. Last year they pur­chased 2 new heli­copters cost­ing £6M each giving all the bene­fits of modern machines in terms of per­form­ance and clin­ical equip­ment. There are 8 pilots, mostly from a mil­it­ary back­ground, para­med­ics and doc­tors. A heli­copter would nor­mally be crewed by a pilot, 2 para­med­ics and a doctor. At base, a para­medic is on duty to screen emer­gency calls, assess the situ­ation and decide whether to call out the heli­copter which could involve road acci­dents, indus­trial, sports / leis­ure acci­dents and sudden ill­ness.
YAA costs £44M a year to run or around £1200 a day . It is a pro­fes­sion­ally run char­ity depend­ent on the gen­er­os­ity of its sup­port­ers and gen­eral public. An excel­lent present­a­tion by Robin who is a volun­teer clearly com­mit­ted to the cause.