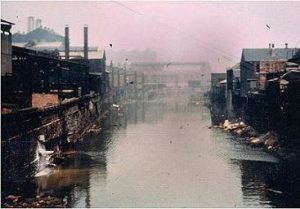 Sheffield and Rotherham were once known as two of the dirti­est cities in the UK due to both gen­eral pol­lu­tion and smoke pol­lu­tion. I worked at a firm called Edgar Allen Steel Ltd., and one of the spe­cial steels we pro­duced was called AlNiCo, a per­man­ent magnet steel. It had a very low carbon con­tent of less than 0.02% and the only way we could achieve this was to blow oxygen into the molten steel, prior to tap­ping. This caused enorm­ous amounts of carbon diox­ide to be given off which was then fol­lowed by vast clouds of iron oxide, res­ult­ing in dust particles rain­ing down over the East end of Sheffield unchecked. Most of the steel com­pan­ies employed sim­ilar tech­niques without giving it a second thought. They also used river water for cool­ing and dumped chem­ical waste into them.
The forges used steam ham­mers and the rolling mills were driven by steam engines; all this steam was pro­duced by burn­ing coal. In addi­tion to this every house­hold had at least two coal fires because cent­ral heat­ing was a luxury.
This all began to change how­ever when the "Clean Air Act" of 1956 came into force. Clean air zones came into force pro­hib­it­ing the burn­ing of coal; firms had to install dust col­lec­tion and gas wash­ing sys­tems, and if water was extrac­ted from rivers for cool­ing pur­poses it had to be returned to the river cleaner than when it was taken out.
Time has passed now and Sheffield and Rotherham are very n cities, looked over by the "Sheffield and Rotherham Wildlife Trust". There are 47 such trusts through­out the UK which are nor­mally related to the county in which they oper­ate but, Sheffield and Rotherham dis­trict are the excep­tion.
The dis­trict has at present, thir­teen nature reserves which the trust man­ages.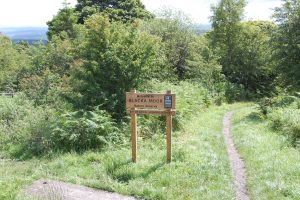 Blacka Moor, con­sist­ing of 181 hec­tares of moor­land and wood is the largest and most spec­tac­u­lar of the Wildlife Trust's nature reserves. Here you can see red deer, the UK's largest and most majestic mammal.~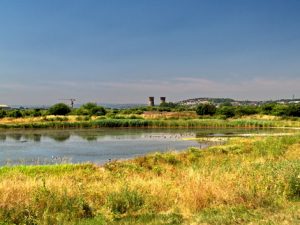 Blackburn Meadows was once the site for the Tinsley sewage farm which pro­cessed all the sewage from Sheffield. Now it is a stun­ning nature reserve with two lakes, attract­ing over 140 spe­cies of birds. Nestled in the indus­trial heart­land it is def­in­itely a place to visit.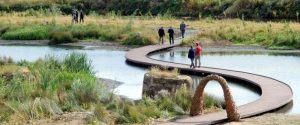 Centenary Riverside was con­struc­ted on the site of one of the largest steel pro­du­cers in the area. It acts as a flood plane to min­im­ise flood­ing in both the res­id­en­tial and indus­trial area of Rotherham. The past has not been for­got­ten. Large blocks of steel which have been dug up have been used to create "Steel Henge" and old indus­trial found­a­tions have become hab­it­ats for many spe­cies of birds.
Other nature reserves within the region are:
Woodhouse Washlands
Fox Hagg
Wyming Brook
Greno Woods
Crabtree Ponds
Moss Valley Woodlands
Salmon Pastures
Sunnybank
Carr House Meadows
Carbrook Ravine
The Trust man­ages the nature reserves by build­ing and main­tain­ing foot­paths, fences, bridges, gates and many other things so that the public can visit and enjoy the reserves whilst at the same time making them places for wild life to flour­ish.
The Trust depends upon its mem­bers and volun­teers and act­ively encour­ages mem­ber­ship to fur­ther there cause.
Ken is a very enthu­si­astic and know­ledge­able speaker and kept the club's atten­tion through­out.
To really appre­ci­ate how lucky we are, living in this region it is worth­while vis­it­ing the web­site of the Sheffield and Rotherham Wildlife Trust at www.wildsheffield.com