Having vis­ited the same coun­try with my wife in February 2015, I could relate to Susan Rogers's account of her jour­ney to Vietnam 11 years earlier. The main dif­fer­ences were the dir­ec­tion of travel (in our case, from North to South) and more import­antly the fact that, while we were on a pack­age hol­i­day, Susan trav­elled solo.
She didn't choose to do so. "How many people will you have in the tour group?" she asked the guide who met her at the air­port in Ho Chi Minh City. "One," he replied, "You."
"There were def­in­itely mixed feel­ings about being the only person," she told us. "I knew that trav­el­ling by myself meant that I would have nobody to share the memor­ies of the hol­i­day after­wards, but I had expec­ted to have other people to talk to, other people to dine with and other people to share the hol­i­day exper­i­ence with."
Her fears quickly proved to be ground­less, des­pite the fact that she arrived in Saigon on December 20 and had no trav­el­ling com­pan­ions to share the Christmas fest­iv­it­ies, with the accom­pa­ny­ing feasts of local cuisine.
"I enjoyed myself so much in Vietnam that the fol­low­ing year I went to Brazil and Argentina by myself, and I have come to love trav­el­ling solo," she explained.
Susan began her present­a­tion with some graphic foot­age of the Vietnam War – or, as the Vietnamese call it, the American War – which cul­min­ated in the North Vietnamese cap­tur­ing Saigon (now Ho Chi Minh City) on April 30 1975 to bring about the end of hos­til­it­ies as the last American heli­copter plucked staff from the roof of the US embassy.
She vis­ited the War Remnants Museum in Saigon where she was moved by images of gloat­ing American sol­diers hold­ing up the severed heads of Vietcong sol­diers. "I felt I wanted to ask the Vietnamese people how they could wel­come Americans back into their coun­try, but there have been two or three gen­er­a­tions since then and they seem determ­ined to look to the future rather than back."
Susan vis­ited the pre­served Củ Chi Tunnels, a rabbit warren of under­ground com­mand posts, armour­ies, hos­pit­als, kit­chens and living quar­ters which were the Viet Cong's oper­a­tional base for the Tết (New Year) Offensive of 1968. She showed us pho­to­graphic examples of the many dif­fer­ent types of anti-personnel traps which littered the area.
Susan learnt much about the North Vietnamese leader Ho Chi Minh, a man of simple tastes, and vis­ited the humble stilt house in the grounds of the Presidential Palace in Hanoi which were his pre­ferred living quar­ters.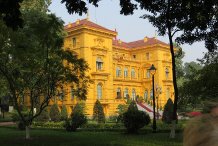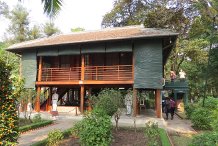 "The more I read about him, the more I admired him," she told us. "He was totally dif­fer­ent to many of the other com­mun­ist lead­ers, and the ideals which he tried to achieve for the ordin­ary Vietnamese people would not have looked out of place in the American con­sti­tu­tion. I came away with two main thoughts: that the Vietnam War should never have happened, and that I had a far greater respect for the Vietnamese people than I ever had before."
The title of Susan's talk is also that of a book she has writ­ten about her exper­i­ences.