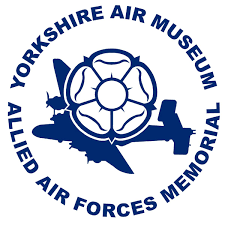 Stumperlowe Probus Club's next out­side visit will be an all-day trip to the Yorkshire Air Museum and Allied Air Forces Memorial on the site of the former RAF Elvington near York.
We will be vis­it­ing YAM — the largest inde­pend­ent avi­ation museum in the UK – on Wednesday, September 13. Members are wel­come to bring along a guest, and names should be added to the list being put out at meet­ings over the coming weeks to give us an indic­a­tion of numbers.
The admis­sion charge for groups is £6 per head, and Beewise Executive Travel will be provid­ing coach trans­port for up to 49 pas­sen­gers. The total cost includ­ing admis­sion, depend­ing on num­bers, is likely to be in the region of £12 to £15.
Yorkshire Air Museum is the most ori­ginal Second World War RAF Bomber Command sta­tion open to the public. It is also the only Allied Air Forces Memorial in Europe. The museum has an inter­na­tional fol­low­ing, with estab­lished branches in Canada and France, and is sup­por­ted by more than 4,000 registered 'friends' around the world. It is a cor­por­ate member of the Friends of the Few (Battle of Britain Memorial) and the Royal Aeronautical Society.
The pres­id­ent of the museum and memorial is Air Chief Marshal Sir Stephen Dalton, and vice-presidents include the former Chief of the Air Staff, Sir Andrew Pulford, Chief of the French Air Force, General André Lanata, and the Supreme Allied Commander NATO, General Denis Mercier.
The museum has around 50 air­craft, span­ning the devel­op­ment of avi­ation from 1853 up to the latest GR4 Tornado. Several air­craft includ­ing the Victor, Nimrod and Buccaneer are kept live and oper­ated on spe­cial 'thun­der days' during the year.
A per­man­ent exhib­i­tion on RAF Bomber Command was opened at the museum by life member Sir David Jason. In 2010, an exhib­i­tion called Pioneers of Aviation, funded by the Heritage Lottery Fund, was opened fea­tur­ing the lives and achieve­ments of, among others, Yorkshire's very own Sir George Cayley, the father of aero­naut­ics, Robert Blackburn, the early air­craft man­u­fac­turer, and Amy Johnson, former Sheffield University stu­dent and the first female pilot to fly solo from Britain to Australia.
It is recom­men­ded that vis­it­ors take at least three to four hours to see all that is on offer. There will be no need to take your own packed lunches – the NAAFI-style, licenced res­taur­ant will be serving tempt­ing hot and cold freshly pre­pared food, snacks and refresh­ments, with hot meals avail­able between noon and 2pm.
Graham Snowdon