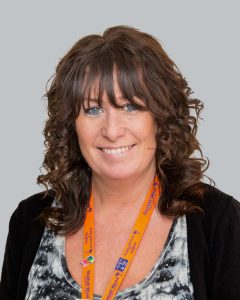 Angie Beasley is a Child and Family Co-ordinator at the Blue Bell Wood chil­drens hos­pice, near Sheffield, where she has worked for the past eight years since its open­ing. Prior to that she has worked in other adult hos­pices in the UK.
Angie explained that the word "hos­pice" first began to be used in the mid 1800s in France and referred to the caring of dying patients. It was later taken up by Irish Sisters of Charity when they opened Our Lady's Hospice in Dublin, Ireland in 1879. However hos­pices did not become more widely known until 1967 when Dame Cicely Saunders foun­ded St Christopher's House. Having said that St Luke's Hospice in Sheffield exis­ted many years before that to my know­ledge.
Angie explained that Helen House, based on the out­skirts of Oxford was the first children's hos­pice, open­ing in November 1982, and now there are 49 through­out the UK.
Blue Bell Wood Hospice came about as the result of the care provided to a ter­min­ally ill boy called Richard Cooper, aged 10. No children's hos­pice exis­ted in the area at that time and Richard's par­ents stayed at his bed­side through­out his fre­quent visits to hos­pital, slept in chairs and bought food in from out­side of the hos­pital. Richard spent his final few weeks at home and died on the 13th March 1997, aged 11.
A char­ity was estab­lished in 1998 to help fam­il­ies in South Yorkshire, Lincolnshire and Nottinghamshire who needed care and sup­port out­side of the hos­pital envir­on­ment, and after a lot of fund rais­ing Blue Bell Wood hos­pice for chil­dren and young adults opened its doors on the 19th September 2008.
Originally it was inten­ded that the hos­pice should be built in Doncaster at the exist­ing adult Hospice of St John's in Doncaster but there was an issue with bats on the site and so, even­tu­ally it was decided that it would be built at Cramafit Road in North Anston, Sheffield.
It is built in six and a half acres of land and is in the shape of a large horse shoe. There are eight en-suite bed­rooms for the children/ young adults on one leg of the horse shoe and eight en-suite bed­rooms for the fam­il­ies of the chil­dren on the other, plus two com­plete apart­ments for a child/young adult and family on the end of each wing of the build­ing. These are named "Primrose" and Forget-me-not suites. The expres­sion child/young adult is used because the age of the patients can range from just a few hours up to 25 years old.
The Hospice is sur­roun­ded by beau­ti­ful gar­dens includ­ing a Dragonfly Remembrance Garden which was built by Alan Titchmarsh and the team from ITV's 'Love Your Garden'. The garden is suit­able for wheel­chairs and has a veget­able patch, a giant chess set, a play­house and a shaded area for hot days.
The hos­pice believes in gen­er­at­ing love, laughter and some happy memor­ies at this cru­cial stage of life. It is cur­rently sup­port­ing around 250 fam­il­ies, both in their own homes and at the hos­pice in North Anston, Sheffield.
Angie and her team provide coun­selling to indi­vidu­als and fam­il­ies for as short or as long as required, with each ses­sion last­ing one hour and both the hos­pice and the coun­selling is abso­lutely free. She also organ­ises dis­cus­sion groups where par­ents can come, dis­cuss and share their feel­ings and emo­tions that they have exper­i­enced and are exper­i­en­cing, to draw strength from other par­ents in the same situ­ation.
All this comes at a cost which is cur­rently run­ning at over £4 mil­lion a year to keep the doors open. 10% of this comes from stat­utory gov­ern­ment sources, 1% from the local author­ity and the rest from fund rais­ing.
Angie's talk can only be described as both emo­tional and riv­et­ing, with many ques­tions being asked both during and after the talk.
This text does not really do justice to her talk but you can learn more about Blue Bell Wood children's hos­pice by click­ing on the link "Blue Bell Wood"