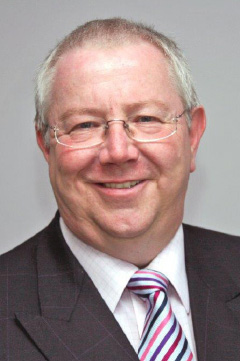 The true story of Burke and Hare was nar­rated to us in a most riv­et­ing way by Christopher Dorries and this precis does not do it justice. The title con­tains the word,"True" because there have been many stor­ies about them which are largely inac­cur­ate. Firstly they all say that Burke and Hare were grave rob­bers, which they weren't. They just com­mit­ted murder for a busi­ness. Secondly the stor­ies do not include Dr Knox who played a key role in the whole sordid affair.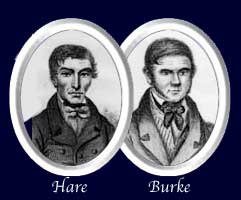 The story starts in Edinburgh in 1828, not among the fine build­ings of Princess Street but in the slums around West Gate. Burke and Hare lived in a lodging house run by Mrs Hare, which was, in itself, a very seedy place. One night, a tenant known as 'Old Donald' died in bed owing Mrs Hare £4.00 which was most unfor­tu­nate.
Now Edinburgh was famous for the study of ana­tomy and emin­ent sur­geons demon­strated their skills to stu­dents, who had paid the required fee, cash in hand in oper­at­ing theatres at the uni­ver­sity, using human corpses. As one can ima­gine these were hard to come by legit­im­ately and sur­geons would pay a high price for one,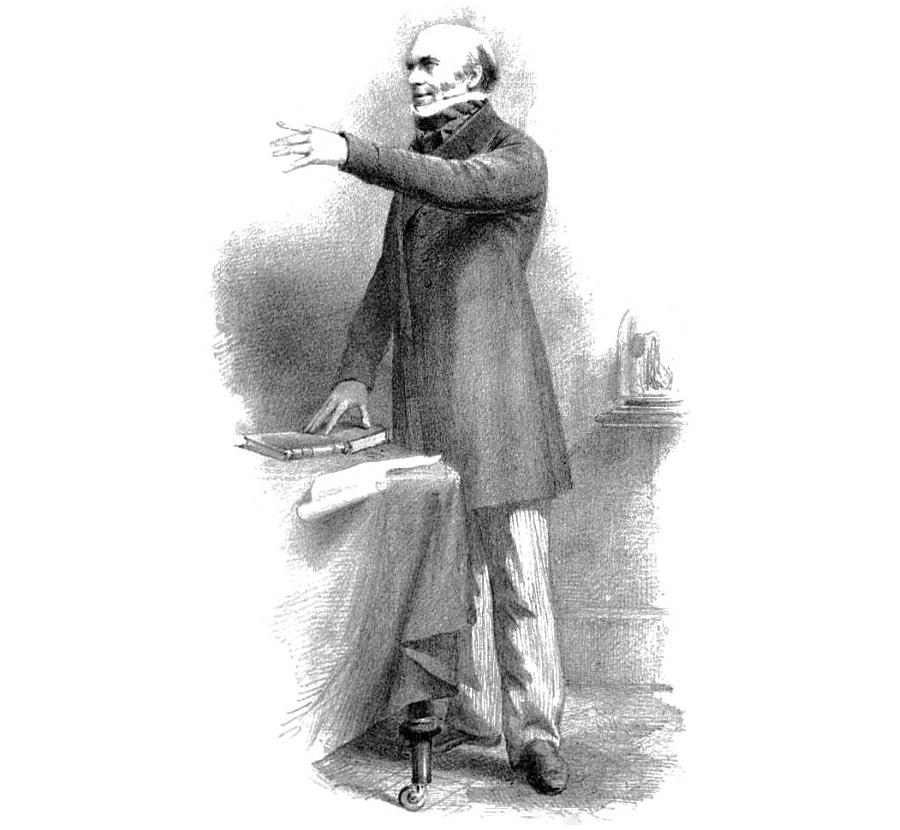 'Old Donald' was an itin­er­ant with no known rel­at­ives, so Burke and Hare decided to sell his body to the uni­ver­sity to recoup some of the money. As it turned out a Dr Knox was very pleased to pay between £7.50 and £10.00 for the body and said that if they came across any­more lying about in the gutter he would gladly have them.
Burke and Hare saw this as a busi­ness oppor­tun­ity and rather than go grave rob­bing and risk get­ting beaten up they decided to simply murder their vic­tims without mark­ing their bodies. They did this by get­ting their chosen prey drunk and then taking them back to the lodging house where they dis­patched them by suf­foc­a­tion or burk­ing as it became known.
Two of their vic­tims were Mary Patterson, only 18 years old and James Wilson, again only 18 years old but known as being men­tally sub­nor­mal and called 'Daft Jamie'. Mary was strik­ingly beau­ti­ful and so ini­tially Dr Knox pre­served her body in whisky and kept her for artists and stu­dents as a model"for the best illus­tra­tion of female form and mus­cu­lar devel­op­ment". Mary was recog­nised almost straight away by the male stu­dents because she earned her living by pros­ti­tu­tion and doubt­less sev­eral had used her ser­vices.
'Daft Jamie' was murdered in the usual way but when his body was unpacked at the uni­ver­sity he also was recog­nised straight away so Dr Knox instruc­ted one of his assist­ants to remove the head and feet to hide his iden­tity, which was some­thing unheard of.
By this time Dr Knox Knew that Burke and Hare weren't just lucky in find­ing bodies but he turned a blind eye so that he could have a steady supply. They murdered between 16 and 20 people over a period of 10 months, February to November in 1828 but this has been exag­ger­ated to 30. They finally came unstuck when they murdered an Irish beggar known as Mary Docherty.
A new coupled arrived at the lodging house and found her body under the bed. They went to the police but when they returned the body had gone. The police were sus­pi­cious of Dr Knox and so they went to his ana­tomy premises and found Dr Knox, Burke, Hare and the body of Mary Docherty.
Dr Knox denied that he had any know­ledge that the body was a murder victim and the police accep­ted this but Burke, Hare and their wives were locked up. However suf­foc­a­tion in those days was dif­fi­cult to prove and evid­ence was flimsy, so the police did a deal with Hare who turned King's evid­ence for his free­dom. Hare and his wife test­i­fied against Burke and his 'wife', Helen McDougal. Burke was found guilty and sen­tenced to the gal­lows but the ver­dict for Helen McDougal was 'not proven' and she was released.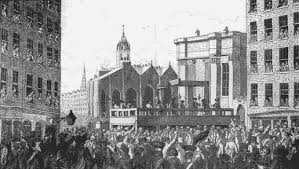 He was hanged in public at the end of January 1829 when a crowd of many thou­sands watched. He had a slow death, whether by design or acci­dent because the hang­man moved the knot and his neck wasn't broken, he just strangled on the rope.
Among the crowd was a woman called Maria Grotzholz, known to us as Madam Tussaud and a wax­work of Burke was on show in Liverpool within two weeks of his exe­cu­tion.
——————————————–
The mem­bers of Stumperlowe Probus were enthralled by the talk and asked many ques­tions. Unfortunately some of detail has been left out but I hope you have been given an insight into the excel­lent present­a­tion by Prof. Christopher Dorries OBE.