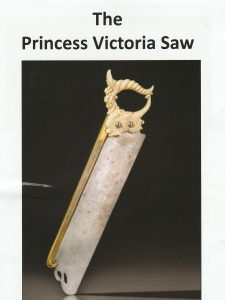 Our speaker this week, Simon Barley, is a former GP and Medical School lec­turer. Since retire­ment, he has developed a keen interest in the Economic History of Sheffield and has been much involved with the devel­op­ment of Kelham Island Museum and espe­cially its col­lec­tion of hand tools. He was to gain a PhD for his researches. As he put it, "I moved from leg sores to hand saws!". He is author of sev­eral books and magazine art­icles on the sub­ject, with saws at the cut­ting edge. Simon's interest in this once over­looked area led to a long stand­ing friend­ship with Ken Hawley (1927–2014) of Earl Street (off the Moor) tool shop fame. When Ken's shop finally sur­rendered to the likes B & Q and his retire­ment beck­on­ing, Simon was instru­mental in cata­loguing and moving the bulk of Ken's tool col­lec­tion to Kelham Island, where it can be admired today. The invent­ory amoun­ted to over 100,000 items, many acquired by the boxful for the cost of a few pounds and removal as dein­dus­tri­al­isa­tion hit Sheffield hard from the 1970s onwards. But we were to be absorbed in the story of just one tool, a rather spe­cial hand­saw.
In Victorian times unin­hib­ited private entre­pren­eurs would go to great lengths to pub­li­cise their products and not only in cata­logues or trade magazines. They would par­ti­cip­ate in the great exhib­i­tions of the era which were blessed by royal pat­ron­age. It was with the latter in mind that many firms sought the "by appoint­ment" Royal Warrant. It was at one of these exhib­i­tions in early 1851 that Victoria (Princess Royal 1840–1901) met her future hus­band, Crown Prince Fredrick III of Prussia (1831–1888). By that time Prussia was by far the dom­in­ant German state, occupy­ing two thirds of that country's ter­rit­ory. Notwithstanding the dis­ap­proval of the Kaiser and the Chancellor, Bismarck, the match was seen in London at the time as a good way of ensur­ing good rela­tions between Great Britain and this ascend­ing power.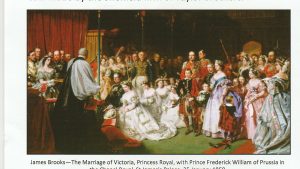 The mar­riage of Fredrick and Victoria in late 1858 was the wed­ding of the year. Held in the chapel at St James' Palace, the couple were showered with presents to fill their home at Potsdam, out­side Berlin. Apparently European Royalty liked to acquire dec­or­ated tools and not least among the gifts was that of a spe­cially made back saw. While the back was brass, the twelve inch blade was made from the finest Sheffield cru­cible steel. It brought together the supreme skills of the saw maker's art of shap­ing, pol­ish­ing and fin­ish­ing steel and brass, but also the designer and etcher dec­or­a­tion on the blade. The present­a­tion etched in bas-relief on either side of the Royal arms reads:
"May God's bless­ing attend the mar­riage of His Royal Highness Prince Frederick William of Prussia with Her Royal Highness the Princess Royal of England"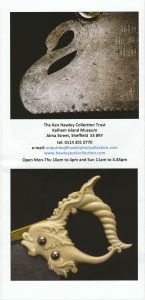 The dec­or­a­tion includes the two national sym­bols of oak leaves and laurel leaves, and the toe end of the blade is cut out in the form of a swan –a bird that sym­bol­ise mar­ital con­stancy. The handle of carved ivory includes a sym­bolic cor­nu­copia (horn of plenty) and a dol­phin, and is attached to the blade by two nickel-plated screws. The brass back is engraved with the words "Presented by Messrs Taylor Brothers, saw man­u­fac­tur­ers, Adelaide works, Sheffield." The firm was well known for its dec­or­ated saws, being the first in Sheffield to employ a firm of engravers and print­ers (James Bagshaw) to make the increas­ingly elab­or­ate designs to dec­or­ate the blades. Their fee for this mas­ter­piece was 14/6.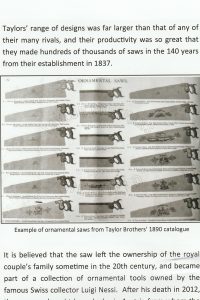 It is unlikely that such an unusual gift would influ­ence the thirty-year happy mar­riage of Frederick and Victoria, which ended in the former's pre­ma­ture death (of throat cancer) in 1888. The couple were to have seven chil­dren, the eldest, Wilhelm, becom­ing Germany's last Kaiser. Frederick and Victoria shared a lib­eral and demo­cratic approach to public affairs and dis­cour­aged the country's increas­ing mil­it­ar­ism which was to do so much to sour rela­tions with Great Britain and others. This atmo­sphere encour­aged Victoria to leave Berlin and build a new home near Frankfurt am Main which she aptly named Friedrichshof Castle in memory of her hus­band. The castle was even­tu­ally to become a luxury hotel, which it remains today.
At the end of World War Two, the Castle was taken over by the American Military. Under the cir­cum­stances it is not sur­pris­ing that easily car­ried items 'went miss­ing'. It is thought that a US ser­vice­man going on leave spir­ited away our unusual saw and sold or pawned it in a Paris flea market. There it remained unloved for some time before being spot­ted and pur­chased by a Swiss col­lector, Luigi Nessi.
After Nessi's death in 2012, the saw was pur­chased by a dealer in Austria. Our speaker was instru­mental in rais­ing the £13,000 required (by Crowd fund­ing, indi­vidual gifts and grants from vari­ous char­it­ies) to allow the Ken Hawley Collection Trust to secure this much trav­elled (but never used) treas­ure. In turn, The Kelham Island Trust is indebted and grate­ful for being able to bring back to the city of its man­u­fac­ture one of the most remark­able tools ever made here. It is on dis­play in the Saw Wall in the Gallery- go and have a look!
Follow the link below for more inform­a­tion on Kelham Island Museum:
http://www.simt.co.uk/kelham-island-museum