Steven Gay has an encyc­lo­paedic know­ledge of the English rail­way system and is a reg­u­lar speaker at the Club. His talk about the Woodhead Tunnels is the 19th jour­ney he has taken the Club on.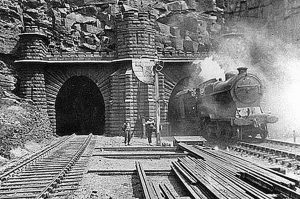 This was a pho­to­graphic jour­ney that star­ted on the Trans Pennine Trail to the east of Hatfield. The Trail is on the bed of the old Manchester, Sheffield and Lincolnshire Railway. In 1837 work began on the Woodhead 1 tunnel. This was a dif­fi­cult tunnel to con­struct using hun­dreds of nav­vies and was only wide enough for a single track. In 1845 the tunnel was opened for pas­sen­ger traffic and was the main link between Manchester and Sheffield. It brought coal from the South Yorkshire Coal Fields to the Lancashire indus­trial belt and was soon found to be inad­equate for the traffic. It was always thought that a second tunnel might be needed. A second tunnel run­ning along­side Woodhead 1 was cut and in 1853 Woodhead 2 was opened allow­ing trains to flow in both dir­ec­tions without delay.
The Trail takes the public to the sta­tion at the west­ern end of the tun­nels and then diverts over the top of the tun­nels through glor­i­ous scenery look­ing down on the reser­voirs along the Woodhead Pass. Steven always adds many inter­est­ing asides often promp­ted by the pho­to­graphs. One such was when he noticed smoke rising from a chim­ney at the end of what he thought was a row of derel­ict rail­way men's cot­tages in a very isol­ated part of the moor above the tun­nels. He went up to the door and gave it a knock. The occu­pant had worked on the rail­ways for over 50 years and a friend­ship star­ted that lasted for years.
The tun­nels were over­used with 250 trains each way using them each day. In 1953 a new tunnel was opened. Woodhead 3 was designed for the first elec­tric rail­way in the UK and the other tun­nels were closed.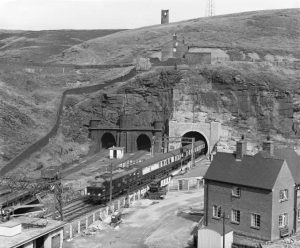 In 1970 this line was closed to pas­sen­ger traffic and in 1981 the line was closed com­pletely. Woodhead 1 was then used to accom­mod­ate elec­tric cables. Woodhead 1 & 2 were finally sealed and new cables were laid in Woodhead 3.
It is a moot point whether any of the tun­nels might find a use as a part of the regions trans­port system in the future. As always the pho­to­graphs and the dia­logue were excel­lent.