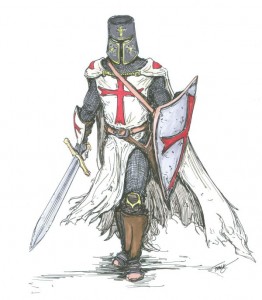 A very inter­est­ing talk by Pat McCloughlin on The Knights Templar or by their lesser known title ' The Poor Fellow- Soldiers of Christ and the Temple of Jerusalem
They reined from 1129–1312, start­ing off as heroic warrior-monks, like super­stars waging war against evil. Sadly at the end they were accused of heresy, magic and sav­agery and were imprisoned , tor­tured and burnt to death.
To under­stand the begin­nings of the Knights of Templar we need remind ourselves of the upheaval and wars that were hap­pen­ing in the Holy Lands around this time. The Byzantine and Roman empires around the middle east were under con­stant and severe threat from the rising power of Islam. Egypt, Lebanon and much of Iberia ( Spain and Portugal), all Christian coun­tries. were conquered. Further, Pilgrims and trav­el­lers to the Holy sites were har­assed and often slaughtered.
This led to the start of the cru­sades to repel the thrusts of the Muslims into the Christian Byzantine Empire. The Pope asked the Princes of Europe to launch a Holy War into the Holy Lands. The first cru­sade was launched in 1095 but it took 4 haz­ard­ous years trav­el­ling across Europe on horse and foot. Not for the feint hearted.
In 1119 Hugues de Payens and 8 fellow knights estab­lished the order of the Knights Templar with the mis­sion to fight evil, pro­tect pil­grims and trav­el­lers and visit Holy places. 300 knights were bil­leted at the Kingdom of Jerusalem and Temple Mount. There were a fur­ther 1000 ser­geants and a con­sid­er­able number of mer­cen­ar­ies. The Knights were of noble birth but appar­ently illit­er­ate but looked splen­did and fear­some in their armour, white garb and with shield red cross on white. The ser­geants were edu­cated but wore black to dif­fer­en­ti­ate them from the Knights. The Templars lived in a state of total abstin­ence, ate in silence and were denied worldly com­forts. It was not all bad. In 1139 Pope Innocent 11 gave them the power to pass freely from coun­try to coun­try and pay no taxes. The Knights became trus­ted and reli­able bankers for every throne in Europe and were able to arrange safe and effi­cient move­ment of money .The Knights grew in num­bers and power through­out Western Europe. The order had numer­ous Preceptors ( or HQ's for the knights) across Europe, includ­ing 10 in Yorkshire!!. They built their own churches with con­sec­rated graves with the most famous in the UK being the Temple Church in London with its cir­cu­lar knave.
All this power was amassed at a time when the Order was involved in fight­ing in the cru­sades to regain lost Christian lands. Deeds of bravery, hero­ism and sac­ri­fice are legendary. The Muslims may have been crit­ical of the Order's med­ical prac­tices and they ridiculed their justice system but they respec­ted the mil­it­ary power of the Knights.
It could not last. The public star­ted to ques­tion whether men of the church should carry arms. They cri­ti­cized their lack of account­ab­il­ity and focused more and more on their fail­ures. On Friday, 13th October 1307 all Templar broth­ers in France were imprisoned and accused of heresy and enga­ging in magic. Phillip IV with the Pope's sup­port that all Templar s across Europe should be imprisoned. King Edward 11 of England insisted they had com­mit­ted no crime and refused. The Pope gave Edward the choice arrest or be excom­mu­nic­ated. 172 Templars were arres­ted in England, Scotland and Ireland, tor­tured and burnt to death The Pope and Phillip 1V died shortly after­wards. Strange coin­cid­ence or what!
Pat's talk was fas­cin­at­ing on the Knights Templar whose memory lives on in legend and myth — Da Vinci Code, Turin Shroud, Mary Magdalene and treas­ures found in Newfoundland !!