Gareth intro­duced his excel­lent talk by out­lining his admir­a­tion for Ken Hawley whose Sheffield tool col­lec­tion rests at Kelham Island. Ken's main interest was not just the fin­ished Sheffield product but more the man­u­fac­tur­ing pro­cess, which even­tu­ally led to a massive col­lec­tion of more than 100,000 arte­facts.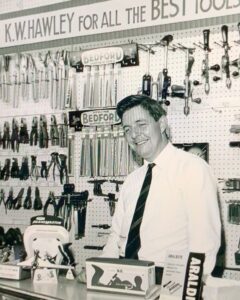 Ken Hawley's family were in the tool busi­ness and, after national ser­vice, he moved into power tool sales and even­tu­ally owned his own shop, with the slogan "we sell nowt but tools". He was renowned for giving per­sonal advice to his cus­tom­ers about the right tools needed for the job. He was also quite adept at wheed­ling from his con­tacts any item he fan­cied for the col­lec­tion; he once spot­ted a brace at an undertaker's; "You'll not be need­ing that now?" He got the brace!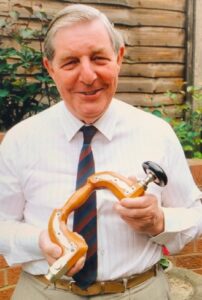 His fame spread fur­ther when he was fea­tured on a saucy sea­side post­card .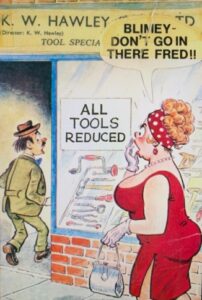 He became inter­ested spe­cific­ally in Sheffield tool man­u­fac­ture, as many firms were already going out of busi­ness, and he wanted to keep the expert­ise alive. He had already amassed mem­or­ab­ilia filling three sheds and an over­loaded attic, before the Hawley Collection was even­tu­ally housed in a refur­bished saw fact­ory at Kelham Island Museum fol­low­ing the 2007 floods. Thousands of unsor­ted items were also stored sep­ar­ately in another local ware­house. An extreme example would be the entire con­tents of a forge, ash samples and all, when it went out of busi­ness.
He was awar­ded an MBE in 1998 as the "driv­ing force" behind the res­tor­a­tion of Wortley Forge Top.
Ken Hawley's family then donated his huge col­lec­tion of indus­trial pho­to­graphs to the Hawley Collection when he died.
Gareth Morgen had first met Ken Hawley at Stanley Tools and their last­ing friend­ship led to Gareth becom­ing a volun­teer cur­ator at the Hawley Tool Collection in retire­ment, and becom­ing its offi­cial archive pho­to­grapher. He was very well qual­i­fied, having been pres­id­ent of the long-established Sheffield Photographic Society.
He set about archiv­ing the entire pho­to­graphic col­lec­tion from a mis­cel­laneous mass of 5000 images. It covered not only the tools but also the sites, man­u­fac­tur­ing pro­cesses and the people involved.
Sites
The col­lec­tion has many paint­ings, draw­ings and etch­ings of works all over Sheffield, now mostly gone. An example is Thomas Turton's Sheaf Works .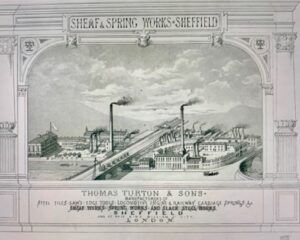 The Stanley Works archives are com­pre­hens­ive, as both Ken and Gareth had worked there .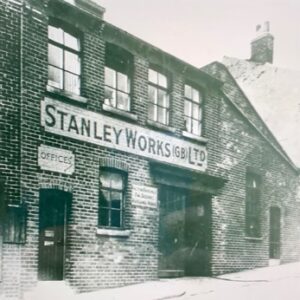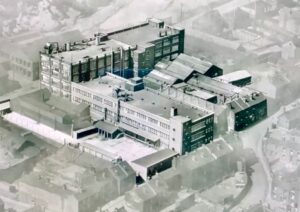 A box had been gradu­ally filled with Stanley photos over time, the most recent at the bottom. Gareth was sud­denly gazing at him­self, now arriv­ing full circle as a museum arte­fact in his own right.
There is a large ongo­ing pro­ject on knives. Gareth con­fessed he always wrote to the papers whenever there was a report of someone being slashed at a foot­ball match – it was always with a Stanley knife .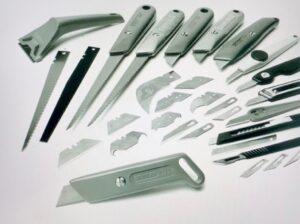 Your blog­ger also remembered his time as a junior doctor when he was called out to cas­u­alty at St James Hospital Balham, gate­way to the south. A chap had attemp­ted to murder his wife with a Stanley knife and had to change the blade half way through. Thankfully he missed all the vital struc­tures in the neck and she sur­vived. The prob­lem was the photos taken at the time for the bene­fit of the court. Sadly, they got mixed up with the hol­i­day snaps and Boots called the police. They saw the funny side of it, but cer­tainly wouldn't do now!
We were shocked to dis­cover that there had been a huge ivory store at Joseph Rogers Cutlery Works in Norfolk Street and it's poignant to reflect that Sheffield was respons­ible for the death of more African ele­phants than from any other source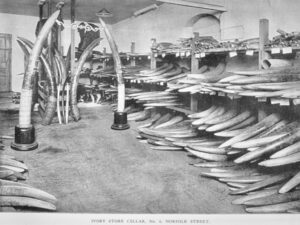 The centre of Sheffield was full of industry until a short time ago, and its famous Walker and Hall fact­ory was demol­ished to make way for the redevel­op­ments we now recog­nise in and around the Winter Gardens.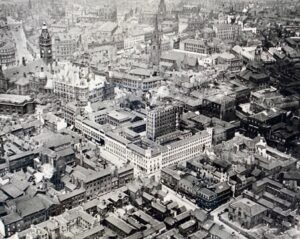 Many tiny build­ings in Sheffield were out-houses and need­ing nat­ural light They were not well con­struc­ted, and now mostly demol­ished. An example is one in Stannington,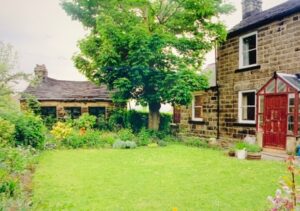 One of numer­ous small Sheffield forges at Stannington
Some of the most famous names star­ted in a very small way, for example Firths. This is in con­trast to indus­trial estab­lish­ments in Leeds and Bradford, many of which were well built and well pre­served.
Process and People
The most inter­est­ing pho­to­graphs in the col­lec­tion are the people involved in man­u­fac­tur­ing. Examples are shown below .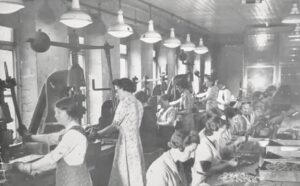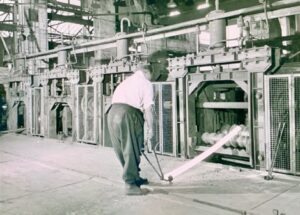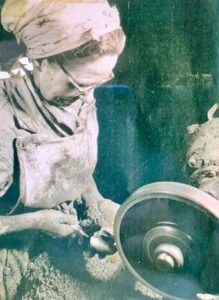 Notable are images of women and, in the 1890s, chil­dren at work, in very poor unsan­it­ary con­di­tions. It was often piece rate work, for instance job­bing grinders. There were no con­tracts, time off sick, hol­i­days or pen­sions. Latterly women were employed as office work­ers or pack­ers. Women took over from men during the wars.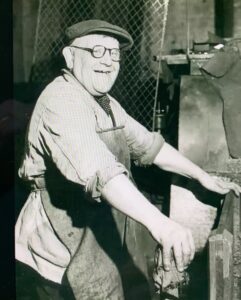 Albert Cook at Stanley must have been a fas­cin­at­ing guy to meet at a dinner party. He was a saw-tuner with per­fect pitch and used no tuning fork. He was also an expert saw sharpener, a very dif­fi­cult job to do appar­ently.
We saw photos of handle turn­ers, buf­fers, grinders, appren­tices and men steel rolling.
Sandersons were seen proudly show­ing off their mag­ni­fi­cent steam engine and their del­eg­a­tion to Shanghai, enjoy­ing good­ness knows what .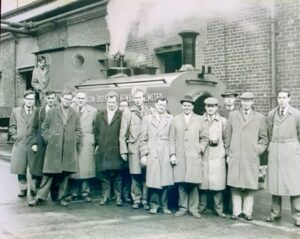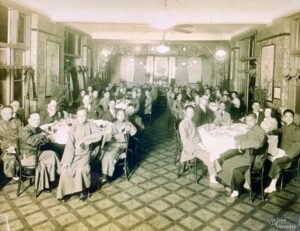 Famous people vis­it­ing Sheffield Works
There were examples includ­ing Princess Anne vis­it­ing James Neill, the Princess Royal, Edward Heath and Harold Wilson at George Wolstenholme's Cutlery works. Honor Blackman was spot­ted taking time off from the Avengers at H Housley.
Conclusion
A bril­liant talk!