This theatre was the brain child of Lawrence du Garde Peach, known as 'Laurie'.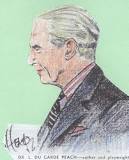 He was born in 1890 in Sheffield, but brought up in Great Hucklow, Derbyshire, where his father was the pastor of the Unitarian Old Chapel. Educated at Manchester Grammar School, Manchester University and Gottingen University, where he learnt fluent German, and after a spell in the trenches, which included put­ting on plays with the troops, he spent the rest of WW1 in the Intelligence Corps inter­rog­at­ing German sol­diers. He com­pleted his formal edu­ca­tion in 1921, with a PhD at Sheffield University in drama.
After a short time in Academia, at what is now Exeter University, he took up full time writ­ing and went back to live in Great Hucklow, where his father was still the pastor, and the pop­u­la­tion was 90.
He wrote for radio, films, magazines, includ­ing 'Punch', and for theatre. He became edit­ing author for the Ladybird his­tory books, and wrote Toytown scripts for 'Childrens Hour' on the BBC, as well as some of the Ladybird books. He did pageants, made cards, painted, and even found time to stand for Parliament as a Liberal can­did­ate for Derby, but unsuc­cess­fully.
His father at this time had set up a hol­i­day home for chil­dren in Nissan huts in the vil­lage, which Laurie adap­ted as a theatre, and in 1925 The Village Players were formed, a com­pletely ama­teur group of vil­la­gers, per­form­ing in the Nissan hut. There was no power, so plays coin­cided with the full moon or were lit by oil lamps or bat­ter­ies that had been bor­rowed. The first play was 'The Merchant of Venice' which ran for 3 nights at 8pm – 1s2d admis­sion, chil­dren 6d. Other plays included the 'Scottish Play' and 'Clive of India'. 'Journeys End was the only WW1 play that was per­formed. Costumes were hired and the dress­ing rooms i.e.the wings, were out­side, which was alright, in the right weather and there was no snow.
The ama­teur vil­lage actors were invited to act, and if there was no new script for you for the next play after your per­form­ance, you knew you were not wanted in fur­ther plays.
This con­tin­ued until 1937, when a new min­is­ter was appoin­ted and the Nissan huts were required for another use.
So a barn adja­cent to the remains of the vil­lage lead mine was pur­chased, with the help of a 'loan' (which was never repaid) from the Sheffield indus­tri­al­ist J.G.Graves, and con­ver­ted into a pro­scen­ium theatre with an aud­it­or­ium of 250 seats (acquired from Montgomery Hall at 6d each) on a slope. In 1938, they moved in.
The first play was 'Shells' about WW1, and was writ­ten by Laurie. The next play was 'Mrs. Grundy comes to Tea', but in 1939 and during WW2, the theatre closed and the actors joined the Home Guard. The theatre was used as a club for chil­dren.
Recommencing after the war, per­form­ances were always full. There were 3 plays per year with 3 weeks rehearsal and 3 weeks per­form­ances on 6 days /week + 3 mat­in­ees i.e. 21 per­form­ances. The list of plays per­formed was ambi­tious and varied.
4 local men did the stage set­tings, which were always pro­fes­sional.
Lauries wife was the prompt and some­times fell asleep. Programmes were free.
Refreshments at half time were sup­plied by a mobile van, nick­named 'The Desert Rat', appar­ently not to be recom­men­ded.
There were some­times com­plaints that there were too many plays writ­ten by Laurie, so he wrote one under an assumed name, with a glow­ing descrip­tion of this person, which was of course him.
In 1954 Laurie wrote a play on vil­lage life and even wrote plays around vil­lage char­ac­ters.
In fact he did nearly everything, includ­ing writ­ing Newsletters which were highly amus­ing. Audiences came from all over the world and famous actors per­formed there. Edna Raiworth, the grand­mother of Sophie Raiworth of telly fame, was first lady in many plays there.
By 1971, Lauries wife was not well, and des­pite being encour­aged to con­tinue, Laurie said 'When you've fin­ished with a toy, you throw it away'. The theatre was sold to the Sheffield Scout Association with the con­di­tion that it should never be used for per­form­ances again.
'To the Manor Born' was the last play and every­one involved received a letter of thanks for their con­tri­bu­tions.
Lawrence du Garde Peach died in 1974.
There is a plaque on the side of the barn where the action took place.
A small trib­ute to a remark­able achieve­ment, by a remark­able man who gave so much pleas­ure to so many, espe­cially in Great Hucklow.
An excel­lent morn­ings talk.