Sheffield Victoria to Kiverton Park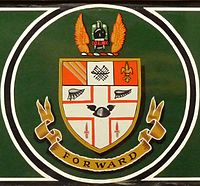 It seems there is some­thing about rail­ways in the genes of gen­tle­men of our age group which is rather more than nos­tal­gia. Our speaker this week, Stephen Gay, is a master of this vast sub­ject, coming on his nine­teenth visit. Having taken us to far flung Cornwall only a few weeks ago, this time our excur­sion was to be rather nearer to home and a jour­ney of rather shorter distance- about ten miles.
It is easy to focus on the west­ern side of our city with its obvi­ous attrac­tions; Stephen invited us look east where there is much of over­looked interest. Opening up his usual cor­nu­copia of slides we were to be treated to scenes largely for­got­ten or neg­lected during a pho­toghrapic tour of a short part of the old Great Central Railway (GCR): Sheffield Victoria to Kiverton Park. Most of the 36 slides came from unused mater­ial from his book "Through Kirton Tunnel", pub­lished in 2004. We were reminded that there was no 'direct' route into Sheffield until the Midland Railway provided this in 1870. The GCR and its pre­de­cessors ori­gin­ally ran ser­vices into King's Cross via Retford but added, from 1899 Marylebone, the year it opened it's 'London exten­sion' via Aylesbury and the Metropolitan line. The Company sprang from the ambi­tious Manchester, Sheffield and Lincoln Railway which aspired not only to rival the Midland and Great Northern but to run ser­vices to Paris. Hence its con­struc­tion to 'Berne' gauge and strict align­ment and grad­ing stand­ards allow­ing, from 1903, a three-hour timing non-stop from Sheffield to London (163 miles). Direct ser­vices were offered to sev­eral des­tin­a­tions to the East and South, includ­ing Bournemouth (via Banbury) and Harwich and Immingham/New Holland to con­nect with Continental boats.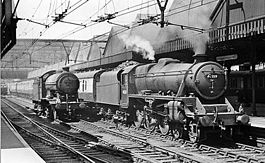 The GCR system was to reach peak traffic in the 1950s, which at one point was so intens­ive (over 400 train move­ments per day) that elec­tri­fic­a­tion via a new Woodhead Tunnel was under­taken between Wath and Manchester.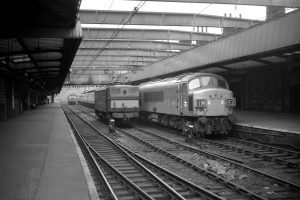 A vast auto­matic mar­shalling yard was built at Tinsley. Much of the track was quad­rupled and given multi aspect sig­nalling. But the impact of the private car, lor­ries and motor­ways in the early 1960s rap­idly took their toll and this, with the later demise of the steel and coal indus­tries, removed its raison d'etre. The later was ser­viced at Annersley, which provided a col­lec­tion hub for col­lier­ies in South Yorkshire and North Derbyshire and Nottinghamshire. Now only the stretch between Sheffield, Lincoln and Cleethorpes sur­vives Dr Beeching's ration­al­isa­tions.
So what remains of this once busy and mod­ern­ised route? We star­ted our jour­ney east­wards at Sheffield Victoria and the Wicker via­duct with its penny lift (opened 1851, finally closed 1983 when ser­vices to Huddersfield were diver­ted to start at Midland). Engineered by Sir John Fowler of Forth Bridge fame, we pro­ceeded to view shots of the line and its adjoin­ing envir­on­ment. These included the modern Nunnery Supertram depot, a June only weed-killing train in action, Bernard Road and Woodburn Road depots. Parkway market sid­ings came next with a photo of the last rail deliv­ery van in 1983. Then a shot of the now demol­ished Craven's Engineering works which pro­duced everything from mil­it­ary equip­ment to the city's ori­ginal trams. Next stop was to inspect the unsightly and, at night, unsafe bus shel­ter at Darnall which replaced the ori­ginal four can­op­ied plat­form premises that more than once won the "best kept sta­tion" award. A pit stop fol­lowed, where we were shown the remains of a sig­nal­mans' toilet block –last flushed in 1971!
The lin­eside post-industrial coun­tryside was now begin­ning to open out. Slag heaps had now been removed and 'greened', inter­spersed with fields of yellow rape­seed. We pro­ceeded via Orgreave of miners' strike infame (1983). We were pleased to learn that one of the few 'double Pavilion' style GCR sta­tions at Woodhouse has been restored, a sur­vival in a sea of destruc­tion. We con­tin­ued past the site of Beighton sta­tion (opened 1849 closed 1954) and its level cross­ing, the scene of a bad acci­dent involving a mil­it­ary train in 1942, when steel sheets, dis­lodged from wagon, caused derail­ment. (See poem at end) Our next stop was the site of the Beighton track main­ten­ance yard built by German POWs in 1942. Stephen worked here as a yard­man between 1979 and 1992, when he was made redund­ant. He was thus able to take and share pic­tures of when the yard was oper­a­tional with its steam crane, piles of sleep­ers and 60ft lengths of track. There was a happy shot of a rotund Polish col­league 'Ted' and a sad one of 1920s wooden car­riages being des­troyed –how con­ser­va­tion­ists would have liked to have acquired those!
We were then shown an aerial photo of the area sur­round­ing what is now the Rother Valley Country Park with its lakes and river diver­sions. A whole miss-mash of lines of com­pet­ing lines squeezed (and fre­quently cross­ing over each other) through the valley which in future will also take the HST2 ser­vice towards Leeds. The area also hosts Beighton Junction where the GCR divided east­wards towards Worksop and Southwards towards Annersley and the London Extension via Nottingham Victoria. The remain­ing rival Midland Railway goods line is still used as a relief route.
Approaching the end of our jour­ney we still had sur­prises in store. We were shown the remains of a buried tunnel, which had once provided a time saving short cut for Grimsby fish trains. Next came a recent nat­ural dis­aster: shots of the rail­way embank­ment col­lapse near Waleswood, due to a com­bin­a­tion of rabbit war­rens and flood pres­sure in 2007. This left an unusual 'sus­pen­sion' bridge of track over a fifty foot gap which for­tu­nately was repor­ted by an alert driver. The line was out of action for six months. And so to our final whistle stops: the 'new' (1929) sta­tion at Kiverton Bridge and Kiverton Park. By now at risk of run­ning late we regret­fully had to call a halt.
Stephen included examples of his own rail­way poems in his most inter­est­ing and enjoy­able present­a­tion includ­ing:
A Soldier Down The Line
(Click on the link to down­load the poem.)
Like a change from the Peak District? Kiverton Park Station (with pub oppos­ite) is the start of a delight­ful three mile flat walk along the Chesterfield Canal to regain the rail­way at Shireoaks. There is an hourly ser­vice to/from Sheffield which enables you to see many of the sites men­tioned in this blog. It's espe­cially pleas­ant during the blue­bell season.