Recently we have been reminded of the anniversar­ies of key dates in World War II and this was a timely present­a­tion on the role of the " French Resistance " and its con­tri­bu­tion to the lib­er­a­tion of France. The phoney war ended with the Germany's light­ning attack on France in June 1940 fol­lowed by 6 weeks of fight­ing. France was cap­tured and split into the Occupied and Non- Occupied Zones under the con­trol of Vichy France which was the col­lab­or­a­tion­ist ruling regime in Nazi-occupied France. A nat­ural reac­tion for any cit­izen in the situ­ation would be to launch imme­di­ate res­ist­ance. However, the fight­ing res­ul­ted in 300,000 dead or severely injured and 1.8 mil­lion pris­on­ers. France was in no pos­i­tion to launch any mean­ing­ful res­ist­ance to the occu­pi­ers. Indeed, there was a com­plete col­lapse of any res­ist­ance under the prin­ciple " Politics of Collaboration " dir­ec­ted by Marshal Petain.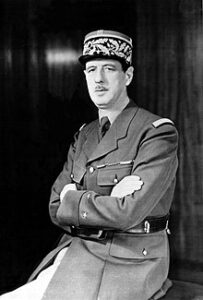 General de Gaulle 1942
Charles de Gaulle was exiled in England but was a power­ful voice in urging French sol­diers to take up arms and form the "Free French Army ". He said "The flame of French res­ist­ance must not or shall not die ".
Early res­ist­ance activ­ity was prim­it­ive and lacked coordin­a­tion involved in pub­lish­ing news sheets, pro­pa­ganda , cut­ting tele­phone wires and gen­eral dis­rupt­ive beha­viour. Those who were caught were invari­ably shot as a strong deterrent to others. In November 1940 hun­dreds of Parisian school chil­dren bravely demon­strated against the regime but were bru­tally repressed. The com­mun­ist party had mem­bers and resources and would have been active but Stalin and Hitler had signed a pact that Germany would not invade Russia so they were caught in a con­flict of loy­al­ties. However this was resolved, when Hitler attacked USSR on 22nd June 1941 rip­ping up the Hitler/Stalin pact. The com­mun­ist party youth took action and killed prom­in­ent Germans. Retaliation was vicious and for every German killed 20/30/50 civil­ians were shot.
Resistance was still piece­meal and largely unco­ordin­ated. A Jean Moulin set out to visit res­ist­ance groups across France and coordin­ate inform­a­tion on the groups, a task need­ing the utmost tact and trust no doubt ! In December 1941, USA entered the war after Japan bombed Pearl Harbour. At this news De Gaulle declared " We've won" and he was right, thank­fully.. The Allies con­trolled the pro­pa­ganda and the BBC ( Radio London) com­mu­nic­ated with res­ist­ance through coded mes­sages to assist with the drop­ping of sup­plies and agents. The Germans con­tin­ued to hound the Jews and over 13,000 were depor­ted and many exterm­in­ated on mass.
By 1943 the res­ist­ance had become more active. The Vichy gov­ern­ment made a con­ces­sion to the Germans agree­ing that all able bodied Frenchmen should be forced to go and work in Germany. Many refused to go par­tic­u­larly in the south and hid in the hills, call­ing them­selves Maquis which trans­lates as "taking to the hills. " The res­ist­ance lead­ers saw quickly that here was a body of young men not only numer­ous but des­per­ate, brave, train­able and useful. Jean Moulin united the res­ist­ance under the lead­er­ship of Charles de Gaulle. The res­ist­ance was now derail­ing trains, des­troy­ing factor­ies, inform­ing the Allies of German troop move­ments, aiding downed airmen to escape German cap­ture and return to England. Captured res­ist­ance fight­ers were shot.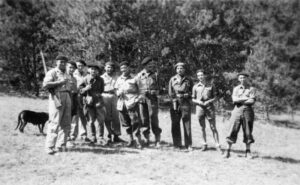 Members of the Maquis — includ­ing two SOE oper­at­ors
The end of German occu­pa­tion was in sight. The D-Day land­ings were on the 6th June and the Allies even­tu­ally break­out of the Normandy land­ings on 13th July. The French res­ist­ance were able to give pre-invasion intel­li­gence about German troop move­ments and coastal defences as well as maps and photos to the Allies, all the time dis­rupt­ing German activ­ity. Charles de Gaulle vis­ited the town of Bayeux in N.W. France on 14th June 1944 and he was imme­di­ately acclaimed by the public as their figure head which was an embar­rass­ment to the Allies. The Germans sur­rendered on 25th August 1944. A major rally on 26th August 1944 atten­ded by 1 mil­lion people pro­pelled Charles de Gaulle to power.
The French res­ist­ance made a sig­ni­fic­ant con­tri­bu­tion to the defeat of the Germans and the lib­er­a­tion of their coun­try. Matthew raised an inter­est­ing ques­tion "What would we have done if Britain had been invaded ? " Answers please ! An excel­lent talk, well pre­pared and pro­fes­sion­ally presen­ted on Zoom.
For those of you who wish to learn more, Matthew has writ­ten a book avail­able on Amazon :-
The Resistance — The French fight against the Nazis.