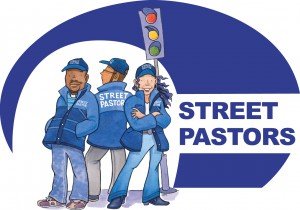 Tricia has been coordin­ator of Sheffield Street Pastors for about 5 years. All of the Street Pastors are Christians who have a genu­ine con­cern for their com­munit­ies and are volun­teers from local churches. After a com­pre­hens­ive train­ing course, teams go out at night to engage with people where they are, on their ground and on their terms. The Street Pastors are not about preach­ing but about prac­tical demon­stra­tions of the love of God. Their main role is to make them­selves avail­able to Care, Listen and offer prac­tical Help to who­ever they meet, espe­cially young and vul­ner­able people.
Rev Les Issac star­ted Street Pastors about 11years ago. He decided that churches were not doing enough about the increas­ing crime rate and the dra­matic rise in the num­bers of teen­agers car­ry­ing and using knives and guns in his area of London. Eighteen people went out into the area and listened, cared and helped. There are now around 10,000 volun­teers and the move­ment has spread abroad.
In 2009 in the Burngreave area of Sheffield, which was known to have a gun and knife cul­ture, a gang member was executed in the park. In 2010 in response, Burngreave Street Pastors was set up, with back­ing of the Police, the Council and the Churches. Teams of four volun­teers, each with two men and two women, rep­res­ent­ing dif­fer­ent churches and dif­fer­ent ethnic groups, went out into the com­munity and got involved in lots of things. They made con­nec­tions with shop­keep­ers and other people in the area, made a good impres­sion and gained a good repu­ta­tion.
In 2011 a city centre team was set up to cover Sheffield centre. John, a member of the city centre team, gave us an idea of what a typ­ical night might be. The team covers the area around the Peace Gardens to Charter Square to Carver Street and West Street from 10.30 pm to 4.00 am on Friday and Saturday nights. There are around 20 clubs and pubs in the area, some with a capa­city in excess of 700. One door­man, who, using a 'clicker', coun­ted the people enter­ing his club, said that 1022 had entered that even­ing. The Sheffield night-time eco­nomy is worth about 10% of all the jobs in Sheffield.
Each volun­teer has a heavy water­proof coat, a cap and gloves. The kit costs around £300 and volun­teers find the money them­selves. The cap must be worn at all times for insur­ance pur­poses. It is easily seen in a crowd and by CCTV cam­eras. John has a ruck­sack that con­tains bottles of water, first aid kit, space blankets, torches, flip-flops and three kinds of lol­li­pop. The lol­lies are 'ice-breakers'. They are offered to many people to make a friendly intro­duc­tion. Apparently the door­men at many of the pubs and clubs love them! So do many of the girls and boys on a night out. People talk much more easily to volun­teers at night than they would in day­light, per­haps relaxed by having had a couple of drinks.
The flip-flops are offered to girls who star­ted the even­ing wear­ing high-heeled shoes and by 1.00 a.m. can hardly walk and have had to take them off. They are often walk­ing bare-foot on pave­ments that are ice cold and some­times strewn with broken glass. The offer of flip-flops is many times greeted with a scream of relief and a hug!
There are often lots of banter and ques­tions like, "Is Street Pasta some­thing to do with spa­ghetti?" The most common ques­tion is, "How much are you paid?" The answer is, "Nothing. We're volun­teers." The next ques­tion is, "Why do you do it, then?" "We believe God loves us and we want to help people to enjoy them­selves and have a good, safe night out."
John said that they walk very slowly from the Peace Gardens to West Street to be seen and give an oppor­tun­ity to be spoken to. They pick up bottles when they see them, because a bottle can be a dan­ger­ous weapon if a fight starts.
They work along­side the police but are not an arm of the police. They con­trib­ute to the local eco­nomy because they often pick up vul­ner­able people when nor­mally the police would be called to deal with them. The Street Pastors have radios and can con­tact police and ambu­lances and they carry dicta-phones to keep a note of who they speak to. If they find anyone who needs help because of too much drink and they put them in a taxi, they take note of the taxi number to ensure the per­sons safety.
One club closes at 3.00 a.m. and makes people leave whatever state they are in. Often volun­teers find someone lying on the pave­ment, incap­able. They wrap them in the space blankets and call the para­med­ics. They often give out space blankets to warm up (silly) thinly clad girls.
The final shot from the speaker was that city centre crime and anti-social beha­vior has fallen by 39% on Friday and Saturday nights when the Street Pastors are work­ing.
The con­sensus of opin­ion in the Probus Club was that these Street Pastors are spe­cial people, doing a vol­un­tary job that few of us would tackle.
We were full of admir­a­tion for them.