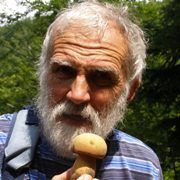 Dr Patrick Harding soon estab­lished him­self with the audi­ence as a fun guy, but although fungi were cer­tainly on the menu this was a pot pourri of tales about the hidden qual­it­ies of all sorts (and Allsorts) of every­day plants.
And they were tales, rather than tedi­ous botan­ical descrip­tions. Green fingered I most cer­tainly am not, and the title of Patrick's talk, A Plant Anthology (Stories about Wild and Garden Plants), hardly filled me with eager anti­cip­a­tion. But it quickly became clear that Patrick was an enter­tain­ing and gifted speaker, and he had our undi­vided atten­tion for every minute of his one-hour present­a­tion.
It was a col­lec­tion of true stor­ies about plants, to quote the pre­amble to his book Patrick's Florilegium which formed the basis of the talk. He looked at plants in medi­cine, folk­lore, poetry, his­tory and industry. From lesser celandine and Wordsworth, to the role played by horse chest­nuts during two World Wars, the medi­cinal use of meadow saf­fron, yew and melilot and the his­toric use of sea­weed in glass­mak­ing.
And, yes, I too had to look up the word 'florile­gium' — an antho­logy, from the Latin floris, for flower, and legere, for gather.
Dublin-born Patrick, who turned 70 last week, is a freel­ance broad­caster, author and adult teacher. He was for 20 years a lec­turer at Sheffield University, and organ­ises the sci­ence pro­gramme for the Institute of Continuing Education at Cambridge University. He has appeared on tele­vi­sion and radio pro­grammes such as The Flying Gardener, Castle in the Country, Richard and Judy, BBC Breakfast, Britain's Best Wildlife, Radio Four's Up Country and Radio Two's Chris Evans Show.
He star­ted with the big stuff – trees such as the syca­more and lime (neither of which are native to Britain) and the yew, which for hun­dreds of years has been syn­onym­ous with English church­yards but which, iron­ic­ally, pro­duced timber for the man­u­fac­ture of long­bows. "What would a church be doing, grow­ing a weapon of war?" he asked rhet­or­ic­ally.
The poet William Wordsworth's favour­ite flower was not the daf­fodil, as widely believed, but the lesser celandine, an example of which is carved on his grave­stone at Grasmere. But in Wordsworth's day the plant was known as the pile­wort and, per­haps because the tubers on the stem of the plant below ground looked remark­ably like haem­or­rhoids, was widely used to treat that com­plaint.
I need not have wor­ried about the over­use of Latin names for the plants Patrick was describ­ing. Arum mac­u­latum is some­times known as cuckold's tinsel, but in the south of England is often called lords and ladies while in Yorkshire, where they call a spade a spade, it is appar­ently better known as dog's dick.
Many plants con­tain starch, and in the Middle Ages the use of food for any­thing but eating was frowned upon so non-edible plants were used for laun­dry pur­poses.
The game of conkers was ori­gin­ally played with snails' shells (at least, I pre­sume it was merely the shells), and it was only when spread­ing chest­nut trees star­ted to be grown in Britain's parks and coun­try estates that the hard fruit, or seed, of the horse chest­nut became the conker as we know it today.
But conkers had homeo­pathic qual­it­ies, too, and chem­ic­als from the conker could also be con­ver­ted into acet­one which was used in the pro­duc­tion of the explos­ive cordite in both World Wars.
The melilot plant, from the Latin mel for honey and also known as yellow sweet clover, con­tains the anti­co­agu­lant toxin dicou­marol which can lead to internal haem­or­rhaging and death in cattle but is used in the pro­duc­tion of war­farin.
Next we came to wild liquorice, well known to Yorkshire folk, which is bad for blood pres­sure but which con­tains an anti-inflammatory which was used in the treat­ment of ulcers. It can also have a pur­gat­ory effect, as Spike Milligan found to his cost when work­ing as a van boy for a firm deliv­er­ing con­fec­tion­ery. "I ate so many Bassett's Liquorice Allsorts that I had the sh*ts for a week," he was quoted in his bio­graphy.
Meadow saf­fron, which pro­duces a drug for the treat­ment of joint pain, can have a sim­ilar side effect.
The man­drake plant has a long his­tory of med­ical use and its root, which is hal­lu­cino­genic, was said to improve women's fer­til­ity. The potion was appar­ently smeared on the shaft of witches' besoms. Bryony, which is sim­ilar in appear­ance, was also used but was appar­ently less effi­cient – a little like some online brands of Viagra, Patrick told us.
The ash pro­duced from burn­ing sea­weed is used in glass pro­duc­tion, allow­ing sand to melt at a much lower tem­per­at­ure than the 900 deg C oth­er­wise needed. Seaweed is also used in the pro­duc­tion of sur­gical dress­ings because it absorbs blood and pus.
Camomile, a very fash­ion­able drink these days, has a calm­ing effect where almost all other bever­ages con­tain stim­u­lants. "Twenty mil­lion Germans drink cam­o­mile in the even­ing, lead­ing to a night's rest­ful sleep, which is prob­ably why, by the time you get down to the pool, they have already put their towels on the sun­beds," Patrick explained with a delight­ful lack of polit­ical cor­rect­ness.
Oh well, I'm sure most of the other nug­gets of inform­a­tion in Patrick's talk had a sound sci­entific found­a­tion.