Simon, Head of the City Regeneration Team., gave us a most inter­est­ing present­a­tion on the regen­er­a­tion of the city centre around the Castlegate and Riverside Quarters. Sheffield has over 150 miles of rivers and streams and much of the his­tory of the city is because of the river net­work. The his­tor­ical city centre and where it all began was where the rivers Don and Sheaf con­verge. The castle, market, major build­ings bridges and early set­tle­ments were loc­ated there.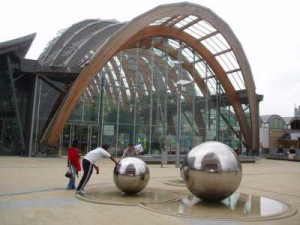 Already much has been accom­plished to regen­er­ate Sheffield to attract busi­ness, work­ers, stu­dents, tour­ists and devel­op­ment funds. There is much more to do if Sheffield is going to return fully to its former glor­ies and com­pete with likes of Leeds and Manchester.
The Riverside Business District is grow­ing in its import­ance with major office com­plexes , upmar­ket res­id­en­tial apart­ments and hotels. Plans are under­way to redis­cover Sheffield's lost castle and the cre­ation of green open spaces for the enjoy­ment of all. Once the vacant castle market is demol­ished there will be a full excav­a­tion of the castle site. Sheffield has bid for the loc­a­tion of a HS2 rail­way sta­tion at the nearby former Victoria sta­tion bring­ing work­ers and vis­it­ors right into the city centres giving improved access to major cities.
Regeneration needs funds and an applic­a­tion was made to the Heritage Lottery Fund for £3.5 M was turned down. Sheffield Council has sought part­ner­ships with developers, uni­ver­sit­ies, museums, friends of Sheffield Castle, Yorkshire Arts and many others. Sheffield City centre has been prone to flood­ing and extens­ive work has been under­taken on flood defences. The Don has been cleaned up and salmon are now return­ing to the river. The Sheaf's cul­verts will be removed or mod­i­fied to encour­age fish and wild life to return. Vacant build­ings are being refur­bished and now being used by artists, small com­pan­ies and as work­shops. Sheffield has always been famous for its green and open spaces. The regen­er­a­tion will ensure that derel­ict areas will be restored to former glor­ies to attract wild life and ensure all of us can enjoy these treas­ures in the city centre.
Clearly, much has been done . The plans for fur­ther regen­er­a­tion are ambi­tious but when com­pleted will give us a City to be proud and will attract busi­ness, vis­it­ors and tour­ists, all adding to the wealth of the region. The present­a­tion was well received by our mem­bers, many of whom are nat­ives of Sheffield and have seen the changes over the years. Clearly, more is planned.