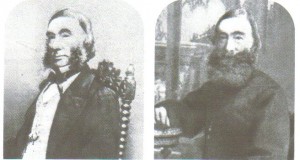 Dr Susan Deal told the extraordin­ary story link­ing the 5th Duke of Portland to one Thomas Charles Druce. It was claimed that they were the same person by the daugh­ter in law of Thomas Charles Druce and that her son was the right­ful heir to the Portland for­tune. It was a Victorian mys­tery full of twists, claims, counter claims, and lies. In the pho­to­graph the Duke of Portland is on the left and Thomas Charles Druce is on the right.
In brief the 5th Duke of Portland was an exceed­ingly eccent­ric man; who lived from the 12th September 1800 to the 6th December 1879. He was christened William John Cavendish Cavendish-Scott-Bentinck and lived at Welbeck Abbey, in the Dukeries, Nottinghamshire.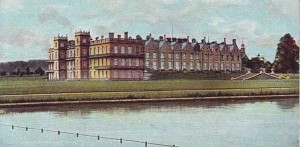 He never mar­ried and pre­ferred to live in seclu­sion and was not seen for long peri­ods of time. During his life­time he built sev­eral under­ground cham­bers and halls, linked together by approx­im­ately 15 miles of tun­nels.
Thomas Charles Druce was sup­posed to have been born in 1784 and died in 1864. He lived in London, was very wealthy and was the co-owner of a London uphol­stery busi­ness called the Baker Street Bazaar. He looked very much like the Duke of Portland and his daugh­ter in law claimed, after the death of the Duke that the death of Charles Druce had been faked by put­ting lead weights in his coffin so that the Duke could return to his estate in Nottinghamshire. When the claim became public vari­ous other rel­at­ives showed up on the scene each claim­ing their right to inher­it­ance.
Eventually on the 30th December 1907, amid tight secur­ity, the grave of Thomas Charles Druce was opened and his body exhumed, prov­ing that the Duke had not lived a double life.
There are ref­er­ences to the case in Wikipedia, UK Campus, Leftlion and many more web­sites. They all make inter­est­ing read­ing.
Dr Susan Deal's account kept us spell bound and would have been classed as an unbe­liev­able story if it were not true.