These are troubled times for prin­ted news­pa­pers, all of whom are haem­or­rhaging cir­cu­la­tion in the face of com­pet­i­tion from the inter­net, and social media in par­tic­u­lar. Many are in their death throes.
For some­body who spent his entire work­ing life in journ­al­ism, the fig­ures make depress­ing read­ing. When I star­ted work on the Yorkshire Evening News in 1961 it was (unbe­liev­ably by today's stand­ards) selling 119,000 copies a day across its Leeds and Doncaster edi­tions, and yet by the end of 1963 it had gone to the wall, regarded as uneco­nomic and absorbed by the rival Evening Post.
Today, regional even­ing news­pa­per edit­ors can only dream of a cir­cu­la­tion any­where near that figure. In Sheffield, The Star, des­pite having the field to itself as far as South Yorkshire is con­cerned, is strug­gling along on a print cir­cu­la­tion of less than 12,000 copies a day.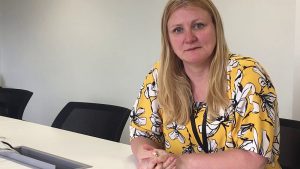 Nancy Fielder is editor of JPI Media's stable of daily and weekly news­pa­pers based in Sheffield, includ­ing The Star and weekly Sheffield Telegraph, and she had already filled us in on the state of play in the news­pa­per industry gen­er­ally when she last vis­ited Stumperlowe Probus Club in July 2018. Since then, things have only got worse.
Nancy's latest present­a­tion, timed to per­fec­tion just three days before a General Election, was more about the part played by news­pa­pers and the inter­net, includ­ing their own online offer­ings and social media plat­forms such as Facebook and Twitter, in influ­en­cing public opin­ion.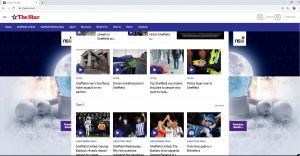 Johnston Press plc, the country's biggest regional news­pa­per pub­lisher and the Sheffield titles' pre­vi­ous owner with a market cap­it­al­isa­tion of just £3 mil­lion, placed itself in admin­is­tra­tion in November 2018 when it was unable to find a suit­able buyer of the busi­ness to refin­ance its £220 mil­lion of debt. Its assets were brought under the con­trol of JPI Media Ltd, a com­pany formed by a con­sor­tium of Johnston Press's main cred­it­ors who reduced its debts to £85 mil­lion and injec­ted £35 mil­lion of invest­ment.
"The real­ity is that fewer people are buying the print product, and that is where most of the money comes from, but more people are access­ing our web­site," explained Nancy, fresh from her appear­ance dis­cuss­ing the week­end papers on BBC Breakfast.
Generating enough money from the web­site to make up the loss of income from the prin­ted paper is easier said than done. Advertising rev­enue goes some way towards this, but the busi­ness model is com­plic­ated and the long-term viab­il­ity of the web­site is far from cer­tain des­pite, or per­haps because of, the ease with which people can click on www.thestar.co.uk by fol­low­ing a link from, say, Facebook.
"More than half of all the 'hits' we get online come via Facebook," Nancy told us. So that must mean that Facebook is doing The Star a big favour by driv­ing traffic to their web­site. Well, yes and no. Obviously, the more people who visit the web­site the more The Star can charge advert­isers for the priv­ilege, but only to a cer­tain point. Because who are The Star com­pet­ing with for advert­ising rev­enue? You've guessed it – Facebook.
"Companies such as Google and Facebook can under­cut us for advert­ising because they are so big but, although we are having to com­pete with them [for income from advert­ising] it is our news that people are click­ing on. And we have a shrink­ing number of report­ers with an ever bigger job to do."
So, while there is no doubt that news­pa­per web­sites such as The Star's are attract­ing a healthy amount of traffic, just how sus­tain­able they will be in the long term from a com­mer­cial point of view is still largely an unknown.
In September, in the face of squeezed advert­ising rev­en­ues, The Star took a sig­ni­fic­ant step in secur­ing the viab­il­ity of its web­site by intro­du­cing a so-called pay­wall. This allows read­ers to view five free art­icles a week, after which they will have to register and choose from a range of sub­scrip­tion plans such as £1 per month for three months and £2 per week there­after, or £52 for the first full year and £78 per year there­after.
One inter­est­ing dif­fer­ence between prin­ted news­pa­pers and a web­site is that con­tent can be better tailored to meet read­ers' tastes.
As Nancy explained: "With the front page [of the news­pa­per] it was always a bit of a gut reac­tion, what we thought people would like, but now we can actu­ally see what people are look­ing at.
"But it is doubt­ful that the elec­tion will be the most read item."
To illus­trate her point, Nancy brought along a screen shot of the elec­tronic 'score­board' which is per­man­ently on dis­play in The Star's news­room and shows, in real time and updated almost by the second, what vis­it­ors to the web­site are look­ing at.
On the morn­ing of her visit, the most read item up to eight o'clock had been Sheffield United's comeback against Norwich City. The first polit­ical story on the list, about LibDem leader Jo Swinson's visit to Sheffield, ranked only sixth.
"If they are not look­ing at polit­ics today, when will they be?" she asked. "We know what interests the people out there. If they are not click­ing on polit­ics, why should we write about polit­ics?
"It is a very wor­ry­ing trend, and a depress­ing pic­ture that they [the fig­ures] paint.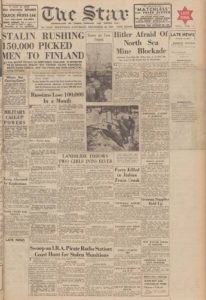 On a recent day, in the middle of the General Election cam­paign, the most viewed stor­ies were about a Sheffield cus­tomer who was turned away from a pub for wear­ing a flat cap, which attrac­ted 51,000 hits, and an item about a Sheffield mother who com­plained that her son's day — "if not his life" — had been ruined by a Cadbury's advent cal­en­dar which was miss­ing its chocol­ates, and which attrac­ted 47,000 views.
"You get more money, the greater number of people look­ing at your web­site, so you have to give them what they want to read," Nancy added.
"It's quite a ser­i­ous debate, how to get people to engage with polit­ics. We've had stor­ies about national politi­cians coming to the city, which we have put on the front page of the prin­ted paper, but vir­tu­ally nobody was look­ing at them on the web­site."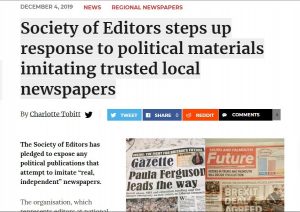 Nancy also believes that local demo­cracy is at risk because papers such as The Star, which will only pub­lish unbiased stor­ies, are often com­pet­ing with polit­ical leaf­lets which are made to look like local news­pa­pers. "Political parties put a tre­mend­ous amount of effort and money into pro­du­cing mater­ial which just isn't true," she claimed.
The Star was first pub­lished in 1887. Let's hope it's got a few more years' life left in it.