David Williams, a retired engin­eer, is a narrow gauge enthu­si­ast but appar­ently not a great fan of the stand­ard gauge (4ft 8.5ins). He defined narrow gauge broadly as: Big, around 3 ft; Middle, around 2ft; Small, around 15–17ins and gauges below would be con­sidered appro­pri­ate to model rail­ways.
Narrow gauge rail­ways are with us because they are cheaper to con­struct and run, more flex­ible in their con­struc­tion and can be laid and taken up rel­at­ively quickly. We see narrow gauge rail­ways in many aspects of our lives. They are used in mines, quar­ries and large con­struc­tion sites, trans­port­ing mater­i­als and sup­plies. Many large man­u­fac­tur­ing com­pan­ies have or had their own internal rail­way, often narrow gauge, trans­port­ing goods and mater­i­als around their sites, link­ing up with stand­ard gauge rail. In World War One ammuni­tion and sup­plies were often trans­por­ted by stand­ard gauge and trans­ferred to narrow gauge for onward car­ry­ing towards the front line.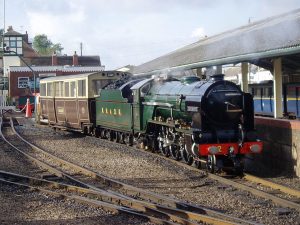 Narrow gauge is rel­at­ively easy to lay and take up, a pri­or­ity in war con­di­tions.
David described the work of the early pion­eers of narrow gauge, aptly called the 15-inch club, which included Heywood, Bartholomew, Basset Lowke, Greenly and Zoborowski. Early 20th cen­tury was a time of great pro­gress for narrow gauge with devel­op­ment of more power­ful engines and improve­ments in track. He touched on a number of light rail­ways in the UK, includ­ing Northants Iron Stone (3ft), Welsh Highland Railway (2ft), Ashover to Stratton (2ft), Leek and Manifold (2ft 6ins) Vale of Rheidol (10.25ins). He men­tioned rail­ways in Japan, Denver, Rio Grande and South Africa.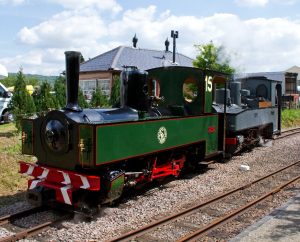 Perhaps the most famous narrow gauge rail­way, the Romney, Hythe and Dymchurch was the cul­min­a­tion of the dreams of two men, Howey and Zoborowski, and was con­struc­ted in the 1920s and opened on 16th July 1927. Operated as a 15-inch track fully work­ing steam rail­way, ini­tially it ran for eight miles from New Romney to Hythe but in 1928 it was exten­ded from New Romney to Dungeness, increas­ing the over­all length to 13.75 miles . It was reduced to a single track in 1947. During the war the line was requisi­tioned by the War Department who cre­ated their own mini armoured train which was used in build­ing PLUTO (Pipe Line Under the Ocean) which fuelled the allied inva­sion. Over the years it has been used com­mer­cially, haul­ing stone for Kent County Council and cur­rently has a school trans­port con­tract. However, today the rail­way is a massive tour­ist attrac­tion, trav­el­ling as it does through pic­tur­esque Kent coun­tryside appeal­ing to all ages.
It was an inter­est­ing talk, par­tic­u­larly for the rail enthu­si­asts but even the non-enthusiast will be temp­ted to learn a little more about narrow gauge rail­ways.