Five months after he gave us a talk on part two of his career – as a sur­veyor for Lloyd's Register – Brian Smith, a member of the Barrow upon Humber Probus Club, returned by pop­u­lar demand to give us part one, cov­er­ing his years as a ship's engin­eer.
Brian's career change was forced upon him when, after just over 18 years in the Merchant Navy, he was made redund­ant, largely as a result of con­tain­er­isa­tion. One con­tainer ship could replace half a dozen ordin­ary cargo ships in terms of load car­ry­ing capa­city, and today they are even bigger. One reason why Britain cannot com­pete in the build­ing of these huge ves­sels is that there is vir­tu­ally nowhere in UK waters where they can be launched.
Not that the ships Brian worked on were exactly tid­dlers. He sailed in 15 dif­fer­ent ves­sels, and at the peak of his first career he was chief engin­eer of a ship of 76,000 tonnes. He was away for up to nine months at a stretch, sail­ing the waters of the world with car­goes ran­ging from bana­nas to cars.
Brian, des­pite having no family sea­far­ing his­tory, was inspired to seek work in the marine world when, as a young boy being driven for days out at the sea­side with his par­ents to either Redcar or Saltburn, he would pass the large docks in Middlesbrough. He left school at the age of 15 in 1960 and obtained his first job as a mes­sen­ger boy at the local Furness shipyard.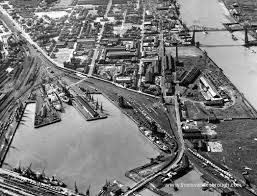 "As I walked around the docks area deliv­er­ing doc­u­ments I would see every aspect of the trade, from ship­wrights to port­ers, and being an inquis­it­ive type I would always ask them what they were doing.
"I was soon inden­tured as an appren­tice, which involved two years in a fit­ting shop and three in a machine shop, oper­at­ing lathes and other equip­ment, and at 18 you were allowed to go out­side to work in the main­ten­ance depart­ment, work­ing on the ships.
"One day I saw some­body who every­body was taking notice of – he was obvi­ously very import­ant – and I had it explained to me that he was the Lloyd's sur­veyor inspect­ing the ship."
Plucking up cour­age, Brian asked the man from Lloyd's: "How do I get your job?" He replied: "Easy son, go to sea and get your qual­i­fic­a­tions," and took a note of Brian's name and address.
"I didn't really expect to hear any­thing, but one day I got a letter from the Board of Trade telling me that I would have to go to sea." Brian told his man­ager that he wanted to leave his job ashore, and after ini­tially being refused because of his appren­tice­ship he was allowed to leave the fol­low­ing January to pursue his chosen career in what was then the world's largest mer­chant navy.
He was told to report to his first ship at Avonmouth, and he star­ted work as a junior engin­eer in 1966.
Brian worked first for the Hain Steamship Company, which was estab­lished as a public com­pany in 1901 but could trace its roots back to 1816. The com­pany was acquired by the P&O Steam Navigation Company in 1917, con­tinu­ing to oper­ate as a sep­ar­ate entity, although Brian later worked for the P&O Tramp Company, based in London.
A ship engaged in the tramp trade is one which does not have a fixed sched­ule or pub­lished ports of call, as opposed to a freight liner.
After join­ing another ship sail­ing the North Atlantic, Brian came home on leave and went to col­lege to gain his Certificate of Competency as an engin­eer. He rejoined the ship as a fourth engin­eer, and cel­eb­rated his 21st birth­day off the coast of West Africa.
He returned to col­lege to gain his second engineer's ticket and then joined the Tyne-built gen­eral cargo ship Trewidden, bound for the French island of Réunion in the Indian Ocean where, off the coast of South Africa, the cap­tain was mys­ter­i­ously lost over­board.
Brian regaled us with col­our­ful stor­ies of his voy­ages around the world, ran­ging from the time a ship was left to pick up the tab when crew mem­bers vis­ited a house of ill repute in Mombasa, to his unwit­ting part in the so-called Great Grain Robbery of 1972 when the Soviet Union cov­ertly pur­chased 10 mil­lion tons of United States wheat and corn but were unable to use Russian ships to trans­port it.
Brian's present­a­tion coin­cided with a very suc­cess­ful first meet­ing in our new tem­por­ary home at the Hallam Community and Youth Association hall while con­struc­tion work is due to get under way at the Fulwood Church Hall.