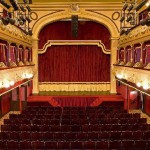 John Wallace gave Stumperlowe Probus Club a most inter­est­ing and enter­tain­ing talk, together with a medley of songs and jokes which would have graced the eras of Music Halls and Varieties.
The begin­nings of music hall was thought to be around 1780 in the tav­erns of Lambeth where men drank and sang to enter­tain each other, quaintly called 'Harmonic Meetings' The better sing­ers would go to other tav­erns to enter­tain. Whilst it was mainly a lower class pas­time, it was import­ant to attract a more upper class cli­en­tele and women. Music halls pro­gress­ively grav­it­ated to the West End of London'
New pur­pose build­ings were built accom­mod­at­ing as many as 1500 per­sons which catered for every­body. By 1860, there were 320 music halls across the coun­try. They intro­duced com­ical singing (rather than staid/serious tunes) and expan­ded to include clas­sical ballet and circus turns eg. jug­glers, acrobats and animal acts.
In 1879, the Theatres Act was passed which intro­duced the concept of a stage and fire/safety cur­tains As a result, many venues closed but there was still money to be made in enter­tain­ment and entre­pren­eurs inves­ted in the music halls.
By 1879, Variety had replaced music halls and were no longer male bas­tions. Pay and work­ing con­di­tions of the per­formers improved and the audi­ence were enter­tained in com­fort.
Variety was very pop­u­lar during WW1 and after, but the pop­ular­ity of silent movies was grow­ing. By the 1920's there were more cinemas than Varieties. The end of WW2 saw theatres become increas­ingly pop­u­lar with the public seek­ing escap­ism after the hor­rors of the war. Today, theatres are still pop­u­lar in the major cities with Varieties spread thinly through­out the coun­try..
John Wallace played and sang the songs of Joseph Locke, George Formby and George Robey on his ukulele, banjo and man­dola . He told jokes in the accent and deliv­ery of famous comedi­ans , Rob Wilton, Albert Modley and Les Dawson, explain­ing their gift of 'muddled humour' He clearly is a tal­en­ted per­former in his own right and enter­tained us superbly.