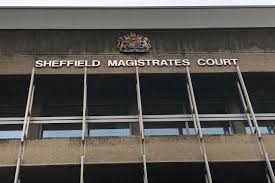 Richard spent 26 years at Sheffield Hallam University, teach­ing stat­ist­ics, becom­ing the Dean of the Faculty. Meanwhile, he spent 25 years as a Lay Magistrate in the Adult Law Courts, based in Sheffield, cov­er­ing South Yorkshire and Lincolnshire. Lay Magistrates was the topic for today's present­a­tion.
Types of Magistrate :-
A Professional Magistrate, also called a District Judge, who is a sti­pen­di­ary Magistrate and sits on cases alone.
Lay Magistrates, who are mem­bers of the public, and sit in a court in groups of 2 or 3.
Types of Courts
Adult Courts. All Magistrates start in this court, which deals with any­thing from theft to murder.
Family Courts
Youth Courts, for people up to 17 years of age
Courts 2 and 3 above con­flic­ted with other interests which Richard had, so he never sat on them.
Who can be a Magistrate.
The Lord Chancellor picks Magistrates. Although he/she keeps an eye on a bal­ance of appoint­ments to reflect polit­ical per­sua­sion, eth­ni­city, sex, etc., Magistrates can be anyone, unless there is a con­flict of interest, e.g. the police. They must be between 18 and 70 years of age and of 'good char­ac­ter'. There are not many under 30 years of age. Most are 55 to 70, at which age you must retire. No train­ing in law is required as there is a legal adviser who assists. The main attrib­ute required for being a magis­trate is common sense and you have to be avail­able for at least 26 half days in a year, although it is expec­ted of you to do more.
What do Magistrates do?
All crim­inal cases start in the Magistrates court. Over 90% are dealt with in a magistrate's court and include cases on e.g. Council Tax, Education, Environmental Agencies, Fishing licences …….
The Magistrates
Hear bail applic­a­tions — They start with the assump­tion, that bail is per­miss­ible. Deciding whether the defend­ant should be free or kept in cus­tody then depends on con­sid­er­a­tions of safety to the public or whether the defend­ant might not come back for trial. So some­times, if bail is gran­ted, there are con­di­tions e.g. tags. Or 'uncon­di­tional' bail may be gran­ted but, with the con­di­tion that they turn up for trial.
Hear court cases – they listen to the cir­cum­stances of the offences, and decide the outcome/sentence, or whether it should be referred to the Crown Court. The types of cases are :-
- Summary Only – e.g. a driv­ing offence, which will be dealt with by the Magistrates court
- Each Way – for more ser­i­ous crimes. This could be heard in a Magistrates court or the Crown court. The defend­ant can always choose either the Magistrates court, or to be defen­ded by a judge and jury in the Crown court. Some defend­ants think that the Magistrates may be more leni­ent.
- Indictable only – e.g. murder, which is sent to the Crown court.
Magistrates can sen­tence up to 6 months in cus­tody and do it only once more to the same offender, making a max­imum of 12 months.
Approve war­rants. For example:-
For Statutory Declarations – e.g. those who go to a Magistrates court to alter their names. Permissible as long as they keep the same sur­name.
If summoned to court – e.g. because they have not paid a fine. If the defend­ant makes a declar­a­tion that they didn't get the sum­mons letter, then the pro­cess starts again, until they pay up.
An entry war­rant – e.g. if any of the Statutory Undertakers want to enter a build­ing or res­taur­ant.
Search Warrant – e.g. if reques­ted by the police. Sometimes these are out-of-hours requests.
How Does the Court Work
2 or 3 Lay Magistrates sit in a court, with the middle one called the 'Presiding Judge', and who is the only one who talks for the group and who con­trols any dis­turb­ances. The others, sit­ting to the side are called 'Wingers'.
At the start of a case, the Presiding Judge out­lines the offence. The defend­ant is asked to make a plea. 90% of the time, there is a 'Guilty' plea. The Presiding Judge asks for a full report of the case and then decides whether to sen­tence, or to send the case to the Crown Court for sen­ten­cing.
If the plea is 'Not Guilty' the Prosecution speaks, then the Defense. The Presiding Judge then decides whether there is a case to answer and if there is, he sets a trial date.
If there is 'No Plea', which is rare, the defend­ant is asked why there is no plea. It may be e.g. that the defend­ant is wait­ing for more evid­ence on the cir­cum­stances of the offence. In this case, the prin­ciple of 'Newtons Hearings' is applied. This means that the cir­cum­stances of the offence are dealt with before the trial and the Magistrates decide which ver­sion of the events are to be accep­ted. If it is the defend­ants ver­sion which is accep­ted, then there is a plea of 'Guilty', but if the Magistrates decision is not accep­ted, it is still the ver­sion used at the trial in court, but it can be argued at the trial.
Trials
2/3rds usu­ally never occur. Because,
there can be a change of plea from 'Not Guilty' to 'Guilty'.
Witnesses don't turn up, or alter or with­draw their state­ments.
If there is a trial, both Prosecution and Defense are heard and wit­nesses can be ques­tioned.
Magistrates then decide on the guilt or oth­er­wise and must give a simple but clear reason for their decision.
If guilty, they are either sen­tenced there and then, or reports are reques­ted from e.g. the pro­ba­tion ser­vice. If the court feels unable to decide, the case can be sent to the Crown Court.
Sentencing
Only 20 years ago, guidelines were given to Magistrates and Crown Courts on sen­ten­cing.
Nothing, how­ever, is ever typ­ical, and all cir­cum­stances are taken into con­sid­er­a­tion.
For example :-
If it is their first offence. Sentence is less than the guideline
Plea of 'Not Guilty' but found 'Guilty'. Sentence pos­sibly more than the guideline
Assault where incite­ment was involved and there was only one punch. Sentence is less than the guideline.
Assault where there were lots of punches, with a record of viol­ence. Sentence more than the guideline.
Some people ask to go to prison, to give struc­ture to their lives or to help them to over­come an addic­tion.
Richard fin­ished his present­a­tion illus­trat­ing the pro­cess of sen­ten­cing with a his­tor­ical car crash case, where the 2 equally bad drivers approached their court cases in a dif­fer­ent way, and were given dif­fer­ent sen­tences.
An absorb­ing and very inter­est­ing talk which was enjoyed by all.