Our own member Tim Stephenson gave us a chilling insight into life – and death — under the Mafia, based on research rather than exper­i­ence. He has a spe­cial interest in Italy, having already given us two inter­est­ing talks on the wealthy and immensely power­ful Medici dyn­asty who first came to prom­in­ence in the 15th cen­tury. There are com­par­is­ons, it seems, sug­gest­ing that cor­rup­tion in Italy is noth­ing new.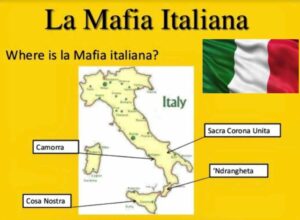 Much of Tim's present­a­tion revolved around the so-called Maxi Trial, a crim­inal trial against the Scicilian Mafia that took place in Palermo, last­ing from 10th February 1986 to 30th January 1992, and was held in a bunker-style court­house spe­cially con­struc­ted inside the walls of the Ucciardone prison.
Prosecutors indicted 475 mafi­osi for crimes related to Mafia activ­it­ies, based primar­ily on testi­mon­ies from former Mafia bosses turned inform­ants. Life sen­tences were handed out to 19 defend­ants, and 338 people were sen­tenced to a total of 2,665 years.
It was con­sidered to be the most sig­ni­fic­ant trial ever held against the Sicilian Mafia, but it was by no means the end of the story and came at a ter­rible cost to two of the prin­cipal judges, Giovanni Falcone and Paolo Borsellino, and their fam­il­ies.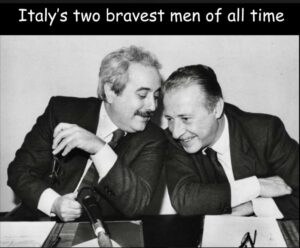 Both men were assas­sin­ated by the Corleonesi Mafiosi in 1992, 59 days apart. Falcone and his wife, along with three police escorts, were blown up by a bomb which con­sisted of 200 kilo­grams of TNT and 200 kilo­grams of Semtex which had been packed into drums laid in a con­duit – which was then blocked off at either end with con­crete – under­neath the A29 motor­way. Borsellino, who had no escort, was killed by a car bomb while vis­it­ing his mother in Palermo.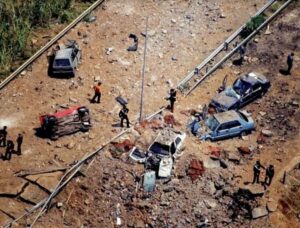 Palermo International Airport has been renamed Falcone-Borsellino Airport in their memory.
Tim explained that much of the Mafia's fund­ing came from pro­tec­tion money extor­ted from almost any­body who was in busi­ness, no matter how small. If they failed to meet the demands, they paid the ulti­mate price. We were shown grisly pho­to­graphs of the bodies of a taxi driver, a barber and a bar­tender, all of whom had met with fatal 'acci­dents' at their places of work.
The Mafia also per­pet­rated some spec­tac­u­lar thefts, includ­ing in 2002 that of two paint­ings from the Van Gogh Museum in Amsterdam. Both were recovered in Italy 14 years later.
Because Sicily was once an Islamic emir­ate, it is thought the word mafia might have been of Arabic origin, although this is uncer­tain. The word mā hias, or mahyas, means cock­i­ness or brag­ging.