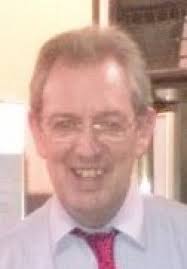 Jeff gave us an enter­tain­ing and inform­at­ive look into the world of the foot­ball ref­eree, but it is very doubt­ful if he per­suaded any of our mem­bers that their lives would have been enhanced by taking up the whistle. Immediately, he chal­lenged us to name the 7 items a ref­eree takes on the pitch – we got 6 but forgot the ball!
He star­ted ref­er­ee­ing at the tender age of 17, gave it up for many years and resumed at the more mature age of 47. The title of his talk may be catchy and a little self-deprecating, but he clearly enjoyed his time in the middle. He recoun­ted his very first game, a local needle in Scunthorpe between Scawby Youth Club and Scunthorpe Youth Centre, both under-17 teams. The first is always mem­or­able but even more so when you forget the coin to toss for ends.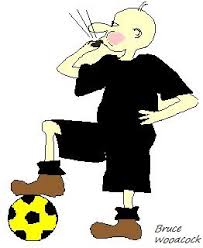 Games could not be played without a neut­ral ref­eree who needs to be a cer­tain type, out in all weath­ers, sworn at, abused by play­ers and spec­tat­ors alike, with rarely any thanks. Why do they do it? Is it the power? Is it the sat­is­fac­tion of being part of a well fought, enter­tain­ing game? It is not for the money unless you are a top, full time offi­cial. Indeed, when you start cur­rently it costs around £245 to cover the train­ing, regis­tra­tion, kit, secur­ity checks etc. You cer­tainly need to be keen and motiv­ated,
Jeff played a few film clips to encour­age dis­cus­sion cov­er­ing the rules of the game which we did sur­pris­ingly well and posed the ques­tion 'What would you do next?' This clip showed a streaker dis­rupt­ing a game who was even­tu­ally rugby tackled (excuse the pun).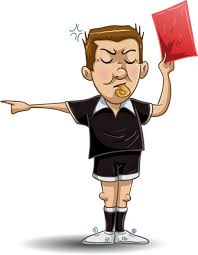 The ref­eree booked the player for viol­ent con­duct, with the streaker pre­sum­ably dis­ap­pear­ing into the crowd. It appears there are 17 laws of the game with the unof­fi­cial 18th being com­mon­sense which should have pre­vailed.
Referees have been assisted by sev­eral recent innov­a­tions which have been intro­duced or being tri­alled, includ­ing goal line tech­no­logy, goal line offi­cials, replay videos and the use of 2 ref­er­ees. Possibly, goal line tech­no­logy and replay videos may have altered foot­ball his­tory if they were avail­able at the 1966 World Cup or when Maradona scored that dis­puted goal. Women ref­er­ees and offi­cials are becom­ing more common in our modern game.
There is no doubt the ref­er­ees' lot is a strange one. The man in black is often lonely, unloved, must pos­sess eyes in the back of their heads, have the abil­ity to make split second decisions and wish they had the powers of hind­sight. He has recently pub­lished a book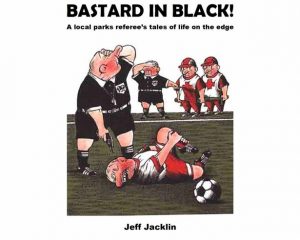 which is avail­able on Kindle and in paper­back ver­sion : a local parks referee's tales of life on the edge.
Referees are vital to our national game and it was heart­en­ing to listen to Jeff who was an enthu­si­astic and com­mit­ted ref­eree.