Sandra Welburn is based in Newcastle and is the Head of inform­a­tion coordin­a­tion for the north­ern region of the "Action on hear­ing loss" char­ity. Its former name was the Royal National Institute for Deaf People (RNID). It has been a national char­ity since 1911. The area covered by Sandra is from Cheshire to the Scottish boarder.
It's the largest char­ity for people with hear­ing loss in the UK, with an under­stand­ing of how hear­ing loss can affect everything in your life from your rela­tion­ships, to your edu­ca­tion and your job pro­spects. The char­ity is here to sup­port and help people to take back con­trol and live the lives they choose.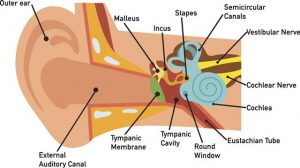 On aver­age it takes about 10 years for some­body sus­pect­ing they have hear­ing loss to take actual action. There are about 11 mil­lion people in Great Britain with hear­ing loss. About 4 mil­lion people have unad­dressed hear­ing loss and 2 mil­lion people use hear­ing aides and about sixty thou­sand people use sign lan­guage.
Sandra gave an example of a man with good hear­ing was on a hol­i­day flight, when he stepped off the plane, he dis­covered that he had lost all his hear­ing. It was a per­man­ent change. She asked her audi­ence to try to ima­gine what this would feel like and what aspects of hear­ing would be most missed. She explained how as hear­ing loss increases a person becomes more isol­ated within their family as loved ones tend to cut the person out of con­ver­sa­tions and activ­it­ies. Other people may begin to treat a person as being less intel­li­gent. Lip read­ing becomes import­ant and tele­vi­sion view­ing requires the volume to be turned up or sub­titles restrict choice of pro­grammes.
Besides hear­ing loss, the char­ity helps with Tinnitus. Tinnitus is often described as "ringing in the ears", but it's the name for hear­ing any sound in your ears or head when there's noth­ing out­side your body that's making that sound. The char­ity sup­ports a Tinnitus Helpline and a Tinnitus Forum.
Action on hear­ing loss helps people to manage their lives by provid­ing care homes; an engage­ment ser­vice; research teams; a products depart­ment; cafes and cam­paigns.
Large resources are provided towards research across the world and this is bear­ing fruit. Since 2006 in the UK new-born babies without hear­ing may get a coch­lear implant. The implant con­sists of a micro­phone and a trans­mit­ter out­side the head, which send sig­nals to an implanted receiver under the skin. This in turn sends sig­nals to elec­trodes implanted in the coch­lea. When the elec­trodes receive a signal, tiny elec­tric cur­rents stim­u­late the aud­it­ory nerve, which car­ries sound from the coch­lea to the brain. In 2016 a new gene was dis­covered that is related to the hear­ing mech­an­ism and gives hope that treat­ments might be developed to reduce or reverse hear­ing loss.
Soon sign lan­guage will be taught in all primary schools in England.
The char­ity in your local area provides sup­port in deal­ing with: bene­fits and grants; every­day life; your rights; com­mu­nic­a­tion tips; products and tech­no­logy; blogs and forums.