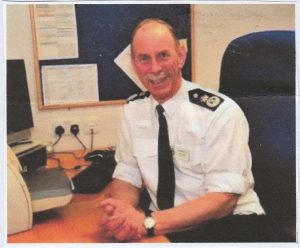 Tim Hollis on his 2005 appoint­ment as Chief Constable of Humberside Police
(Photo cour­tesy of Scunthorpe Telegraph)
Tim Hollis, the son of a Rotherham Clergyman and now a local Fulwood res­id­ent, is a man of many parts and pos­sess­ing more than a story or three. He has pre­ciously spoken to us on the work of the local Samaritans (2017) and on the "Police or Fascists?" (2018).
Tim began his talk -given without visual aids- with a brief resume of his career. Before going to Bristol University in 1073 he 'cut his teeth' as a late teen­ager with a 'gap' year's Voluntary Service Overseas in Ghana. After gradu­ation, Tim took a Short Service Commission with the Parachute Regiment. He then joined the Metropolitan Police in 1979 and was to stead­ily rise up the ranks to Chief Inspector (Operations) at Notting Hill. In 1993 he trans­ferred briefly to Sussex Police, becom­ing Chief Superintendent. In 1994, an oppor­tun­ity occurred to return to his Yorkshire roots as Assistant Chief Constable (Crime and Operations) of South Yorkshire Police. He was awar­ded the Queen's Police Medal in 2000 before being appoin­ted Assistant Inspector (Crime and Operations) of HM Inspectorate of Constabulary in 2002, based at the Home Office.
In 2005 Tim was ready to take on the biggest chal­lenge of his career. Following the 'Bichard' Enquiry (examin­ing the police hand­ling of the Soham murder of 12 year olds Jessica Chapman and Holly Wells), Humberside Force was in need of a new Chief Constable, a post he held until retire­ment in 2013. (Tim is widely cred­ited with turn­ing that ailing Force around). During this time He retained national respons­ib­il­it­ies with involvment in poli­cing the 2012 London Olympics and vari­ous foot­ball com­pet­i­tions. He was appoin­ted Vice President and then acting President of the Association of Chief Police Officers with spe­cial respons­ib­il­ity for drug crime.
Our speaker went on to engage us with stor­ies and anec­dotes of an out­stand­ing career. Although he had been a police officer for thirty-five years, that was as noth­ing com­pared to the long his­tory of poli­cing in this coun­try. Most people regard Robert Peel of 'Bobby' fame as the founder of the first pub­lic­ally funded (Metropolitan) Police Force. In fact, local con­stabu­lar­ies have roots going back to medi­eval times and even war­rant a men­tion in Shakespeare.
Tim con­sidered there had been, and always will be, the need for a pub­licly account­able non- mil­it­ary organ­isa­tion to manage civil­ian crime and high levels of risks in soci­ety. Even at basic street level, call centres, beat officers and patrol cars have to assess risk and what to do about it; some­times 'split-second' decisions have to be made. Even decid­ing to put on the blue light or siren might have safety implic­a­tions for officers and the public. Publicity given to bomb out­rages and to such incid­ents as the Westminster Bridge murders (in this example the Police were left to deal with and urgent med­ical situ­ation while Paramedics were kept back out of danger) and Parliament Square demon­stra­tions show how fine a line has to be trod: you are either a hero or a sup­pressor of someone's rights.
Tim thought that the role of Chief Constable was partly leader and tone setter, partly Chief Executive and partly Finance and Resources manage. He, or increas­ingly she, has to answer to and sat­isfy three main stake­hold­ers: the public, politi­cians and the press. The public want, and expect, pro­tec­tion. The politi­cians want to make their mark and expect res­ults from an unreal­istic budget within-for Police Ministers-an aver­age tenure of eleven months. Tim served fif­teen Home Secretaries. The press want someone to blame when things go wrong. Two words sum this up: Hillsborough and the hap­less David Duckenfield. And there were other pres­sures. While bodies such as the inde­pend­ent Police Complaints Commission ensure fair play the advent of Police and Crime Commissioners (South Yorkshire's was elec­ted on an 11% turnout) absorb lead­er­ship time while the impos­i­tion of 'league tables' has not notice­ably added to detec­tion rates.
Our speaker con­cluded his talk with a quick look into the future. He thought that the present number of Police forces in England, 41, was prob­ably too many. But any new arrange­ments would need to recog­nise such factors as dis­tance, rur­al­ity and urban require­ments. Crimes by the men­tally dis­turbed, and Cyber crimes were likely to increase together with illegal immig­ra­tion and drug traf­fick­ing. The law on drug usage needs to be reviewed. Stresses caused by rising pop­u­la­tion such as home­less­ness and cli­mate change will require sens­it­ive hand­ling. And dilem­mas will con­tinue: what can the police do about thou­sands of 'extinc­tion rebel­lion' pro­test­ers who glue them­selves to con­crete blocks in Oxford Street and who want to be arres­ted? And how to pre­vent them dis­rupt­ing com­muters' buses and trains and who want to get to and from work?
As might be expec­ted, Tim's talk stim­u­lated a wide range of ques­tions. These ranged from the length of Jail sen­tences, prison versus com­munity ser­vice, bail require­ments to deal­ing with trouble­some dogs! These, and more were all answered in a direct but cour­teous way res­ul­ted in warm applause as our Chairman closed play.
MICHAEL CLARKE