Clyde Binfield is the Emeritus Professor of History at the University of Sheffield with sev­eral books to his name. He is also a very accom­plished speaker with both a sense of humour and great curi­os­ity. Perhaps his love of an artist/architect that was so anti-establishment and a hero of the work­ing man should not come as a sur­prise.
Tourists to Vienna will be aware of this most eccent­ric man, whilst the rest of us may not have heard of him. Friedrich Stowasser was born in 1928. In 1948 he joined a Academy of Fine Arts in Vienna only to leave after 3 months and a few months later he changed his name to Hundertwasser

As an artist he was very much influ­enced by the Norwegian painter Edvard Munch but he also had strong "green" sym­path­ies. He had an aver­sion to the uni­form­ity of straight lines and described modern archi­tec­ture as degen­er­ate.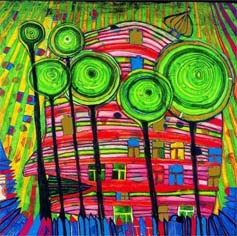 In his paint­ing of his famous Hundertwasserhaus , the build­ing has no straight lines and green­ery, espe­cially trees pre­dom­in­ate. At this time when the double helix of DNA was dis­covered, he was paint­ing spir­als. Through his art he tried to reveal the pos­sib­il­it­ies of a better world with safe envir­on­ment and pro­tec­ted nature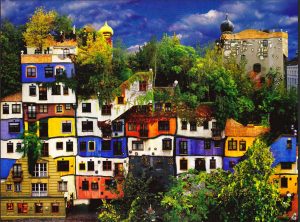 In 1952 he held his first major exhib­i­tion in Vienna. The main theme in his paint­ings is the recon­cili­ation and har­mony of man­kind with nature.
At the age of 55, he became embroiled with archi­tec­ture. The above pho­to­graph is a block of social hous­ing now called Hundertwasserhaus. It is an import­ant build­ing on the Vienna tour­ist cir­cuit and is very pop­u­lar with its occu­pants. It's a "make over" of an exist­ing block whose ori­ginal wall can be seen exposed in the left corner. He appears to have got on well with crafts­men. The pho­to­graph of a typ­ical bath­room shows how the build­ing has been trans­formed.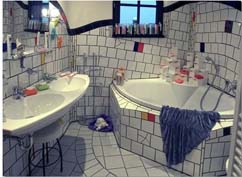 In 1959 he became an Associate pro­fessor at Hamburg University. In 1968 he was lec­tur­ing about the 3 skins. The 1st. skin is the naked skin, 2nd skin is our clothes and 3rd skin is the home we live in. At times he would be naked whilst deliv­ery these lec­tures.
Besides paint­ings and build­ings he was famous for his poster and stamp designs. He made his own clothes and had a pink hat!
He trav­elled extens­ively and spent his later years in New Zealand where he had dual cit­izen­ship and he died whilst cruis­ing on the QE2 in February 2000.
This is a spell bind­ing talk about a man that simply oozes cre­ativ­ity and refuses to be con­strained by rules.