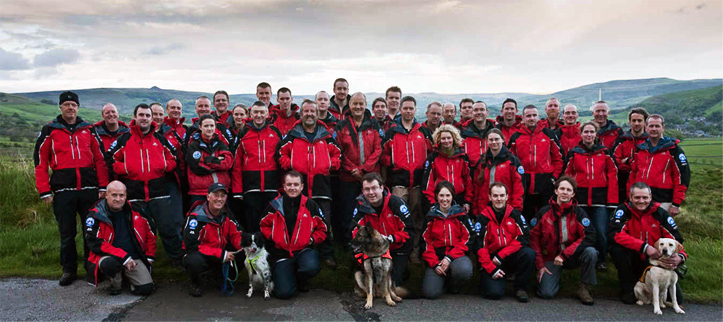 We are lucky to live on the edge of one of the most beau­ti­ful parts of the coun­try. Many mem­bers who enjoy walk­ing, biking or just motor­ing through the Peak District were famil­iar with the Edale Mountain Rescue team (EMRT) facil­ity loc­ated at the foot of Stanage but knew less about its ori­gins, activ­it­ies and the expert­ise required to man the local arm of this vital national ser­vice.
Our (Stand-in) speaker this week, Andy Cass, had been a member of EMART for over 30 years. He divided his talk between out­lining the Charity's his­tory loc­ally and demon­strat­ing samples of the wide range of always ready pre-packed equip­ment tailored for dif­fer­ing emer­gency situ­ations and weather con­di­tions.
EMART roots go back to the 1950s and the form­a­tion of the Peak District National Park. The increase in rights of way, signed foot­paths and the motor car were to give easier access to often wild and remote coun­try expos­ing the grow­ing num­bers of vis­it­ors to both its delights and dangers. In response, the Peak Park Planning Board and local rescue volun­teers met in 1956 to estab­lish the present organ­isa­tion. In the early years equip­ment was kept in a damp hay loft at North Lees moving to the cur­rent site in 1986 owned by the then Blue Circle Cement Co. Various improve­ments have been made, gradu­at­ing from two ex NHS por­takabins to the present pur­pose built facil­ity opened in 2007. This can securely house all the team's modern equip­ment and 3 Land Rover ambu­lances.
EMART cur­rently has 48 team mem­bers plus one dog. 15 mem­bers are qual­i­fied medics includ­ing junior doc­tors. They respond to an aver­age 120 'call outs' annu­ally, mostly in North Derbyshire but occa­sion­ally fur­ther afield such as the Carlisle flood emer­gency, major motor­way acci­dents and more than one crashed hang-glider. A repor­ted air crash at Ladybower turned out to be a false alarm. In these they called upon to assist the Emergency Services. IN dif­fi­cult cases the team can call on Helicopter assist­ance from East Midlands and Humberside Airports. About 60% of cases are deal­ing with trau­matic injur­ies (espe­cially falls from rock faces etc, frac­tures, cyc­ling acci­dents), 25% are other med­ical con­di­tions (inc Cardiac, hypo­ther­mia epi­leptic fits, dia­betes incid­ents) and 15% miss­ing per­sons. People are often found ini­tially by the team dog having no map, com­pass, suit­able cloth­ing or foot­wear. Despite poor recep­tion in some areas, the mobile phone has trans­formed team assembly, con­tact and hence speed and effi­ciency of response. On receiv­ing a call, the rota team leader makes an assess­ment of the man­power, expert­ise and equip­ment required and alerts mem­bers who are often on scene within 30–40 minutes. Great emphasis is given to pro­fes­sion­al­ism in the use of rescue and first equip­ment with fre­quent famil­i­ar­isa­tion and updat­ing of expert­ise which is extern­ally assessed. The team par­ti­cip­ates in civic emer­gency exer­cises such as a sim­u­lated crash in Totley rail­way tunnel. EMRT has an annual budget of £60000 but receives no Government fin­ance. Some equip­ment, drugs and med­ical dis­pos­ables are provided by the NHS.
Andy then moved on to show us some of the equip­ment used in the field. This is typ­ic­ally car­ried in ruck­sacks etc which can weight up to 15 Kilogrammes. An amaz­ing array of good­ies emerged, some­how squeezed into the bags: a radio hand­set, a loc­a­tion com­puter, vari­ous types of splint (both low and high tec) vacuum bags and pumps, a pulse reader, a defib­ril­lator not men­tion vari­ous gas can­is­ters, band­ages, emer­gency rations and what looked like drug phials.
In con­clu­sion, while such jaunts may now be a bit much for some of us, Andy gave us some tips on how to pre­pare and sur­vive our next foray into the wild world beyond Ringinglow. These included:
Get the fore­cast: If Snow on the Snake avoid Kinder! Always go pre­pared for the expec­ted and unex­pec­ted weather: con­di­tions can rap­idly change. Take warm, vis­ible water­proofs and foot­wear suit­able for the ter­rain
Take map and com­pass and learn how to use them includ­ing provid­ing ref­er­ences. Put likely loc­a­tion area ref­er­ence on your mobile. Give police mobile no before set­ting out
If you need to guide a heli­copter, wave a red coat, your back to the wind, hands raised in the 'Y' pos­i­tion. (Diagonal Arms for not required)
Take Elastoplast, Mars Bars and drink.
This most inter­est­ing ses­sion drew to a close with a wide range of ques­tions and obser­va­tions. It was clear that many people owe a great debt of grat­it­ude this this small band of volun­teers who give of their time and expert­ise, turn­ing out 24/7, no matter the weather. On such was a member who shared with us that he owed his life to the splen­did folk who make up EMART. More inform­a­tion on the organ­isa­tion can be found at www.edalemrt.co.uk.