This was John Taylor's fourth visit to Stumperlowe Probus Club, but this time it felt more as though we were the vis­it­ors and he was lead­ing us on a fas­cin­at­ing day out, vir­tu­ally in our own back­yard.
It's amaz­ing what undis­covered treas­ures there are on one's own door­step, and John's talk took us on a guided tour either side of the bound­ary between South Yorkshire and Derbyshire.
That wavy line has of course been changed many times over the years. The Sheffield suburb of Dore, which once stood on the border of the Anglo-Saxon king­doms of Northumbria and Mercia, was in the county of Derbyshire until 1934, and neigh­bour­ing Norton was trans­ferred to Sheffield in two tranches, in 1901 and 1934.
John's present­a­tion could have been sub-titled Connected Jottings, but in fact there wasn't a jot­ting in sight as he took us through an eclectic mix of local his­tory without a single note in front of him. John is a pro­fes­sional his­tor­ian with a broad know­ledge of his sub­ject. He is a writer, his­tor­ical con­sult­ant and researcher, and often acts as a guide for English Heritage and other public bodies.
More import­antly to us, per­haps, he also believes that his­tory should be a fun sub­ject appeal­ing to all tastes and back­grounds.
"I like to look beneath the sur­face and link things together, so that the talk has con­tinu­ity," he told us in his intro­duc­tion. "Horace Walpole coined the term 'serendip­ity' [mean­ing a for­tu­nate hap­pen­stance or a pleas­ant sur­prise], but the dif­fer­ence with me is that I actu­ally look for serendip­ity."
Our meander star­ted in Norton, birth­place (in 1781) of Sir Francis Chantrey, the lead­ing por­trait sculptor of Regency era Britain. Chantrey, who died at the age of 60 and is buried in the church­yard at Norton, was a friend of the Bagshawe family, which gave us a link to Oakes Park, home of the Bagshawes for almost 300 years until 1987.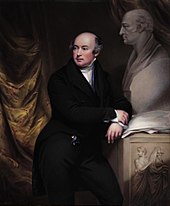 Francis Chantrey designed the ter­race in front of the house, but Sir John Nash laid out the grounds of Oakes Park and the lake there was dug by Napoleonic pris­on­ers between 1803 and 1804. So on now to Dronfield, where the Lucas Arch marks the site of Lucas's steel foundry which pro­duced can­non­balls which were used in the Napoleonic Wars and, in all prob­ab­il­ity, at the decis­ive Battle of Waterloo.
The Napoleonic link then took us on to Chesterfield, where French officers who were pris­on­ers of war were bil­leted at the Falcon Inn, now a branch of the Yorkshire Building Society.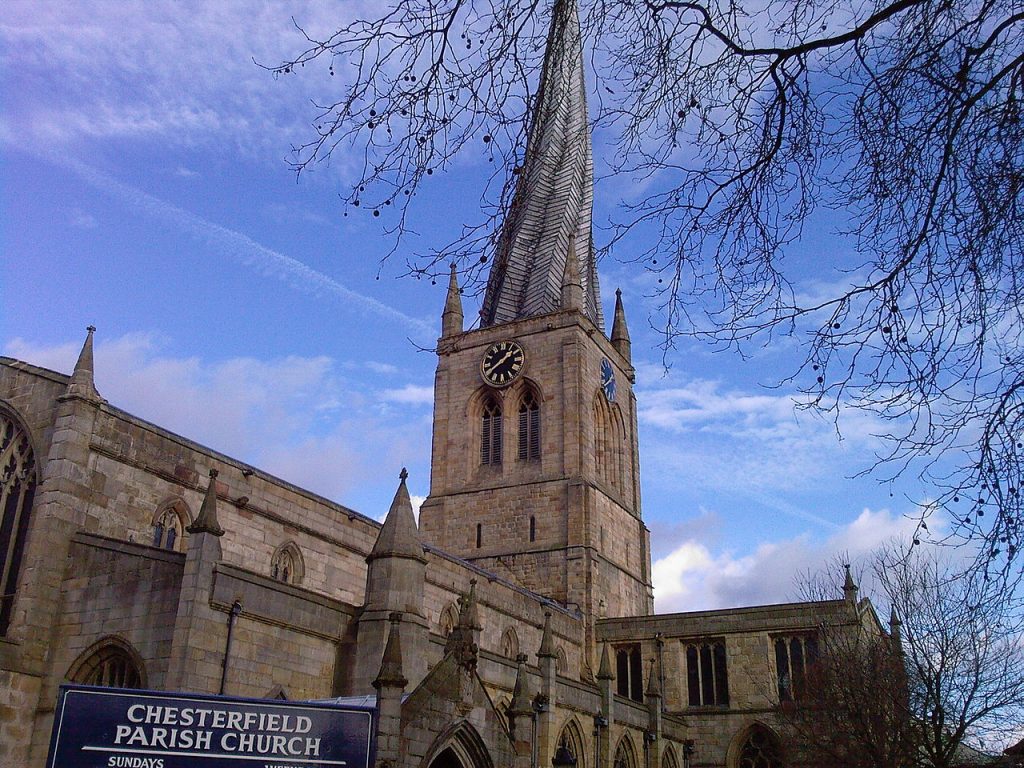 The town is prob­ably most famous for its crooked spire, and in the church­yard of St Mary and All Saints is a memorial stone to a French pris­oner who was cap­tured in Sardinia, imprisoned on a float­ing hulk ship and then offered parole in Chesterfield.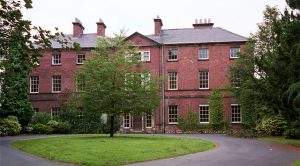 We went, appro­pri­ately, via the only remain­ing build­ing which made up the ori­ginal Chesterfield rail­way sta­tion to Tapton House, which was the home of rail­way pion­eer George Stephenson for the last ten years of his life. The house was then bought by the Markham family of engin­eers and col­li­ery owners and it was the birth­place in 1872 of the prom­in­ent suf­fra­gette Violet Markham.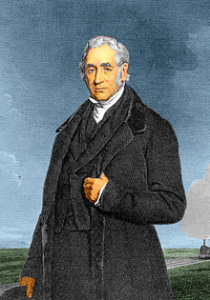 George Stephenson, whose statue stands out­side the present Chesterfield sta­tion, is best known as the father of the rail­ways, but he also designed a miner's safety lamp and even a glass cucum­ber straight­ener, an example of which is on dis­play at the town's museum. Not a lot of people know that.
At Ashover we saw the Crispin Inn, dating back to the time of Agincourt, and — next door to it — All Saints' Church which houses a lead font dating back to 1150 which the rector, Emanuel Vaughan, buried in his garden for five years during the Civil War.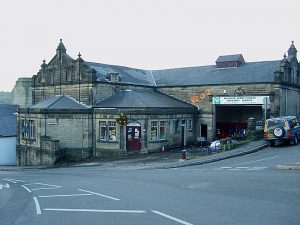 Hold tight! Our next stop was Matlock, and what was pre­vi­ously the wind­ing house for the steep­est road­way tram system in the world, beat­ing even San Francisco. Smedley's Hydro in the town became a School of Military Intelligence during World War Two, when Dirk Bogarde (who would end his ser­vice as a major) was among its stu­dents.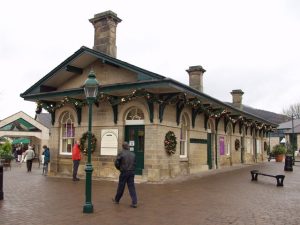 Rowsley Retail Park was built as the sixth Duke of Devonshire's rail­way sta­tion. No doubt Chatsworth's garden designer Joseph Paxton used the sta­tion in later years, but his first jour­ney to Chatsworth had been via the Chesterfield coach and a long walk over the moors. Paxton, who coin­cid­ent­ally was the mater­nal grand­father of Violet Markham, of Tapton House, is buried in the family tomb in the church­yard at Edensor.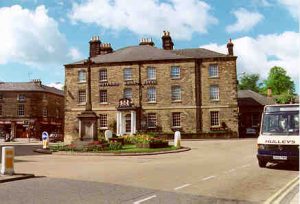 Who knew that Jane Austen wrote, or at least revised the manu­script of, her novel Pride and Prejudice while stay­ing at the Rutland Arms in Bakewell, where the first eponym­ous pud­ding was made by an Ann Wheeldon?
Frederic Barker, Archbishop of Sydney from 1854 to 1882, was born in Baslow and is buried in the church­yard there.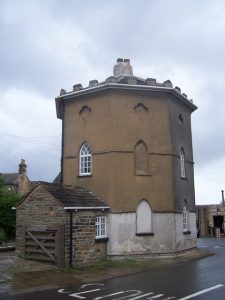 Almost back in Sheffield now, and the Round House at Ringinglow, built in 1893 at the con­ver­gence of two turn­pikes, isn't round at all but octa­gonal. Totley Tunnel, which cuts beneath the Derbyshire-Yorkshire bound­ary, was opened in the same year but the memorial to the nav­vies killed during its con­struc­tion is in the cemetery at Crookes, tra­di­tional centre of the Irish com­munity in Sheffield.
Our run-in to the centre of Sheffield was via the city's first tram shed at Heeley, built in 1878, and the Botanical Gardens, to the Wicker Arches, designed by Sir John Fowler, of Wadsley Hall, whose later work included the Forth rail­way bridge.
After a diver­sion to Ecclesfield, where Nelson's per­sonal chap­lain Alexander John Scott is buried (he was the father-in-law of the vicar), we ended up in para­dise. Well, Paradise Square to be pre­cise.
The afore­men­tioned Francis Chantrey had his first studio at No 24, and other occu­pants of the square included the phys­i­cian David Daniel Davis, who was present at the birth of Queen Victoria in 1819 and was later appoin­ted first Professor of Midwifery at the University of London.
Never again need we be short of ideas for a local day out!