OPINION is divided on whether Walt Disney or Phineas Taylor Barnum coined the expres­sion "Always leave them want­ing more." It could just as easily have been Dave Moylan.
It wasn't easy writ­ing notes for this blog while laugh­ing out loud, tears rolling down my cheeks, but that was the situ­ation I found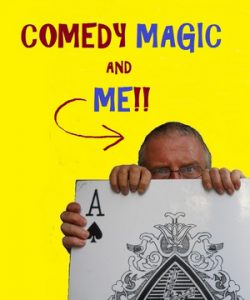 myself in as a packed audi­ence for our last meet­ing before Christmas listened to just under an hour of hil­ari­ous anec­dotes about Dave's life in the world of show busi­ness, recall­ing his work with some of Britain's best known enter­tain­ers.
Everybody in the room went home with a big smile on their face, and pro­vi­sion­ally Dave is booked for the same slot next year. Certainly, nobody fell asleep, not even soon-to-be octo­gen­arian David Hague who is nor­mally doing well to last 15 minutes before drift­ing away (and who has kindly given me per­mis­sion to say so).
Glyn Davies fool­ishly sat in an aisle seat on the front row and was pre­dict­ably roped in — in more ways than one – to be Dave's stooge as our enter­tainer opened the show with a series of illu­sions involving burn­ing nap­kins, lengths of rope which Glyn was invited to cut in two, and sleight-of-hand card tricks.
Dave invited us to step with him into his won­der­ful world of magic and illu­sion, explain­ing the dif­fer­ence between the two. "Magic was when England won the World Cup in 1966," he said. "Illusion is ima­gin­ing that they will ever do it again."
Derby-based Dave has been inter­ested in magic from a very early age. "In fact," he told us, "when I was born I came out of the woman in the next bed."
Illustrating his ver­sat­il­ity and his mod­esty — "If you keep your expect­a­tions very low, I might just about get away with this" — Dave then picked up his guitar and gave us a tongue twist­ing rendi­tion of All I Want is a Proper Cup of Coffee (made in a proper copper coffee pot). No, I'd never heard it before, either.
Dave then took us on a sen­ti­mental jour­ney through the hal­cyon days of the music hall, from such famous names as Max Miller to less well known such as Billy Bennett, whose rep­er­toire of mono­logues included Christmas Day in the Cookhouse, a spoof ver­sion of The Road to Mandalay and, bizar­rely, A Sailor's Farewell to his Horse (I said to a girl, you must swim for your life, or hang on to a buoy if you can. She looked at me coy, and said 'you're not a boy, you're just a dirty old man!').
The comedy and magic were sim­ul­tan­eous. Dave leafed through a hand­ful of news­pa­per cut­tings, with stor­ies about the first trans­plant of a pig's ear on to a human ("How's your hear­ing? It's OK, but there's a bit of crack­ling") and how a woman drowned in a bowl of muesli ("She was dragged down by a par­tic­u­larly strong cur­rant") before appar­ently wringing his hands and turn­ing all the scraps of paper into one intact broad­sheet news­pa­per.
Dave took us through the greats of British radio comedy such as Sandy Powell, Al Read and Tony Hancock before we arrived at prob­ably the most famous magician-comedian of all time, Tommy Cooper.
"Tommy Cooper was not a great con­juror, but he was cer­tainly one of the fun­ni­est men who ever lived," Dave told us. "He was much bigger than the magic he per­formed."
Also singled out for praise was Billy McComb, a Belfast-born American magi­cian and comedian who told his audi­ences: "I was born in Ireland, in a little vil­lage called Wedlock. In fact, I was born just out­side Wedlock."
Dave told us (and I think he might have made this one up) about Adolphus the Third, the world's worst knife-thrower, and his assist­ant Zelda the 27th.
Max Wall was another of Dave's favour­ites. "The strange thing is," he told us, "There isn't a single teen­age girl in Britain who has ever heard of Max Wall, so why the hell do they all dress like him?"
After trip­ping up on another tongue-twister of a song, Dave admit­ted: "I don't nor­mally do this when I'm sober."
On a sim­ilar theme, he recalled the time he proudly took his son to the pub for the first time, lining up a suc­ces­sion of pints of bitter, Guinness and lager, none of which his son liked. "I had to drink them all myself," he recalled. "In the end, I got so drunk I could hardly push his pram home."
Dave also con­fided that he had recently joined Alcoholics Anonymous. "I'm still drink­ing, but under a dif­fer­ent name," he explained.
There's hardly space here to tell you about the Brummie who went fish­ing in the canal and pulled out a whale (he threw it back, because there were no spokes in it), or about the Liverpool pub comedian who bought his chil­dren an advent cal­en­dar with all the win­dows boarded up.
The one comedian I don't recall Dave men­tion­ing was one of my own favour­ites, Frank Carson. But, as we stacked the chairs away at the end of the meet­ing, the most fre­quently heard remark was "It's the way he tells 'em!"